Ricky Gervais has thanked his fans for supporting his comedy Derek after he was nominated for a Golden Globe.
Gervais wrote on Twitter:
Thanks for supporting #derek from the very beginning when the usual suspects wanted it to fail. I loves you. #Emmys #GoldenGlobes
Still buzzing from the @goldenglobes nomination for #Derek. It could well be the highlight of my career as the character means so much to me
Downton Abbey will face off against Game of Thrones at the Golden Globes as they compete for Best Television Series Drama.
The Affair, The Good Wife and House of Cards are also nominated.
Advertisement
Martin Freeman has been nominated for Best Actor in a TV Series for his role in Fargo.
Freeman will battle it out against Woody Harrelson, Matthew McConaughey, Mark Ruffalo and Billy Bob Thornton at the 72nd Golden Globes.
Downton Abbey's Joanne Froggatt has been nominated for Best Supporting Actress in a TV Series.
Uzo Aduba, Kathy Bates, Allison Janney and Michelle Monaghan were also nominated for the award.
Ricky Gervais has been nominated for a Golden Globe for Best Actor in a TV Series Comedy for his title role in Derek.
Other nominees in the category are Don Cheadle, Jeffrey Tambor, Louis CK and William H Macy.
Julia Louis-Dreyfus, Taylor Schilling, Lena Dunham, Gina Rodriguez and Edie Falco have been nominated for Best Actress in a TV Series Comedy at the 72nd annual Golden Globe Awards.
Advertisement
Claire Danes, Viola Davis, Julianna Margulies, Ruth Wilson and Robin Wright have been nominated for Best Actress in a TV Series Drama at the Golden Globes.
Imitation is often considered the sincerest form of flattery but actress Jennifer Lawrence might not agree, after a series of pictures were posted online poking fun at her Golden Globes look.
Lawrence, who won best supporting actress in a motion picture for her role in American Hustle, wore a voluminous, white, Christian Dior dress accented with black ribbon.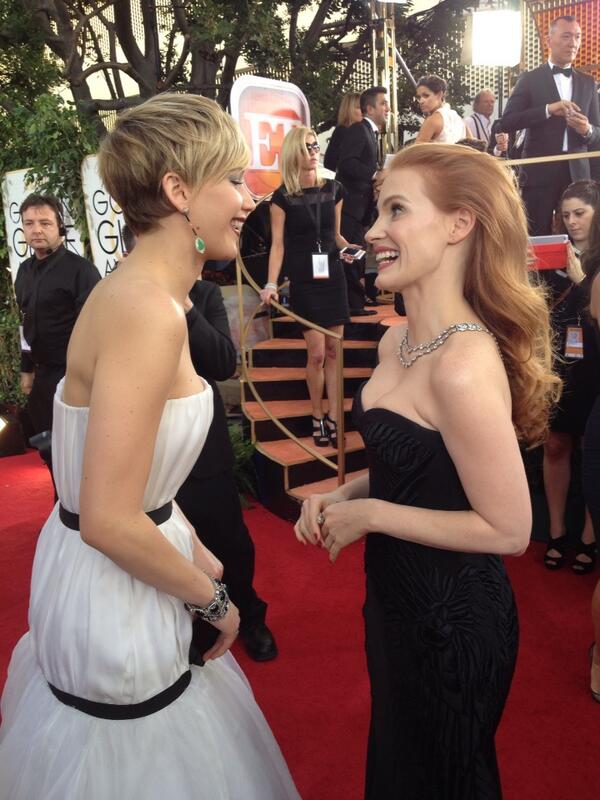 The outfit soon prompted a series of not so flattering comparisons on social media - including that it resembled a bed sheet - and DIY lookalike pictures.
One Twitter user, not the real Lana Del Rey, tweeted:
As British actress Jacqueline Bisset receives her first Golden Globe, we take a look back at her acting career to date.
Read the full story ›
British actress Jacqueline Bisset's rambling speech could be among the most memorable in Hollywood history. Here is five of the best.
Read the full story ›
Load more updates