Rory McIlroy has been named the 2014 Race to Dubai European Tour Golfer of the Year after a stunning season on both sides of the Atlantic.
The 25-year-old also won the WGC-Bridgestone Invitational and the BMW PGA Championship at Wentworth, and adds the honour to the Golf Writers Trophy he was awarded last week.
"To be named the European Tour's Golfer of the Year for a second time is a huge honour and one I am extremely proud of," he said.
"If I had won any one of those four titles it would have been a good year, but to win all four, to win The Race to Dubai, and to be part of another fantastic European victory in The Ryder Cup, means it is a great one.
"This award is a very nice way to round off the year. The European Tour has always been good to me, so it is always special to be recognised in this way. Hopefully I can have more years like this one and win the award again."
World number one Rory McIlroy has won the Golf Writers Trophy for the second time in three years following a stunning season that saw him claim two major championships and play a leading role in Europe's Ryder Cup victory.
In to the 25 year-old's victories in the Open Championship and the US PGA Championship, McIlroy also won the WGC-Bridgestone Invitational and the BMW PGA Championship at Wentworth.
"I'd like to say a huge thank you to the members of the Association of Golf Writers who have felt me worthy to receive this honour, I really do appreciate it," he said.
"To win it for the first time in 2012 felt like a great achievement but to win again in 2014 is testimony to what has been a truly fabulous year for me."
Advertisement
Almost five years on from the car crash which precipitated his fall from grace, Tiger Woods looks to have committed another major PR blunder with his attack on veteran journalist Dan Jenkins.
Jenkins wrote a parody interview in the December issue of Golf Digest magazine headlined "My (Fake) Interview With Tiger", with a subheading of "Or how it plays out in my mind".
Woods certainly does not see the joke, labelling it a "a grudge-fuelled piece of character assassination".
But despite starting his complaint on theplayerstribune.com by hoping that people had not read the article in question, all the 14-time major winner has done is ensure that thousands, if not millions, who had absolutely no intention of doing so, will do so now.
World number one Rory McIlroy faces a break from the sport as a Dublin courtroom is poised to take centre stage rather than a golf course
Read the full story ›
Rory McIlroy has opened a support centre for children with cancer - a therapeutic centre to which his charitable foundation has given £1m.
Read the full story ›
World number one Rory McIlroy has been voted PGA Tour player of the year for the second time in three seasons.
McIlroy won the Open Championship, WGC-Bridgestone Invitational and US PGA Championship in consecutive appearances and did not finish outside the top 25 in any of his 17 PGA Tour events in 2014.
The 25-year-old had already claimed the Arnold Palmer Award as the tour's leading official money winner (£5.1million) and won the Byron Nelson Award for adjusted scoring average (68.83).
"It means a lot to win it for the second time in three years," McIlroy said. "Being voted player of the year by your peers is something that's very important.
"They are the guys you are trying to beat week in, week out and if they appreciate what you have done over the year, see the hard work that you've put in and the golf that you've played and think that's been the best of the season that means a lot to me.
"I would like to win a lot more in my career and even though the last year wasn't what I wanted, the last three or four years have been very, very good and it gives me even more motivation to go on and work harder and try to win more tournaments, more majors and be involved in more Ryder Cups like last week."
Advertisement
Europe's players have been celebrating after an emphatic victory over the USA in the Ryder Cup.
Welshman Jamie Donaldson sealed the triumph with a 5 & 3 win over Keegan Bradley.
Golfer Ian Poulter has tweeted a 'selfie' of the winning Europe team who comfortably beat the US.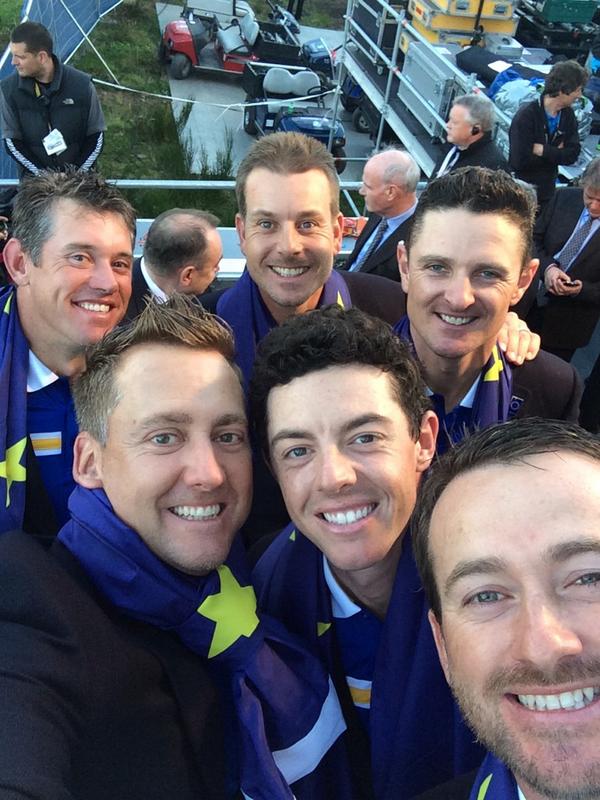 Europe's victorious captain Paul McGinley said he had "a great sense of pride" after retaining the Ryder Cup.
It has been a real honour to captain these 12 players, our backroom team, it has been a huge team effort.

We had three or four big ideas which we kept feeding back to and they came off.

I have a great sense of pride giving happiness to everyone.
– Captain Paul McGinley
Golfer Jamie Donaldson said he hit "the shot of my life" to retain the Ryder Cup for Europe.
I hit the wedge shot of my life to close the game out. I can't really put words to it. It is unbelievable.

I knew it was getting tight there at the end and everyone was building on my group. I just tried not to spend too much time looking at the scoreboard. I was able to do it well enough to close it out.

The lads have got on so well all week. There has been a great craic in there, it is an incredible week. It is hard to describe how good it is - there is nothing else like it in golf.

It has been amazing to be a part of it.
– Jamie Donaldson talking to Sky Sports
Load more updates