ITV weather presenter Lucy Verasamy has a look at the weekend weather at Gleneagles where the Ryder Cup is taking place.
Read the full story ›
One of the greatest sporting events on earth gets underway this week as the Ryder Cup heads to Scotland, here's everything you need to know
Read the full story ›
Advertisement
Rory McIlroy's last competitive outing saw him battling for a £7million payday in the Tour Championship, but the world number one is equally fired up by the thought of playing for team glory at the Ryder Cup.
The 25-year-old famously labelled the Ryder Cup as an "exhibition" the year before his debut in 2010, but contributing to narrow victories at Celtic Manor and Medinah means he appreciates the special nature of the biennial contest.
"It's a group of people that you know well and they all have one goal, one collective task which is to win the Ryder Cup and beat the US team," McIlroy told BBC Radio Five Live.
"The money doesn't matter to us any more, it doesn't matter if we're playing for millions of pounds all over the world. This means as much to us or even more than any other thing that we play for. It's a big deal to us, we want to play as well as we can and try to win."
The secretary of The Royal and Ancient Golf Club of St Andrews said he was "very pleased" that its members "voted overwhelmingly in favour of welcoming women members".
More than three quarters of the club's global membership took part in the ballot, with a decisive 85% voting for women to become members.

This vote has immediate effect and I can confirm that The Royal and Ancient Golf Club of St Andrews is now a mixed membership club.

The membership has also acted to fast-track a significant initial number of women to become members in the coming months.

This is a very important and positive day in the history of the Royal and Ancient Golf Club. The R&A has served the sport of golf well for 260 years and I am confident that the club will continue to do so in future with the support of all its members, both women and men.
– Peter Dawson, secretary of The Royal and Ancient Golf Club
The Royal and Ancient Golf Club has voted overwhelmingly to welcome women as members, it has confirmed.
Significant initial number of women to be fast-tracked into membership over the coming months. Read more: http://t.co/7X26rkYQvx
Top golfer Rory McIlroy has told ITV News that he hopes and expects the sport's governing body to "make the right decision" tonight.
The Royal And Ancient Golf club will announce the result of a vote on whether to allow female members at St Andrews, for the first time in its 260 year history.
It is expected the all male membership will approve the move this evening and immediately enrol 15 women.
I don't even think there should be a debate. Of course women should be allowed to join. I think it's been a long time coming, and it's definitely well overdue, and I'm sure they'll make the right decision in the end.
– Rory McIlroy.
If it is approved it will mean only three major golf clubs will still have men only membership. Muirfield and Royal Troon in Scotland, and Royal St Georges in Kent.
Advertisement
Golf star Tiger Woods has ruled himself out of selection for the United States Ryder Cup team due to back problems, according to Reuters.
Rory McIlroy won his second straight major championship and fourth of his young career, rallying on the back nine in the PGA Championship.
McIlroy finished at 16-under 268. Rickie Fowler and Henrik Stenson tied for third, two shots behind.
Northern Ireland golfer Rory McIlroy has posted a picture of himself holding the Claret Jug after winning the British Open.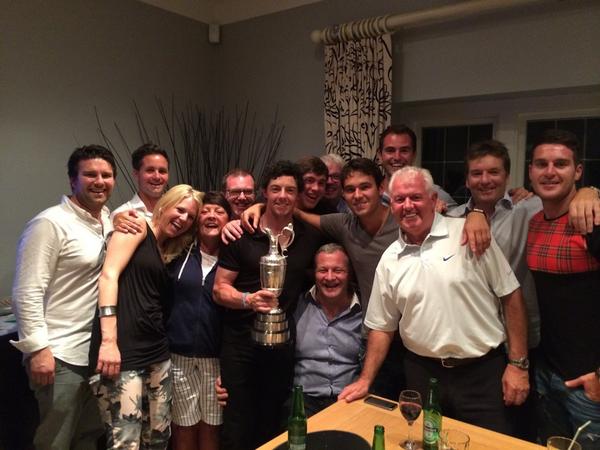 Load more updates