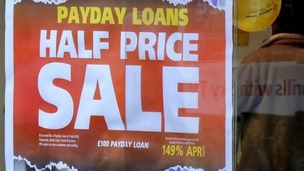 The Citizens Advice Bureau offers some tips for people in financial difficulty to help them deal with their debt problems.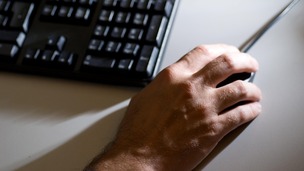 Other countries have faced cyber attacks similar to those that the MPs have warned could 'fatally compromise' UK armed forces.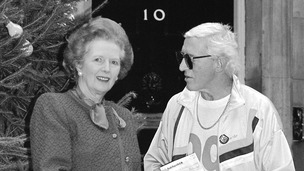 Newly released records show Jimmy Savile's relationship with the Government as he tried to enlist financial support for his charitable work.
Live updates
Clamp down on payday lenders
Payday loan industry: 'We recognise there are concerns'
Responding to the Office of Fair Trading's final report following its review of the payday lending sector, the Consumer Finance Association said:
This is the end of a year long review and we will take time to review the issues that have been raised.

We recognise there are concerns about the industry however these reports are a snapshot in time and work is already underway.

Since the industry was investigated last year we have introduced a series of safeguards to ensure that our members are dealing with customers responsibly.
From credit checking all new applications, to limiting loan rollovers and providing help for those who get into financial difficulty, we have raised standards all the way through the loan process.

We go far beyond the legal requirements but if the Government wants us to do more, we will consider its proposals.
– Russell Hamblin-Boone, Chief Executive of the Consumer Finance Association
Clamp down on payday lenders
OFT: 28% of payday loans rolled over at least once
The Office of Fair Trading's (OFT) review of the payday loan market found around a third of loans are repaid late or not repaid at all.
Twenty-eight per cent of loans are rolled over or refinanced at least once, providing 50 per cent of lenders' revenues.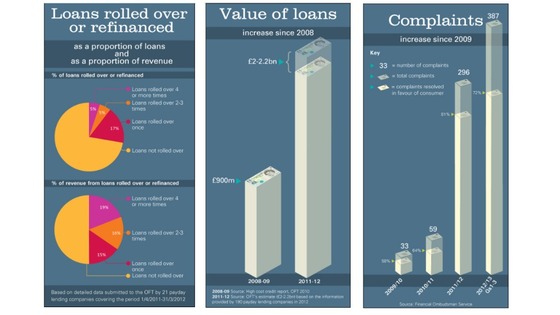 38 of the 50 lenders we visited failed to comply with at least one of the complaint handling rules set by the Financial Ombudsman Service.
A lack of awareness of the Financial Ombudsman Service's rules was commonplace.
Advertisement
Clamp down on payday lenders
Payday lenders: Your views
We asked you if you had used payday loan services before and if so, had they helped?
Here are some of your replies:
Carly Michelle Jolley: They shouldn't be forced to change, they should be shut down!
Linda Keeler: Am using one now and definitely helps me,I only borrow what I can afford to repay and I have a site which tells me how much I will repay on the due date before I agree to the loan. I must admit that the interest rates could be lower than they are but overall very handy for emergencies.
Lili Millin: People don't have the choice with everything going up in price and not their wages, it's a vicious cycle... it's easy for people to say that people get themselves in these problems but when your bank won't help you... you have no choice.
Join the conversation on the ITV News Facebook page and on Twitter.
Clamp down on payday lenders
The OFT acts against payday lenders, but not for now
by Chris Choi - Consumer Editor
The press release says "OFT acts against payday lenders". This appears to be a slick way of saying they are doing nothing - at least not for now.
Officials found problems from top to bottom with this £2 billion pound sector, but won't do anything for at least three months.
If this seems a little lenient, let's not forget that the payday loan firms have already been warned to put their house in order (see the OFT warning in Nov 2012).
Clamp down on payday lenders
OFT: Payday loan market worth up to £2.2bn in 2011/12
The Office of Fair Trading has estimated that the payday loan market was worth £2.0 to £2.2 billion in 2011/12, which corresponds to between 7.4 and 8.2 million new loans.
This figure is up from an estimated £900 million in 2008/09.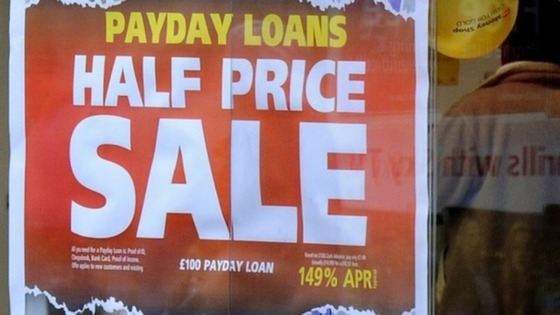 Clamp down on payday lenders
OFT found payday lenders fail to explain loan terms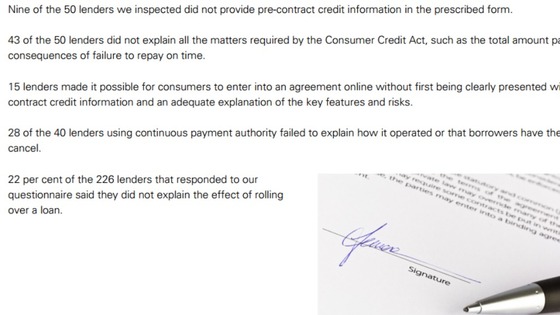 Advertisement
Clamp down on payday lenders
Key findings of OFT report into payday lending sector
The UK's 50 biggest payday lenders have been given 12 weeks to change their ways or risk their licenses after the Office of Fair Trading uncovered evidence of "widespread irresponsible lending".
Particular areas of non-compliance included:
30 of the 50 websites looked at emphasised speed and simplicity over cost -in some cases making claims that, it true, would amount to irresponsible lending.
Lenders failing to conduct adequate assessments of affordability before lending or before rolling over loans.
Failing to explain adequately how payments will be collected
Using aggressive debt collection practices
Not treating borrowers in financial difficulty with forbearance.
Clamp down on payday lenders
Unison: Payday loan advertising cut 'welcome step'
This is a welcome step in the right direction, but a restriction on advertising time does not go far enough.

These loans are targeted at financially vulnerable, often desperate people, and companies must be restricted - by regulation - from giving loans to those who simply cannot afford to repay them.

Cuts to trading standards have restricted the ability of officers to crack down on illegal loan sharks. Unison hopes the same mistakes will not be made with the new Financial Conduct Authority.
– Dave Prentis, general secretary of the Unison union
Clamp down on payday lenders
Advertising slogans found 'misleading' and 'irresponsible'
The Office of Fair Trading found the following advertising slogans to be "misleading or indicative of irresponsible lending":
'No credit checks'
'No Credit? No Problem!'
'Loan guaranteed'
'No questions asked'
'Applications processed 24/7'
'Instant cash'
'Borrow up to £750 instantly'
Clamp down on payday lenders
OFT: Refer payday lenders to Competition Commission
The Office of Fair Trading has proposed referring the payday lending sector to the Competition Commission after it found evidence of "deep-rooted problems" in how lenders compete.
It follows the publication of a final report into the £2 billion payday lending sector.
Load more updates
Back to top