Vettel overtook Hamilton in the Championship standings after the Brit was forced to retire in a dramatic Austrian Grand Prix.
Read the full story ›
Lewis Hamilton posted a record-breaking lap in final practice for the Spanish Grand Prix as New Zealander Brendon Hartley crashed out at 160mph.
Hamilton, who holds a four-point championship lead over Sebastian Vettel, ended Friday's final session at the opening leg of the European season on top of the timesheets.
And the 33-year-old defending champion led the way once more on Saturday morning with a blistering effort of one minute and 17.281 seconds.
Hamilton has not been on pole position since the opening round in Australia, but he will head into qualifying later on today as favourite to secure the front slot on the grid.
Hamilton edged out his team-mate Valtteri Bottas by just 0.013 seconds with Mercedes appearing to hold the edge over Ferrari at a circuit where they have performed well in recent seasons.
Vettel was third in the order, a quarter-of-a-second down on Hamilton, with the German's Ferrari team-mate Kimi Raikkonen fourth.
The one-hour session was brought to a premature end after Hartley crashed out in the closing moments.
The 28-year-old lost control of his car on entry to the high-speed Turn 9, and while he reported he was unhurt in the smash, he appeared to be sporting a limp as he walked away from the incident.
Advertisement
Lewis Hamilton is ready to go to "war" in a bid to tame his "stubborn" Mercedes ahead of the next title battle round with Vettel in Japan.
Read the full story ›
The Malaysian Grand Prix has been a permanent fixture since 1999. Here's a look back at three of the best races from Sepang.
Read the full story ›
Mercedes Formula One drivers Lewis Hamilton and Nico Rosberg will show their support to the lost Beijing bound plane at the Malaysia Grand Prix this weekend, by displaying a 'Pray For MH370' message on the side panels.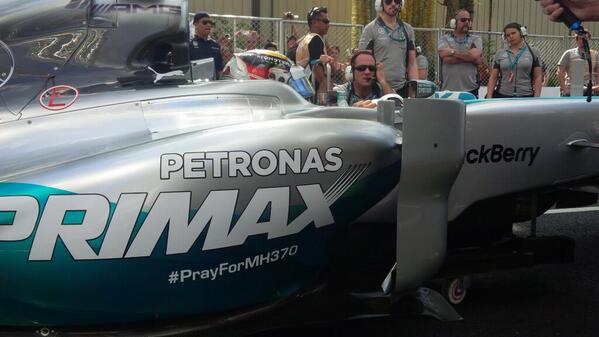 Hamilton also tweeted his sympathies to the families and friends of the passengers, along with a picture of the hashtag #PrayForMH370.
A track marshal has died after being injured in an accident during the Canadian Grand Prix.
Read the full story ›
Advertisement
British Formula 1 driver Jenson Button has spoken of his "shock" and "sadness" at the news a race marshal was killed during the closing stages of the Canadian Formula 1 Grand Prix.
Shocked & saddened by the news that a marshal who is there to keep us safe has lost his life during our race today. Rest in peace my friend
The Federation Internationale de l'Automobile (FIA) confirmed the worker was killed at the circuit in Montreal after helping to move Esteban Gutiérrez's damaged car.
The marshal reportedly attempted to retrieve the radio he had dropped and fell under the wheels of a mobile crane. He was later transferred to the Sacre-Coeur hospital but died as a result of his injuries
The Federation Internationale de l'Automobile (FIA) has confirmed a worker at the Canadian Formula One Grand Prix circuit in Montreal was killed after being run over by a recovery vehicle.
Germany's bumper sporting weekend has continued with Nico Rosberg claiming victory in Formula 1's flagship Monaco Grand Prix ahead of his countryman Sebastian Vettel.
Vettel's Red Bull teammate Mark Webber was third, ahead of Rosberg's Mercedes teammate Lewis Hamilton.
McLaren's Jenson Button was the next best placed Brit in sixth, while Paul Di Resta was ninth in his Force India and Marussia's Max Chilton finished 14th.
Today's race came after German football giants Bayern Munich were crowned UEFA Champions League winners.
They beat Borussia Dortmund 2-1 in the competition's first final competed by two teams from the Bundesliga.
Red Bull's Sebastian Vettel took his second win in four races this year as he won this year's controversial Formula One Grand Prix in Bahrain.
Activists clashed with police and blocked roads into the capital in a bid to disrupt the race.
Bahrain's Crown Prince Salman says a reform process is under way, and denies using Formula 1 for political gain.
Load more updates