Mercedes Formula One drivers Lewis Hamilton and Nico Rosberg will show their support to the lost Beijing bound plane at the Malaysia Grand Prix this weekend, by displaying a 'Pray For MH370' message on the side panels.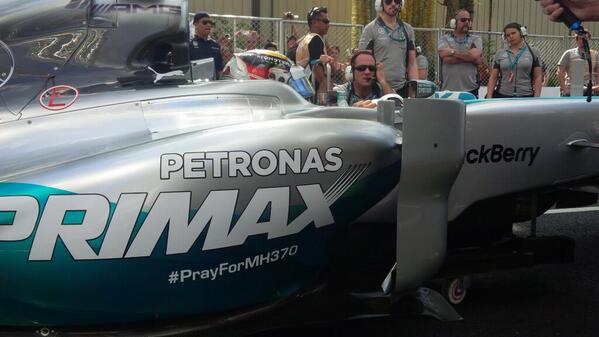 Hamilton also tweeted his sympathies to the families and friends of the passengers, along with a picture of the hashtag #PrayForMH370.
A track marshal has died after being injured in an accident during the Canadian Grand Prix.
Read the full story ›
Advertisement
British Formula 1 driver Jenson Button has spoken of his "shock" and "sadness" at the news a race marshal was killed during the closing stages of the Canadian Formula 1 Grand Prix.
Shocked & saddened by the news that a marshal who is there to keep us safe has lost his life during our race today. Rest in peace my friend
The Federation Internationale de l'Automobile (FIA) confirmed the worker was killed at the circuit in Montreal after helping to move Esteban Gutiérrez's damaged car.
The marshal reportedly attempted to retrieve the radio he had dropped and fell under the wheels of a mobile crane. He was later transferred to the Sacre-Coeur hospital but died as a result of his injuries
The Federation Internationale de l'Automobile (FIA) has confirmed a worker at the Canadian Formula One Grand Prix circuit in Montreal was killed after being run over by a recovery vehicle.
Germany's bumper sporting weekend has continued with Nico Rosberg claiming victory in Formula 1's flagship Monaco Grand Prix ahead of his countryman Sebastian Vettel.
Vettel's Red Bull teammate Mark Webber was third, ahead of Rosberg's Mercedes teammate Lewis Hamilton.
McLaren's Jenson Button was the next best placed Brit in sixth, while Paul Di Resta was ninth in his Force India and Marussia's Max Chilton finished 14th.
Today's race came after German football giants Bayern Munich were crowned UEFA Champions League winners.
They beat Borussia Dortmund 2-1 in the competition's first final competed by two teams from the Bundesliga.
Red Bull's Sebastian Vettel took his second win in four races this year as he won this year's controversial Formula One Grand Prix in Bahrain.
Activists clashed with police and blocked roads into the capital in a bid to disrupt the race.
Bahrain's Crown Prince Salman says a reform process is under way, and denies using Formula 1 for political gain.
Advertisement
Bahraini protesters clashed with police today ahead of tomorrow's F1 race in cities across the country, according to activists.
This video, posted by protesters in the northern city of Jidhafs, shows tear gas being thrown amid street battles between activists and police.
ITV News were asked to leave the country and cannot independently verify the video.
Protesters on the streets of Bahrain have been fired on with tear gas by security forces near Aldaih, west of the capital Al Manama, according to protesters.
ITV News were asked to leave Bahrain by the country's authorities yesterday and cannot independently verify these pictures.
Bahrain police fired tear gas in clashes with rioting youths two days before the Formula One Grand Prix in the Gulf kingdom.
Read the full story ›
An ITV News crew has been asked to leave Bahrain by the country's authorities as they reported on the violent clashes taking place in the build-up to the Grand Prix.
The team of five, including ITV News special correspondent Rageh Omaar, were filming in the Gulf nation ahead of Sunday's Formula One race where they were yesterday held and questioned at a police station before being released.
The group, who had the necessary visas permitting them to work there, were then again questioned and taken to a police station today, before being told they must leave the country.
An ITV News spokeswoman said: "Our news team were on assignment with visas approved by the Bahraini authorities.
"Having filed a report last night, they were stopped while filming this morning and taken to a local police station for discussions with officers.
"They have since been asked to leave the country, which they are in the process of doing."
Load more updates