The US is closely monitoring the situation in Greece and will keep urging all parties to help put Athens on a path to growth within the Eurozone, the Treasury Department said on Tuesday.
"The nonpayment by the Greeks to the IMF this evening kicks off a long-standing and well-established process at the IMF for addressing arrears," the Treasury said in a statement.
"The United States will continue to encourage all parties involved to press forward with negotiations that put Greece on a path toward economic growth within the Eurozone on the basis of needed economic reforms and requisite financing that achieves debt sustainability," the statement added.
Greece's Deputy Prime Minister has said the government might be open to calling off Sunday's referendum on a deal proposal by its international creditors, saying it was a political decision.
Speaking on state television, Yannis Dragasakis said the government decided on the referendum "and it can make a decision on something else."
It was unclear, however, how that would be possible as Parliament has already voted for it to go ahead.
Dragasakis also confirmed that Athens had asked the International Monetary Fund for an extension of the 1.6bn Euros payment due on Tuesday.
The bailout programme Greece has relied on for five years expired at midnight Tuesday and the country failed to repay the loan due to the IMF, deepening fears over whether it will be able to remain in the Eurozone.
Advertisement
The International Monetary Fund has confirmed that Greece has missed its €1.6bn debt repayment.
An IMF spokesman said Greece had asked for a last-minute repayment extension, which the Fund's board will consider "in due course."
Greek Finance Minister Yanis Varoufakis has said the government is examining the possibility of suspending its planned referendum on bailout conditions.
The referendum is due on Sunday.
"It's a political matter. The government may decide to do things differently," Varoufakis told state TV channel ERT.
"We called the referendum in order to achieve an agreement."
Now #Greece ministers raising possibility of suspending referendum. Seem suddenly desperate for deal. How bad are things at their banks?
Greece made last minute overtures to its creditors on Tuesday, but the new proposal came too late, eurogroup ministers said.
Eurozone finance ministers are set to hold a conference call on Greece on Wednesday morning.
Greek paper Proto Thema reporting near civil war within Syriza Govt. One faction demanding retreat and suspension of referendum. #Greece
Crowds of people rallied in front of the Greek parliament building today calling on their fellow Greeks to vote to accept bailout conditions in Greece's planned referendum.
A day earlier there had been a similar demonstration by 'no' campaigners.
The referendum is due on Sunday.
Just hours before an Greece's expected default on a €1.6bn IMF repayment, Fitch, the ratings agency, announced it had downgraded Greece's long-term rating to 'CCC'.
The ratings agency said the breakdown of the negotiations between the Greek government and its creditors has significantly increased the risk that the country will not be able to meet its debt obligations in the next few months.
Eurozone finance ministers are set to hold a conference call on Wednesday morning, by which time Greece is expected to have missed its IMF repayment.
Eurozone finance minsiters have concluded a conference call to discuss a new debt proposal by Greece, saying it is too late to extend an existing bailout.
Ministers agreed to hold another call on Wednesday, but that will be after a scheduled €1.6bn debt repayment by Greece to the IMF.
Jeroen Dijsselbloem, the eurogroup chairman, said the new proposal presented little that was new.
The political stance of the Greek government doesn't appear to have changed.
– Jeroen Dijsselbloem, eurogroup chairman
Alexander Stubb, the Finnish finance minister, said the eurogroup concluded that requests from Greek Prime Minister Alexis Tsipras for an extension of Greece's bailout programme or debt relief were not possible.
#Eurogroups ends. Letter of @tsipras_eu includes three requests. Extension of programme or haircut not possible...cont...
...request for ESM-programme is always dealt with through normal procedures.
Athens earlier saw crowds of demonstrators gather in front of parliament calling for voters to accept bailout terms and vote 'yes' in Greece's referendum, due to be held on Sunday.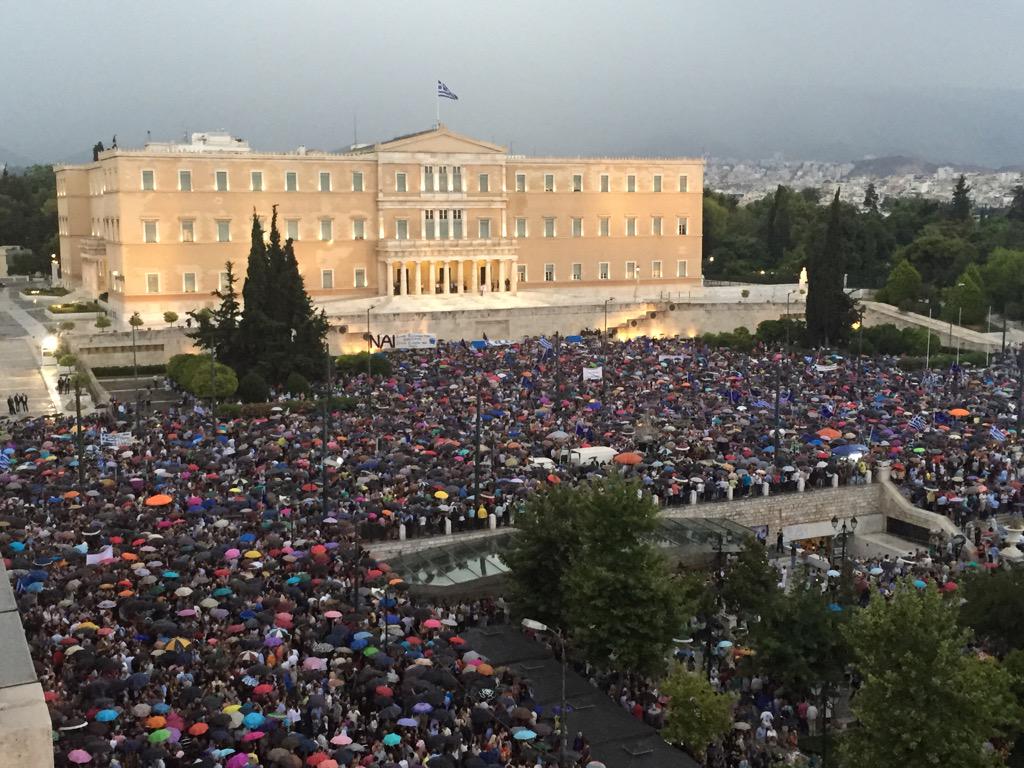 Advertisement
A new currency might be appealing for some Greeks, but there would be a painful wait before new banknotes and coins could be issued.
Read the full story ›
US President Barack Obama has said the Greek debt crisis should not prompt "over-reactions" in the US, but that US officials were monitoring the situation.
"In layman's terms for the American people, this is not something that we believe will have a major shock to the system," Obama told a news conference on Tuesday.
"But obviously it's very painful for the Greek people, and it can have a significant effect on growth rates in Europe."
Online campaign calls on individual donors to help raise €1.6 billion, the amount the country needs to make a scheduled IMF repayment.
Read the full story ›
With hours to go before Greece defaults on a loan, which could mean it will leave the Euro, another last minute offer has appeared.
Read the full story ›
Load more updates