Thousands of people held in migrant detention camps as they await deportation to Turkey have applied for asylum in a bid to stay in Greece, authorities claimed today.
According to comments made by Maria Stavropoulou, director of Greece's Asylum Service, on state TV the influx of asylum applications 'could slow the rate of returns under the EU-Turkey deal'.
She said that some 3,000 people held in deportation camps on the islands are seeking asylum, with the lengthy application process to formally start by the end of the week.
Hundreds of migrants have been protesting in Lesbos today as they wait at a detention camp before being deported to Turkey.
ITV News' team in Lesbos caught them on camera as they chanted the word "freedom" over and over as they staged a sit-in at the Moira detention camp.
Advertisement
Turkey is set to take in an estimated 200 'irregular' migrants from the Greek island on Wednesday, a government official has confirmed.
It comes as an EU agreement for Turkey to take back migrants and refugees who cross the Aegean to enter Greece illegally came into effect yesterday.
Several hundred migrants have been pictured staging a sit down protest at a detention camp on the island of Lesbos.
Europe Editor James Mates reports that protesters shouted "I want freedom".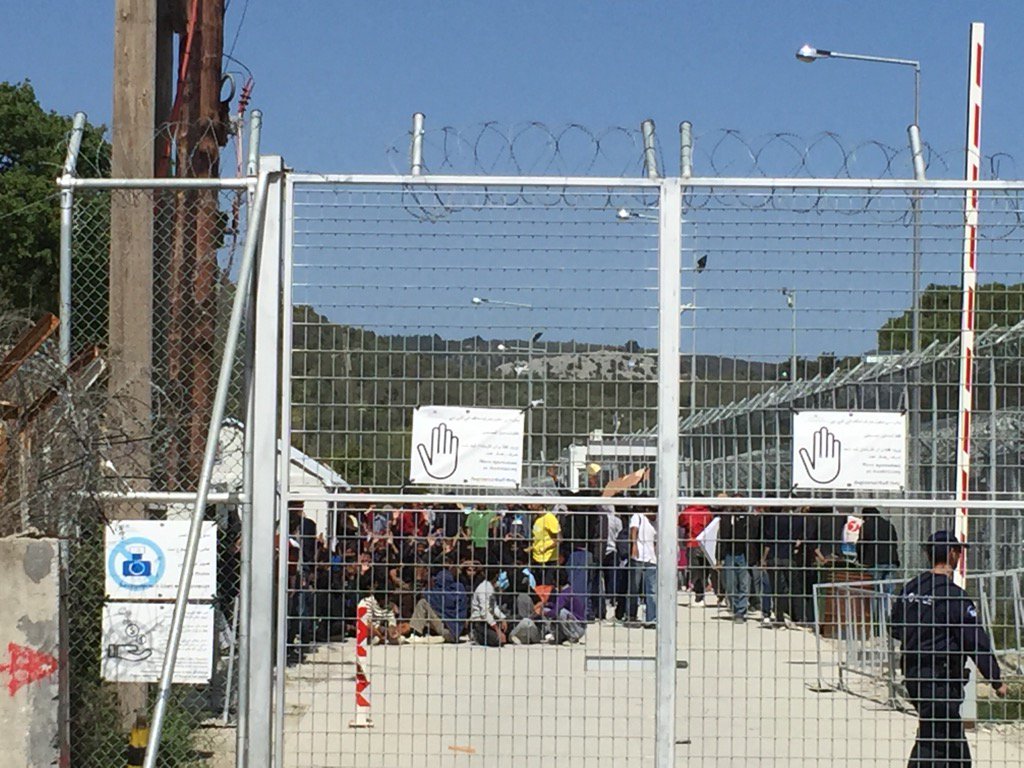 More migrants have been pictured arriving on the island of Lesbos, as Greece enters the second day of compulsory migrant repatriations.
Greece began to return migrants back to Turkey yesterday as part of an EU agreement to control the mass influx of people in Europe but the threat of deportation seems to have left new arrivals undeterred.
For the first time, after more than 1 million migrants and refugees entered Europe over the last year, compulsory repatriations began.
Each returnee was accompanied by their own guard from the EU border agency Frontex and for the 202 that returned to Turkey today, the dream of a better life in Europe was at an end.
The EU wants to put the networks of people smugglers out of business but the key test is not whether they can send enough people back but whether it deters people from coming in the first place.
ITV News Europe Editor James Mates reports.
Advertisement
Turkish President Tayyip Erdogan criticised European countries for not letting migrants into their territories by raising razor wire fences.
Speaking to the general assembly for humanitarian organisation Red Crescent in Ankara, he said that European countries "turned back Syrians" while the Turkish government had rescued 100,000 migrants from the Aegean Sea.
Did we turn Syrians back? No, we didn't. But they (European countries) did.

By way of placing razor wire, they didn't let these people in to their countries.

We see who's dying on the Aegean Sea. But the number of those rescued by us on the Aegean Sea is 100,000.
– Turkish President Tayyip Erdogan
Greece has begun returning migrants to Turkey, home to 2.7 million migrants, as part of an EU agreement for financial and political concessions.
As the first wave of migrants were deported to Turkey under a controversial EU scheme, the head of Amnesty International in Greece has condemned the plan as "dangerous".
This is the first day of a very difficult time for refugee rights.

Despite the serious legal gaps and lack of adequate protection in Turkey, the EU is forging ahead with a dangerous deal.

Turkey is not a safe third country for refugees. The EU and Greek authorities know this and have no excuse.

Even if this first group is not refugees, what we are seeing here is symbolic kick-off of what might be a very dangerous practice of returns to Turkey.
– Giorgos Kosmopoulos
Our Europe Editor James Mates, who's in Lesbos, analyses the potential pitfalls of the controversial EU deal aimed at tackling the migrant crisis on the day it came into force.
The 202 migrants and refugees deported to Turkey on the first day a controversial EU scheme came into force included people from:
Pakistan
Afghanistan
Iraq
Congo
Somalia
Ivory Coast
India
Sri Lanka
Syria
Load more updates