Green Party leader Natalie Bennett has cast her ballot in the local and European elections.
After being buoyed by the latest polls, the Green party hope to get their best ever result in the European elections, but it is a different case in Brighton, where it has been anything but a smooth ride.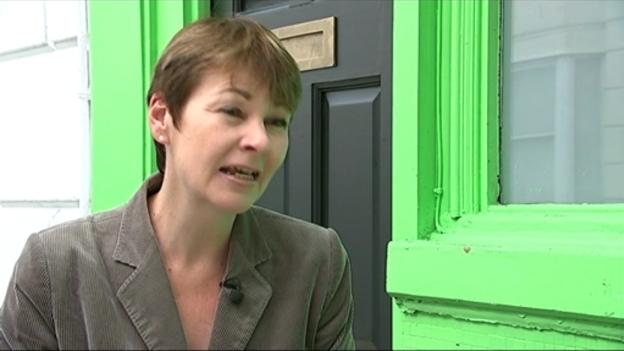 Advertisement
British politics is heading for "big shifts" in the next few years as voters abandon mainstream parties in the search for "new answers", the leader of the Green Party in England and Wales said.
Natalie Bennett was speaking as activists gathered for their autumn conference in Brighton.
Ms Bennett rejected suggestions the rise of the UK Independence Party had sidelined the Greens from their former position as the fourth party in British politics, insisting it marked a general shift in politics away from traditional party loyalties.
Speaking to BBC Radio 4's Today programme, she said she had been told that in many cases voters were "talking about Ukip and Greens in the one breath".
"Obviously our policies are very different, but people are looking for new answers, and we are going to see big shifts in British politics in the next few years," she said.
"What we are seeing is very much a shift away from the three largest parties."
Natalie Bennett has been elected the new leader of the Green Party in England and Wales in a ballot of party members today.
Caroline Lucas is standing down as leader of the Green Party. Ms Lucas - who was elected as the party's first MP in 2010 - said she would step down in September at the end of her second, two-year term as leader.
"We're lucky to have a wealth of capability and experience in our party. Now feels like the right time to step aside, to allow more of that ability to come forward and help the party to grow," she said in a statement on the party's website.
The Green party is celebrating solid results in today's local elections. They saw an overall gain of 11 councillors, and the successful defence of all their seats in stronghold Norwich.
The party's leader and only MP Caroline Lucas said the results showed the Greens were "growing in confidence and steadily building support".
Jenny Jones, the Green party candidate for London mayor, is currently heading for third place.
Advertisement
The Blackpool branch of the Green Party has called for a moratorium on drilling at the Bowland basin site near Blackpool, where there were two earthquakes in April and May 2011. It released this statement in response