Engineering students from Queen's University Belfast have set a new Guinness World Record for the largest Meccano construction.
Read the full story ›
The world record for the largest science lesson has been smashed in Belfast as more than 1,300 schoolchildren took part in a class.
Read the full story ›
Advertisement
Venezuelan town of Catatumbo is named as the place with the world's most lightning bolts.
Read the full story ›
From the cat who can jump 6ft to the man with the world's longest tongue - here are some of the oddest new Guinness World Record holders.
Read the full story ›
Jiff, who starred in a Katy Perry music video, has become the world's fastest dog on two legs.
Read the full story ›
At the grand old age of 24, Poppy the moggy has become a Guinness record holder after being recognised as the world's oldest cat.
Read the full story ›
Advertisement
Thousands of pupils and military personnel have set a Guinness World Record for the largest human flower by creating a giant poppy to commemorate the centenary of the start of the First World War.
A theme park in Staffordshire claims it has set a new world record for the largest gathering of people dressed in onesies.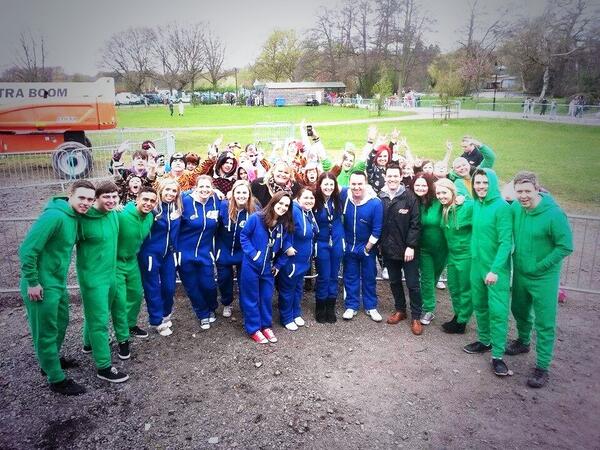 Drayton Manor Theme Park says it has beaten the previous record, which was set in Hampshire, after 3,152 people gathered at its centre wearing the one-piece jumpsuits.
The attempt will be authenticated by Guinness World Records before being made official but it almost triples the previous record of 1,184 set by Ringwood School, a spokeswoman for the park said.
72-year-old Irvin Gordon has hit the three millionth mile mark in his beloved 1966 Volvo coupe, breaking a new world record.
Read the full story ›
Ozzy, a border collie/kelpie crossbreed, has entered the world famous Guinness Book of Records for achieving the Fastest Crossing of a Tightrope by a Dog.
The four-year-old crossed a 3.5m rope in 18.22 seconds during his record breaking stunt at the Faith Animal Rescue Centre in Norfolk.
Ozzy, who lives in Norwich with his owner, 51-year-old carpenter Nick Johnson, who has no formal dog training experience but learned the techniques from the internet.
He said: "Ozzy is most happy when he's working on the tricks that we do and regards it as a game.
"It makes me feel so happy and proud, that Ozzy and I have such a strong friendship and relationship we can work together on tricks and games that get the recognition of Guinness World Records."
Load more updates