Harry Potter star Rupert Grint has described the amount of money he was paid for the hugely popular film franchise as "kind of ridiculous."
Read the full story ›
The chief executive of university admissions service Ucas has joined in on an internet prank that shows a student receiving a rejection letter from 'Hogwarts University'. The letter was posted on Twitter by @QuantumPirate as many received their A-Level results.
Ucas politely declines him a place at the fictional institution from Harry Potter due to "the fact that it does not exist". To confuse matters further, Ucas chief Mary Curnock Cook responded: "Of course it's genuine - silly muggles".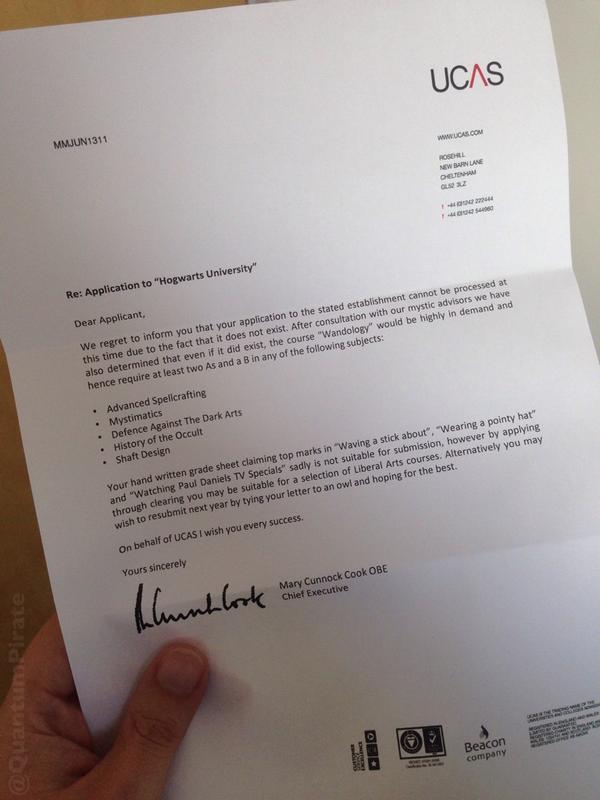 Advertisement
Harry Potter star Daniel Radcliffe has revealed he is "very, very happy" in a relationship.
The 25-year-old said he "knows exactly what true love is" and believes it is "when you're really, really happy with one person."
"I am very, very happy with someone," he told Good Morning Britain, but said he would rather keep the details of his relationship private.
Daniel Radcliffe, famous for his role as the young wizard in the Harry Potter films, marks his 25th birthday today.
With estimated annual earnings of around £12.5m, the London-born actor is worth a staggering $110m (£65m), according to Celebrity Net Worth.
At 11-years-old, the star first hit our screens as Harry Potter in 2001, playing his wizard role for ten years, before hanging up his cloak for good.
Since the release of the franchise's final film, Harry Potter And The Deathly Hallows Part 2, Daniel has continued his success, starring in a variety of films including The Woman In Black.
Emma Watson, who played Hermione Granger in the Harry Potter films, said she was "so sad" to hear that actor Dave Legeno had died.
I'm so sad to hear about #DaveLegeno. He was such a lovely man. I hope he is resting in peace x
British actor Dave Legeno, who played werewolf Fenrir Greyback in three Harry Potter films, is thought to have died from 'heart issues.'
Read the full story ›
Advertisement
Fans curious to know who would be victorious in a battle between the stars of Harry Potter and Twilight can now find out.
Harry Potter, Ron Weasley and Hermoine Granger take on Bella Swan, Edward Cullen and Jacob Black in the epic dance dual, which has been viewed more than a million times on YouTube.
Filmmaker ScottDW wrote a rap to accompany the hit video which features the lyrics: "Yo, we the Hogwarts crew. Gotta wand that I know how to use. Expecto Petronum. Back up, you vamps don't know us."
JK Rowling has given Harry Potter fans a glimpse of the wizard later in life with a new 1,500 word short story.
Read the full story ›
Harry Potter fans can submerse themselves that little bit more into Hogwarts after Universal Orlando opens 'Diagon Alley'.
Read the full story ›
Harry Potter creator JK Rowling is turning sports writer to pen a series of match reports from the fictional Quidditch World Cup.
The writer's fans will be able to read regular updates from the tournament, which first featured in her books about the teenage wizard, on the Pottermore website.
Quidditch - a fictional sport played by the student wizards on flying broomsticks in the best-selling books - is so popular with fans that they have adapted a version of the game that can really be played. Characters from the books are expected to feature in the reports.
Load more updates