Warning issued after tourists seen walking on railway line used in the films by the Hogwarts Express.
Read the full story ›
Harry Potter fans are being given the opportunity to eat Christmas dinner at Hogwarts this festive season.
Read the full story ›
Advertisement
J.K. Rowling surprised fans when she revealed online that most people pronounce a key character's name wrong.
Read the full story ›
Details are scarce on the play - but it is apparently a new story and not a prequel.
Read the full story ›
The internet is having lots of fun with Raheem Sterling's impression of Dobby the elf from the Harry Potter series…
Sorry, this content isn't available on your device.
A new Halloween-themed Harry Potter story by J.K. Rowling will be published online today.
Read the full story ›
Advertisement
Harry Potter star Rupert Grint has described the amount of money he was paid for the hugely popular film franchise as "kind of ridiculous."
Read the full story ›
The chief executive of university admissions service Ucas has joined in on an internet prank that shows a student receiving a rejection letter from 'Hogwarts University'. The letter was posted on Twitter by @QuantumPirate as many received their A-Level results.
Ucas politely declines him a place at the fictional institution from Harry Potter due to "the fact that it does not exist". To confuse matters further, Ucas chief Mary Curnock Cook responded: "Of course it's genuine - silly muggles".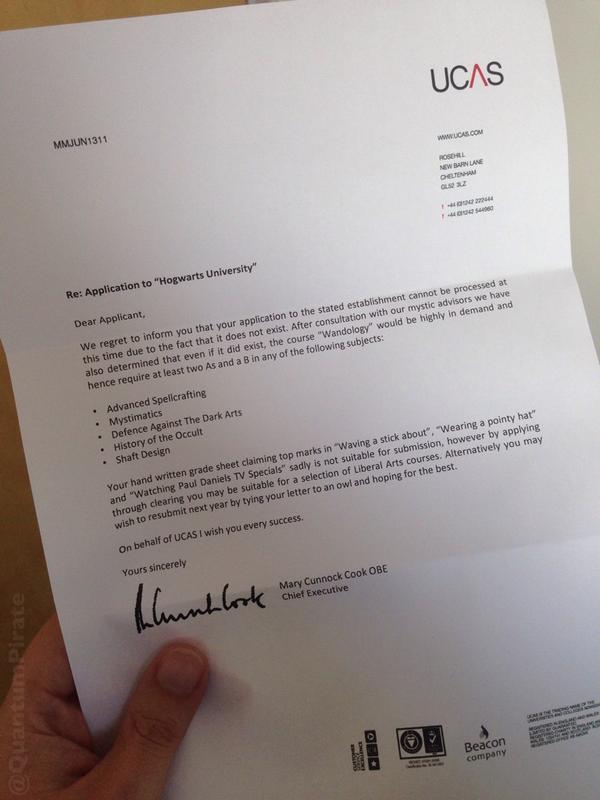 Harry Potter star Daniel Radcliffe has revealed he is "very, very happy" in a relationship.
The 25-year-old said he "knows exactly what true love is" and believes it is "when you're really, really happy with one person."
"I am very, very happy with someone," he told Good Morning Britain, but said he would rather keep the details of his relationship private.
Daniel Radcliffe, famous for his role as the young wizard in the Harry Potter films, marks his 25th birthday today.
With estimated annual earnings of around £12.5m, the London-born actor is worth a staggering $110m (£65m), according to Celebrity Net Worth.
At 11-years-old, the star first hit our screens as Harry Potter in 2001, playing his wizard role for ten years, before hanging up his cloak for good.
Since the release of the franchise's final film, Harry Potter And The Deathly Hallows Part 2, Daniel has continued his success, starring in a variety of films including The Woman In Black.
Load more updates