Monica Lewinsky, whose affair with Bill Clinton nearly ended his presidency in the 1990s, has broken her silence with a Vanity Fair article.
Read the full story ›
My most exciting title yet: Grandmother-To-Be! @billclinton and I are thrilled that Chelsea and Marc are expecting their first child!
Bill and Hillary Clinton have tweeted their joy at news of their daughter Chelsea's pregnancy.
Excited to add a new line to my Twitter bio...grandfather-to-be! @hillaryclinton and I are so happy for Chelsea and Marc!
Hillary Clinton said she was "thrilled" at the news, which Chelsea revealed during a joint event with her mother.
Advertisement
Chelsea Clinton, the daughter of former US President Bill Clinton, has announced she is expecting her first baby.
According to US media, she revealed her pregnancy during a joint event with her mother Hillary, saying she was "very excited" that her first child was due to arrive later this year.
A woman hurled a shoe at Hillary Clinton as the former secretary of state was delivering a speech at a Las Vegas hotel, but Clinton dodged it and continued with her remarks, a US Secret Service spokesman said.
Secret Service spokesman George Ogilvie said the protester was not a ticketed guest for Clinton's speech at the Mandalay Bay hotel and had been spotted by Secret Service agents and hotel security guards before the incident.
"As agents and hotel security approached her she threw a shoe and was immediately taken into custody by the Secret Service and hotel security," Ogilvie said.
Footage of the incident broadcast by KTNV-TV showed Clinton, 66, crouching to dodge an object as she stood on stage. "Is that somebody throwing something at me?" Clinton asked.
US talk show host Jimmy Kimmel has done his best to rival Ellen DeGeneres' infamous Oscars 'selfie' by getting Bill, Hillary and Chelsea Clinton to all pose in front of the camera.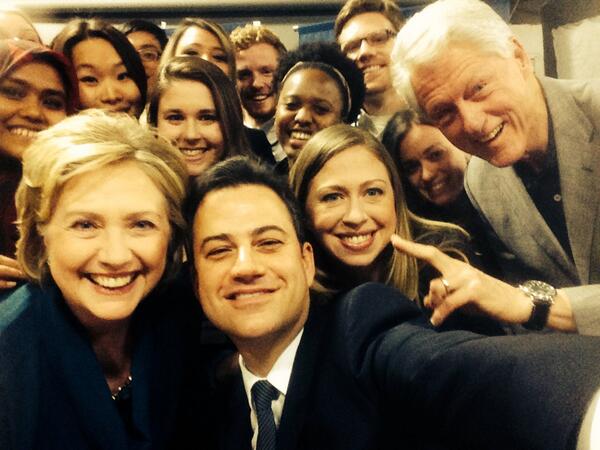 However, unfortunately for Kimmel the picture has only been retweeted around 7,000 times compared to over 3.4 million for the Oscars selfie, which featured Bradley Cooper, Jennifer Lawrence, Brad Pitt, Julia Roberts, Kevin Spacey, Angelina Jolie and a host of other Hollywood stars.
The Cold War has returned with a vengeance, judging by the mood in Washington with talk of extensive sanctions against Russia.
Read the full story ›
Advertisement
Former US Secretary of State Hillary Clinton tried to clarify comments that left the impression she had compared Russian President Vladimir Putin to Nazi dictator Adolf Hitler.
In an appearance at the University of California, Clinton said: "The claims by President Putin and other Russians that they had to go into Crimea ... because they had to protect the Russian minorities.
"That is reminiscent of claims that were made in the 1930s when Germany under the Nazis kept talking about how they had to protect German minorities in Poland and Czechoslovakia".
"I just want everybody to have a little historic perspective - I'm not making a comparison certainly, but I am recommending that we perhaps can learn from this tactic that has been used before".
Pictures released today give a unique look inside Air Force One as two former and one current US President flew to Nelson Mandela's memorial
Read the full story ›
Former US Secretary of State Hillary Clinton paid tribute to Nelson Mandela, calling his death "the loss of a giant among us".
Ms Clinton said Mandela had "demonstrated unequivocally how each of us can choose how we will respond to those injustices and grievances, those sorrows and tragedies that afflict all of human kind".
Former US Secretary of State Hillary Clinton, who is considering whether to make her second challenge for the Democratic presidential nomination in 2016, said "people need to be better informed".
She made the comments in reference to revelations leaked by former US spy agency contractor Edward Snowden.
We need to have a sensible adult conversation about what is necessary to be done, and how to do it, in a way that is as transparent as it can be, with as much oversight and citizens' understanding as there can be.

It would be going down a wrong path if we were to reject the importance of the debate, and the kinds of intelligence activities that genuinely keep us safe.

This is a problem that is well over a decade old, where these capacities have corresponded with increasing outreach to consumers on the business side and increasing concern about security on the government side.
– Former US Secretary of State Hillary Clinton
Load more updates