The first pictures of Bill and Hillary Clinton's new granddaughter Charlotte Clinton Mezvinsky have been released
The doting grandparents are seen cooing over the new arrival who is the first child for their daughter Chelsea and her husband Marc.
We are blessed, grateful, and so happy to be the grandparents of a beautiful girl, Charlotte Clinton Mezvinsky, born on Friday evening... Chelsea is well and glowing. Marc is bursting with pride. Charlotte's life is off to a good start.
– Bill and Hillary Clinton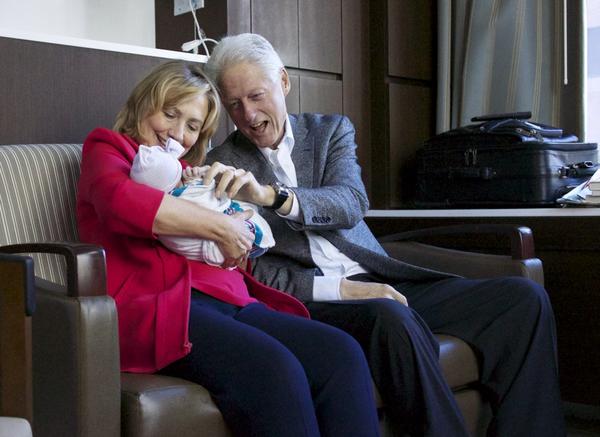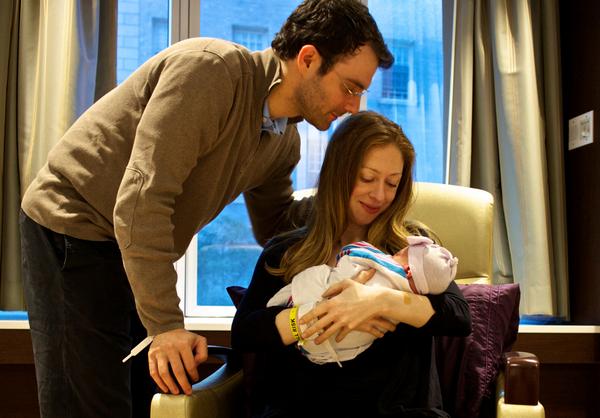 Former US Secretary of State Hillary Clinton will decide whether she will make a second presidential bid from the start of 2015.
Speaking at an event in Mexico City, Mrs Clinton said: "I am going to be making a decision...probably after the first of the year about whether I'm going to run again or not."
Mrs Clinton had previously said she was unlikely to decide this year whether she would run for the 2016 US presidential election.
It comes after she lost the Democratic nomination to Barack Obama in 2008.
Advertisement
Hillary Clinton has become the latest powerful figure to intervene on the independence debate, declaring she would "hate" for Britain to "lose Scotland".
The former US secretary of state said she believes a yes vote would be a "loss for both sides" and she is hoping that it does not happen.
Mrs Clinton, who is on a tour to promote her memoir Hard Choices and is widely believed to be preparing for a presidential run in 2016, also indicated she was keen for Britain to remain part of the European Union.
"I would hate to have you lose Scotland," she told BBC 2's Newsnight.
She added: "I would think it would be a loss for both sides but, again, I don't have a vote."
Hillary Clinton may claim her recent television appearances are merely to promote a book launch, but to many they seem like the launch of a presidential campaign.
Chelsea Clinton, the daughter of former US President Bill Clinton and former Secretary of State Hillary Clinton, has received her doctorate in international relations from Oxford University.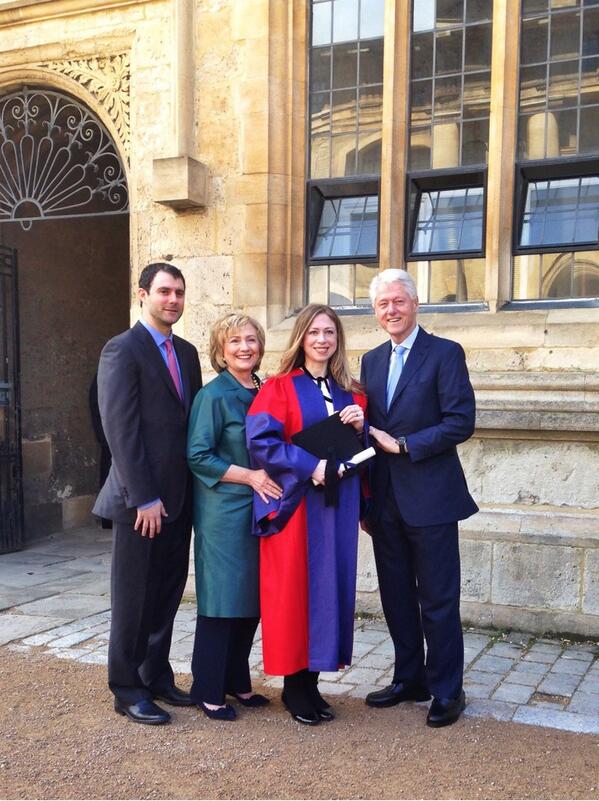 Bill Clinton tweeted he "couldn't be prouder" of his daughter, who was pictured in a tweet he posted, joined by her parents and her husband Marc Mezvinsky.
Chelsea Clinton, who is pregnant with her first child, previously completed a Master of Philosophy in the same subject at Oxford in 2003. Her father Bill also studied at Oxford under a Rhodes scholarship.
Monica Lewinsky, whose affair with Bill Clinton nearly ended his presidency in the 1990s, has broken her silence with a Vanity Fair article.
Read the full story ›
Advertisement
My most exciting title yet: Grandmother-To-Be! @billclinton and I are thrilled that Chelsea and Marc are expecting their first child!
Bill and Hillary Clinton have tweeted their joy at news of their daughter Chelsea's pregnancy.
Excited to add a new line to my Twitter bio...grandfather-to-be! @hillaryclinton and I are so happy for Chelsea and Marc!
Hillary Clinton said she was "thrilled" at the news, which Chelsea revealed during a joint event with her mother.
Chelsea Clinton, the daughter of former US President Bill Clinton, has announced she is expecting her first baby.
According to US media, she revealed her pregnancy during a joint event with her mother Hillary, saying she was "very excited" that her first child was due to arrive later this year.
A woman hurled a shoe at Hillary Clinton as the former secretary of state was delivering a speech at a Las Vegas hotel, but Clinton dodged it and continued with her remarks, a US Secret Service spokesman said.
Secret Service spokesman George Ogilvie said the protester was not a ticketed guest for Clinton's speech at the Mandalay Bay hotel and had been spotted by Secret Service agents and hotel security guards before the incident.
"As agents and hotel security approached her she threw a shoe and was immediately taken into custody by the Secret Service and hotel security," Ogilvie said.
Footage of the incident broadcast by KTNV-TV showed Clinton, 66, crouching to dodge an object as she stood on stage. "Is that somebody throwing something at me?" Clinton asked.
US talk show host Jimmy Kimmel has done his best to rival Ellen DeGeneres' infamous Oscars 'selfie' by getting Bill, Hillary and Chelsea Clinton to all pose in front of the camera.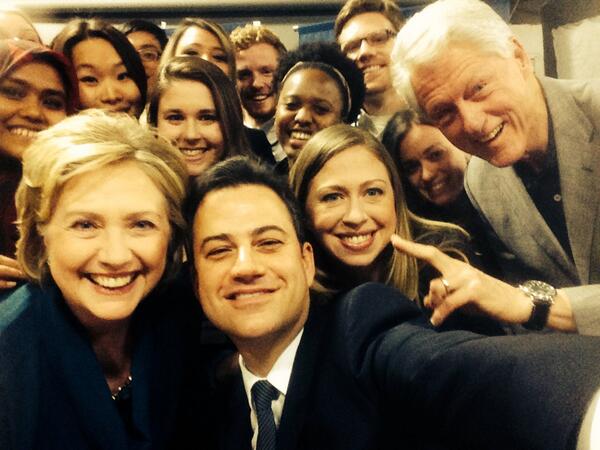 However, unfortunately for Kimmel the picture has only been retweeted around 7,000 times compared to over 3.4 million for the Oscars selfie, which featured Bradley Cooper, Jennifer Lawrence, Brad Pitt, Julia Roberts, Kevin Spacey, Angelina Jolie and a host of other Hollywood stars.
Load more updates