President Xi Jinping posed for a selfie with the PM and Manchester City striker Sergio Aguero during a visit to the Etihad Stadium.
Read the full story ›
Advertisement
David Cameron and the Chinese President will rub shoulders with football royalty on a tour to Manchester.
Read the full story ›
The Prime Minister has taken China's President Xi to his local pub for a pint and some fish and chips.
Read the full story ›
The Queen and Duke of Edinburgh have bid farewell to China's President Xi Jinping and his wife Peng Liyuan at Buckingham Palace, where they have been staying since arriving in the UK on Monday.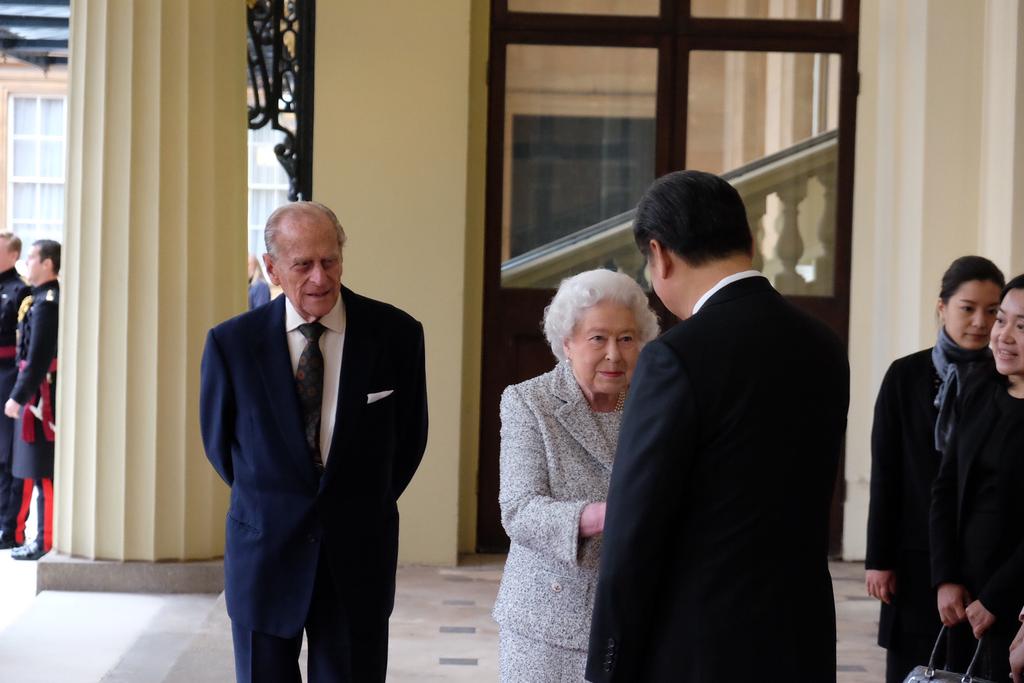 The couple will be entertained by David Cameron and wife Samantha at his Buckinghamshire country retreat Chequers on the third day of the state visit.
David Cameron will entertain President Xi at his Buckinghamshire country retreat on day three of the Chinese president's state visit.
International affairs are expected to dominate talks at Chequers, including China's response to the rise of Islamist extremism.
Mr Xi and wife Peng Liyuan will bid a formal farewell to the Queen and Duke of Edinburgh at Buckingham Palace, where they have been staying since arriving on Monday evening, before the president joins the Duke of York for a series of visits.
The couple will then head to Chequers where they will dine with Mr Cameron and wife Samantha.
Advertisement
PM David Cameron hailed China's £6 million investment in a British nuclear plant saying that the deal will take trade ties to a 'new level'
Read the full story ›
Chinese President Xi Jinping has said China attaches "great importance" to the protection of human rights.
Asking about human rights by a British journalist at a joint press conference with David Cameron at Downing Street, XI said China had found a path of development suited to the country's current conditions.
He added: "Looking around the world, there is always room for improvement.".
In reply to the question, Mr Cameron said a strong economic relationship with China was important so that other issues such as human rights could be discussed.
EDF chairman Jean-Bernard Levy has welcomed a multi-billion pound deal signed with Chinese nuclear firm CGN.
The deal will see the construction of an £18bn new nuclear plant at Hinckley Point in Somerset, as well as the joint development of nuclear projects in Sizewell, Suffolk, and Bradwell, Essex.
Today marks a big step forward for EDF's 30 year partnership with our Chinese partner CGN.
Our ambitious nuclear projects are strongly supported by the governments of the UK, China and France and they will bring benefits to all three countries.

I am confident that our experience and ability mean we will successfully deliver Hinkley Point C and subsequent projects.

We are planning for a final investment decision within weeks so that we can move forward with construction.
– Jean-Bernard Levy
Meanwhile, CGN chairman He Yu said he was pleased to be moving into the UK's nuclear market.
This is also a triple-win for the existing nuclear energy partnership between China, France and the UK.

CGN is highly committed to delivering safe, cost efficient, and sustainable energy and to supporting the UK's goal of becoming a low-carbon society.
– He Yu, CGN
The building of a new nuclear power station in Britain will go ahead after China agreed to invest billions in buying significant stakes in Britain's industry, energy firm EDF has confirmed.
For £6 billion, the China General Nuclear Power Group (CGN) will take on a 33 per cent share of a new nuclear power station in Hinckley Point, Somerset - which will cost some £18bn in total.
CGN will also take on a 20 per cent stake in a nuclear project at Sizewell in Suffolk, helping build two more Areva-designed EPR reactors, and EDF has agreed to help the firm build a Chinese-designed nuclear reactor at a site in Bradwell, in which they will have a 66.5 per cent stake.
EDF said it may sell another 15 per cent stake in Hinkley Point to another partner at a point in future, but would keep a majority.
And the energy company said it will retain a 33.5 per cent stake in the Bradwell project.
Load more updates