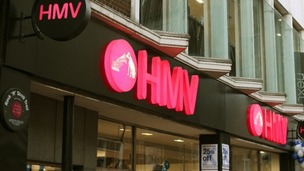 HMV was handed a lifeline when it was bought by restructuring firm Hilco in a deal worth about £50 million.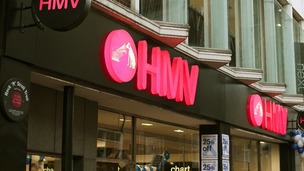 The deal agreed with restructuring firm Hilco will save 2,500 jobs in 141 stores, including 23 which had previously been set to close.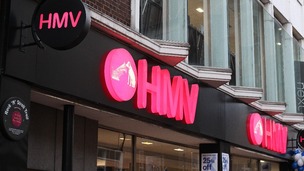 Following outrage from customers, the administrators running HMV have announced they will honour gift vouchers for the high-street chain.
Live updates
HMV deal 'saves 2500 jobs'
HMV are on the verge of a £50 million rescue by specialist restructuring firm Hilco in a move that could save 2,500 jobs and 140 UK shops, according to Sky News.
HMV closes another 37 stores
As HMV announce a further 37 stores are to close many of you have taken to twitter to mourn the loss of local shops:
Sad news about closure of HMV in Middlesbrough. Had a very enjoyable stint working there one Christmas many years ago with some top people
Great, so my local HMV (and the store i used to work at) is closing down =( My thoughts go with the staff @hmvmansfield
Absolutely gutted to hear HMV Stockport is closing down. Hope my friends there soon find employment elsewhere. The end of an era :(
Last month HMV staff live tweeted as they were made redundant. Read the tweets here.
Advertisement
HMV closes another 37 stores
The full list of HMV stores which will close sometime in the next four to six weeks:
Ashford, Basildon, Bolton, Cheltenham, East Kilbride
Enfield, Folkestone, Glasgow Argyle
Gloucester, Grimsby, Hatfield Galleria
Heathrow T5 Departure Level, Heathrow Terminal 1, Heathrow Terminal 3, Heathrow Terminal 4
Hemel Hempstead, High Wycombe, Isle of Wight
Lancaster, Leadenhall, Mansfield
Middlesbrough, Newbury, Newcastle Silverlink
Newport, Nuneaton, Redditch
Salisbury, Scarborough, Southport
Stafford, Staines, Stockport
Swindon, Taunton, Torquay, Woking
HMV closes another 37 stores
HMV administrators Deloitte have confirmed another 37 stores will close "in the next four to six weeks in parallel with the 66 stores that are already subject to a closure programme."
We are extremely grateful to the staff for their continued strong support and commitment during an understandably difficult period. All other key stakeholders including suppliers and landlords remain supportive and we appreciate their ongoing assistance.
– Nick Edwards, Joint Administrator
HMV closes another 37 stores
Another 37 HMV stores are being closed in a move affecting 464 staff at the collapsed music retailer, administrator Deloitte announced.
HMV staff tell us administrators are to announce 40 more store closures tomorrow afternoon.
Advertisement
The administrators of HMV have confirmed today that trading agreements are now in place with many of HMV's suppliers, meaning that major film, music and gaming releases will stay on sale in HMV shops over the next few weeks.
Nick Edwards, Joint Administrator, commented:
We are pleased that these agreements are now in place, allowing us to replenish stock and bring in new titles.

The support of suppliers over the past few weeks has been significant and these agreements demonstrate their ongoing commitment to supporting HMV.

Good progress has been made to date and we have received a positive level of interest in the business.

Discussions are progressing with a number of parties interested in both the business as a going concern and individual assets despite the high fixed cost base associated with a store network.
– Nick Edwards, Joint Administrator
HMV boss 'made redundant'
Music and video retailer HMV has made its chief executive Trevor Moore redundant among 60 staff that have been let go by administrators Deloitte, according to Reuters.
The news agency reports the job losses are to come from HMV's head office network in London, Marlow and Solihull.
Yesterday, the firm announced that 66 of its 220 shops are to close over the next two months, impacting 930 staff.
Mr Moore's reported exit comes weeks after he said he was "convinced" the future of the chain could be secured.
On the day HMV went into administration, he said bosses remained "passionate" about the retailer and would "like to be involved in the business going forward if the opportunity presented itself".
Talks are continuing between Deloitte and restructuring firm Hilco, which bought the company's debt.
HMV boss 'made redundant'
The announcement of HMV's administrators to close 66 stores of the music chain has received mixed reactions from Twitter users:
How is #HMV closing down? I swear I buy enough stuff from that store to keep it going for another 5years!
#HMV Sad day, when you can't go in & browse around, picking up things unexpectedly or finding that rare item you'd thought you'd missed! : (
I must be the only person I know that still buys CDs... #HMV i'll miss you
HMV boss 'made redundant'
Poppy Rose, who famously tweeted from HMV's official account as staff at Head Office were being told they were losing their jobs spoke today of the 'amazing HMV staff'.
Thoughts are with all of the amazing hmv staff today. Such passionate and hard working people, part of a very special family! Very sad news.
Load more updates
Back to top