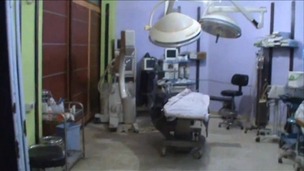 A Syrian doctor's video diary reveals the makeshift medical centre struggling to save lives in under siege Homs.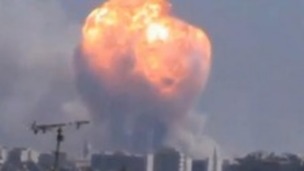 A huge fireball erupted over the Syrian city of Homs after rebels allegedly launched a rocket attack on a weapons cache.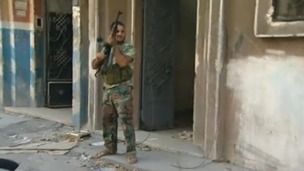 Intense fighting continues in Syria's three largest cities as world leaders in New York took turns to condemn the violence.
Live updates
Syria: Homs car bomb kills 25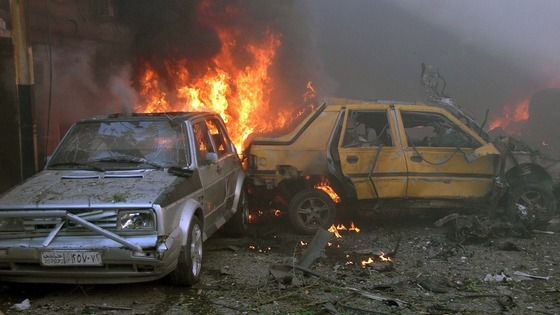 The death toll of two car bombs in the Syrian central city of Homs included women and children, Syria's state-run news agency SANA said.
The blasts on a busy street also wounded 107 people, SANA said. SANA said one car was parked near a sweet shop, and that half an hour later another car blew up
Syria: Homs car bomb kills 25
A car bomb in central Homs has killed 25 people and injured 107, the Associated Press have reported, citing state media.
Advertisement
Hague: 'Real fear' Homs could become next Srebrenica
The city of Homs in Syria has the potential to see a massacre like the one in Srebrenica in 1995 the Foreign Secretary has warned.
William Hague said that while it was a welcome move that women and children were being allowed to leave the area he said: "I think there should be a real fear." Adding that there was a question over "what will happen to the men and the boys that are left?"
The war in Bosnia saw Europe's worst mass killing since the Holocaust as around 8,000 Muslim men and boys were killed by the Bosnian Serb forces.
Hague: 'Real fear' Homs could become next Srebrenica
Around 300 more people have been able to flee besieged rebel-held neighbourhoods inside Homs, bringing the total number of civilians evacuated from Syria's third-largest city to around 1,000, the Syrian Red Crescent said.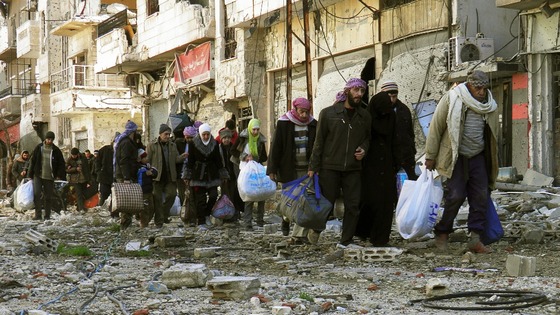 Read: Aid teams attempt to evacuate civilians from Homs
Khaled Erksoussi, the Red Crescent's head of operations, said the group was notified that a ceasefire in Homs that ended on Sunday has been extended "for a few days".
Over the weekend the UN and Red Crescent aid convoys were attacked by mortars and at least one Red Crescent driver was injured.
Read: UN aid convoy struck inside besieged Homs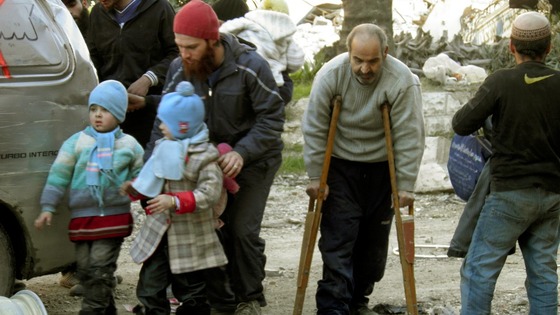 Assad's forces have been besieging the rebel-held districts in the city for months, cutting off supplies. The truce to let in aid and let out civilians was brokered by the United Nations.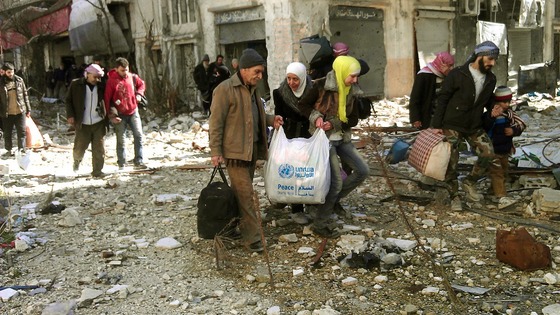 Hague: 'Real fear' Homs could become next Srebrenica
Aid teams have evacuated more than 500 civilians from the rebel centre of Homs and delivered humanitarian aid to those who remain in the Syrian city, a local official has said.
Speaking to Al Mayadeen television outside the city, Homs governor Talal al-Barazi said the operation to bring people out of Homs was continuing.
Read: UN aid convoy struck inside besieged Homs
This unverified, amateur video appears to show footage of United Nations workers escorting people, with people heard to be told to "sit down on the ground".
Hague: 'Real fear' Homs could become next Srebrenica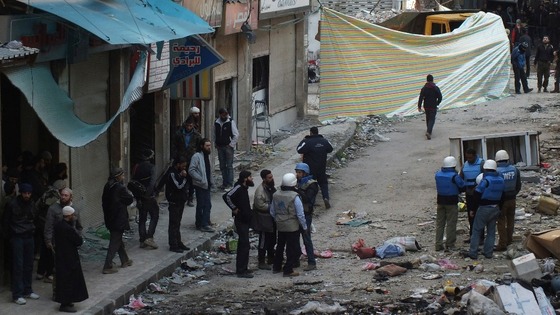 A UN envoy delivering aid and attempting to evacuate civilians from inside the besieged city of Homs managed to deliver some food parcels and medicine despite being shelled.
Read: UN aid convoy struck inside besieged Homs
The Red Crescent said they were forced to leave two trucks inside Homs and one driver was injured in the shelling. In a statement, it said:
"Although the team was shelled and fired upon we managed to deliver 250 food parcels (and) 190 hygiene kits and chronic disease medicines."
Syrian authorities blamed the attack on rebels, but opposition activists blamed Assad's forces, and accused the Syrian army of an earlier mortar attack which delayed the start of the operation yesterday morning.
The violence threatens to unravel a humanitarian deal for Homs which was the first concrete result of talks launched two weeks ago in Geneva to try to end the country's civil war. So far only 83 civilians have been rescued from the city.
Today is the last day of the three day ceasefire, which Russia said had been agreed to allow the aid to be brought in and civilians moved out.
Advertisement
Hague: 'Real fear' Homs could become next Srebrenica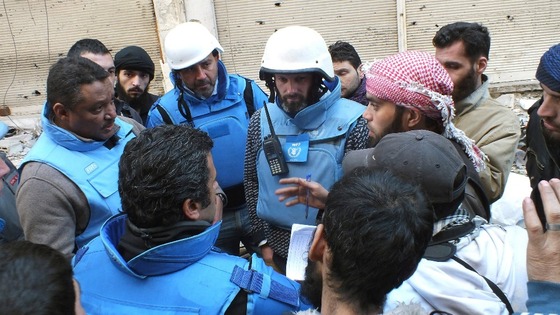 A United Nations and Syrian Red Crescent aid convoy was shelled and fired upon inside the besieged city of Homs yesterday, and one driver was injured, as the UN attempted to deliver food and medicine to 2,500 people and evacuate civilians trapped by months of fighting.
Read: 83 civilians evacuated from besieged Syrian city of Homs
Nine vehicles were holed up in the city for several hours last night, until they managed to pull out around 10pm, leaving two damaged trucks, the Red Crescent said.
Hague: 'Real fear' Homs could become next Srebrenica
The United Nations has confirmed that 83 people were evacuated from Syria's besieged Homs City.
The World Food Programme said many of the evacuees appeared malnourished.
They were living on leaves and grass and olives and whatever they could find.
– WFP spokeswoman Elisabeth Byrs
Hague: 'Real fear' Homs could become next Srebrenica
Syria evacuated three busloads of civilians from a besieged area of Homs, in the first stage of a planned three-day humanitarian ceasefire in the city which has suffered some of the worst devastation of Syria's three-year conflict.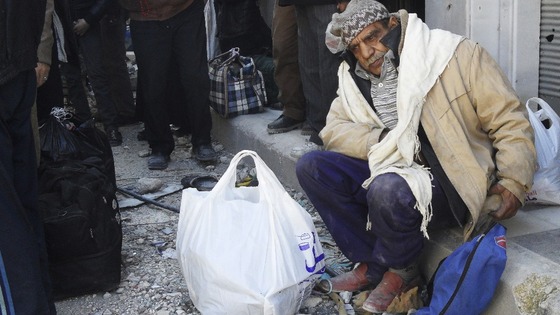 The buses carrying dozens of weary-looking evacuees, accompanied by Syrian Arab Red Crescent officials, arrived at a meeting point outside Homs watched by soldiers and police.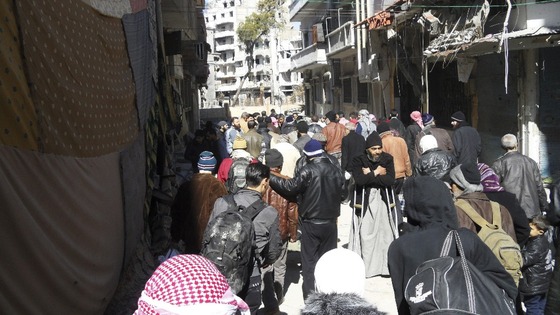 About 80 people have been evacuated, a U.N. official told Syrian television, with Syrian authorities and aid groups expecting another 200 people to leave. It was the first time the Red Crescent had gained access to the centre of Homs since the siege began, the aid agency said.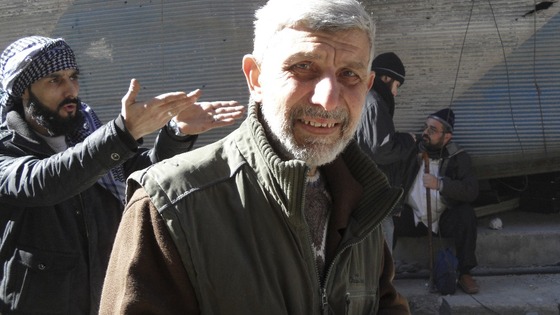 Hague: 'Real fear' Homs could become next Srebrenica
The Syrian Arab Red Crescent (SARC) has ambulances at arrival points for evacuees from the Old City of Homs and has already transported one patient for treatment.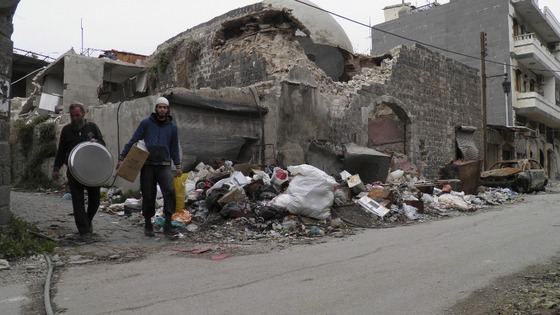 The International Committee of the Red Cross (ICRC) expect 200 people to follow the first evacuee. An ICRC spokesman said "One patient needing urgent treatment was transported already by SARC to a health facility."
"That person went through ahead apparently of 200 others who are coming, according to SARC," he said, adding that the Syrian Red Crescent volunteers had not entered the town. The ICRC is not involved in the operation, he added.
Load more updates
Back to top