A raft of banks and building societies have signed up to offer the new Help to Buy Isa from 1st December, the Chancellor has announced.
Read the full story ›
Homes across the UK have earned more than their owners over the past 2 years, analysis by Halifax reveals.
Read the full story ›
Advertisement
The cost of a home in the South East of the UK or "commuter belt" could soon rise higher than the price of a home in London, a property expert has warned.
Hometrack's research director Richard Donnell said the price of a home in counties like East Sussex and Kent could rise beyond the London market, after the property analysts found the cost of a home had risen by at least 5% across 20 UK cities.
There are still bright spots of activity amid reports of a wider national slowdown.

For the first time since the financial crisis, an improved economic outlook has seen house prices in cities outside the south of England rising off a low base.

By the end of the year, we could well see monthly house price growth in London slipping below that of some of the major cities outside the South East.
– Richard Donnell
Here are average house prices in the UK's 20 major cities in October and the year-on-year percentage growth:
London, £402,800, 17.3%
Bristol, £217,300, 13.2%
Cambridge, £331,000, 12.2%
Portsmouth, £194,700, 9.4%
Southampton, £189,500, 9.0%
Oxford, £333,400, 8.9%
Edinburgh, £194,400, 8.7%
Belfast, £114,900, 8.3%
Nottingham, £128,500, 8.1%
Aberdeen, £190,000, 7.9%
Cardiff, £176,400, 7.9%
Bournemouth, £242,300, 7.6%
Manchester, £137,000, 7.6%
Leeds, £140,400, 7.3%
Newcastle, £123,800, 6.9%
Leicester, £143,100, 6.3%
Birmingham, £133,700, 6.1%
Sheffield, £125,700, 5.7%
Liverpool, £109,700, 5.5%
Glasgow, £110,100, 5.5%
The cost of a house has risen by at least 5% in 20 of Britain's major cities, with experts pointing to growth as a sign of the economic recovery finally trickling out of the London.
Property analyst Hometrack revealed there was still a wide discrepancy between the north and the south in terms of house prices, with the cost of a home in London rising by 17.3% or by 5.5% in Liverpool and Glasgow.
However, this was the first time in a decade that house prices have risen year-on-year by more than 5% in all 20 cities.
Bristol emerged as the second priciest place to buy a home in the UK, with the cost of a house rising by 13.2%.
Despite the dramatic growth, house price rises are starting to cool again, Hometrack found.
Growth had slowed in April after banks applied tough "stress tests" about the spending habits of those they lent to, and growth slowed sharply in cities like Oxford and Cambridge over the last few months.
House prices in the UK have increased by 12.1% over the 12 months to September.
According to figures released by the Office for National Statistics the price of an average house in Britain has risen to £273,000 which marks the fastest annual growth in values since July 2007.
Advertisement
The gap in house prices in London and the rest of the UK is the widest it's ever been, reports ITV's Business Editor Joel Hills.
Gap between house prices in London and rest of the UK is widest it's ever been, both in cash and percentage terms. http://t.co/S9o5Fmsq3q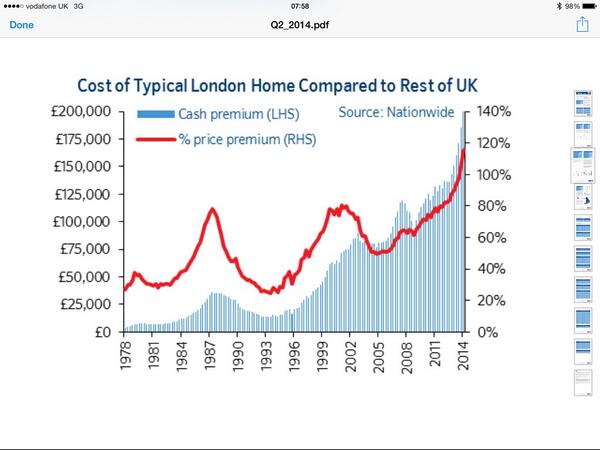 See the chart below for a national breakdown.
House prices in London now 30% higher than pre-financial crisis peak, but not everywhere. http://t.co/Z7mkLs6Xn4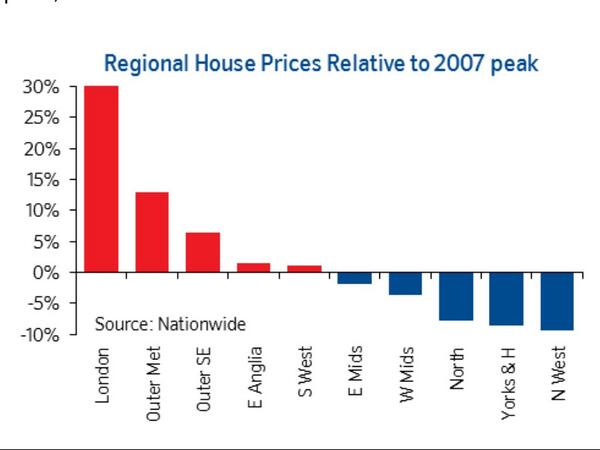 The typical price of a London property is now more than double the average UK house price breaking through the £400,000 mark for the first time, Nationwide said.
Cambridge saw the biggest surge in house prices with a 20 per cent increase putting the average cost of a house there at £419, 187.
While the value of properties in St Albans rose 18 per cent reaching an average of £451, 800.
Newcastle was named as the worst-performing city with only a three per cent increase in house prices taking prices there to £181, 473 typically.
In Wales property prices are up almost 10 per cent on a year ago now standing at £145,812.
And in Scotland, typical prices rose to £141,872, figures show.
However, In Northern Ireland, where the housing market is still recovering from some sharp falls in the wake of the financial crisis the average house price now stands at £117,150.
This is around half the level they were at their peak.
The typical house price across the UK has risen 11.8% to reach an all-time high of £188,903, Nationwide has reported.
Last month figures from the Office for National Statistics found first-time buyers have to pay even more to get on the property ladder with a typical starter home now costing £199,000.
The monthly rate of house price growth across England and Wales has halved since April as widespread talk of a possible bubble has injected more caution into home buyers' behaviour, property analyst Hometrack has reported.
Prices rose by 0.3% month-on-month in June, edging down from a 0.5% monthly increase in May and a 0.6% uplift in April, and Hometrack said it expected the rate of growth to continue to slow.
There was no new growth in buyers registering with agents in June and at 96.6%, the typical proportion of the asking price being achieved fell for the first time in four months, indicating that estate agents were finding it harder to sustain the pace of price growth.
Load more updates