HSBC has put aside £236 million to cover a regulatory investigation into the rigging of foreign exchange (forex) markets, the bank has revealed.
It means the total set aside by the UK major banks so far to more than £1 billion after Barclays and Royal Bank of Scotland said last week that they were putting aside £500 million and £400 million respectively.
HSBC has also added £438.9 million to its bill for customer redress in the UK, including for the mis-selling of payment protection insurance (PPI).
The company's reported profits for the three months to September 30 were 2% higher at £2.88 billion.
First Minister Alex Salmond faces renewed criticism over his plan to keep the pound if Scotland votes for independence in the upcoming referendum.
HSBC chairman Douglas Flint has warned a new currency arrangement could be "fraught with danger".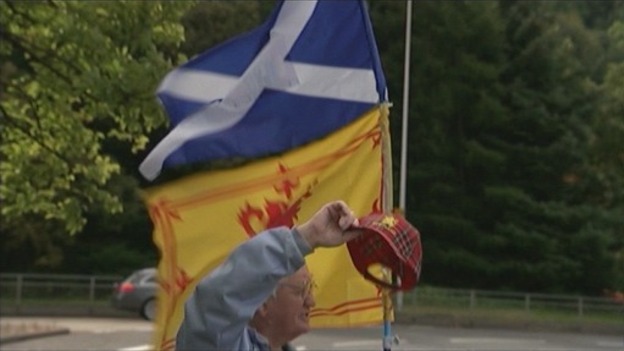 Advertisement
Scotland would face an "enormous challenge" to produce their own currency if it became independent, according to the chair of HSBC, Douglas Flint.
He said: "Scotland would be faced with monetary policy implementation without representation - a very odd form of independence."
The three main parties at Westminster have all ruled out the Scottish Government's preferred option of a formal currency union between an independent Scotland and the rest of the UK.
The Scottish referendum vote will take place on September 18.
Scotland's economy would be in a "parlous state" if it becomes independent in next month's referendum, the chair of HSBC Scotland claims.
Douglas Flint, who describes himself as an exiled Scot, warned that sterling currency was an "anchor of stability" for Scotland.
Writing in the Daily Telegraph, he said: "At the extreme, uncertainty over Scotland's currency arrangements could prompt capital flight from the country, leaving its financial system in a parlous state."
A Bolton-based Muslim charity has accused a bank of putting lives at risk for shutting down its account.
The Ummah Welfare Trust has distributed 70 million pounds to projects in 20 countries. And it's had a presence in Gaza for the past 10 years.
But the charity has now received a letter from the HSBC to tell them their account is being closed for being beyond the bank's "risk appetite".
Mohammad Ahmad is from the charity.
The chairman of Finsbury Park mosque in north London says he is shocked and angered with HSBC after receiving notice that its account with the bank would be closed.
Advertisement
After several Muslim organisations reported having their accounts closed by HSBC, the bank has strongly denied claims that it has made decisions related to "race or religion".
A prominent Muslim activist has spoken of his anger after he was told that his bank account is to be closed by HSBC.
Anas Altikriti, chief executive of the think tank the Cordoba Foundation, said he had met with a "wall of silence" from HSBC over its decision to close his account and those of his wife and two sons aged 16 and 12 years old.
The Cordoba Foundation, along with Finsbury Park Mosque in north London and the Ummah Welfare Trust (UWT) have also been told their accounts are to be closed by the bank.
Mr Altikriti, 45, who was born in Baghdad and came to Britain as a young child, said he opened an account with the Midland Bank - now part of HSBC - as a teenager with just a £10 note nearly 30 years ago.
"I am angered because of the wall of silence and the tone of the letter. It is difficult to take as I regard myself as a law abiding citizen who tries to make things better in conflicts around the world and tries to promote peace and dialogue," he said.
A letter seen by ITV News shows that HSBC has given notice that it will close the bank account of Finsbury Park mosque because it "now falls outside of our risk appetite".
HSBC chief executive Stuart Gulliver, who received a total pay package worth £8 million in 2013, will no longer be in line to land as high a sum after changes in European banker bonus rules.
Mr Gulliver's previous pay scheme offered an annual bonus worth up to three times his salary, plus a longer-term share award that pays out as much as six times salary.
But controversial new rules from Brussels, which came into effect in January, prevent the award of bonuses worth more than two times an executive's salary.
HSBC said Mr Gulliver will now receive a fixed pay allowance of £1.7 million, to be awarded in shares on a quarterly basis, on top of his £1.25 million base salary for this year.
Load more updates