Live updates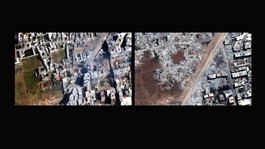 Syria's government used controlled explosives and bulldozers to destroy thousands of residential buildings, a human rights group claims.
Read the full story
White House to review Egypt aid
Human Rights Watch has accused Egyptian security forces of committing of the "most serious incident of mass unlawful killings in modern Egyptian history".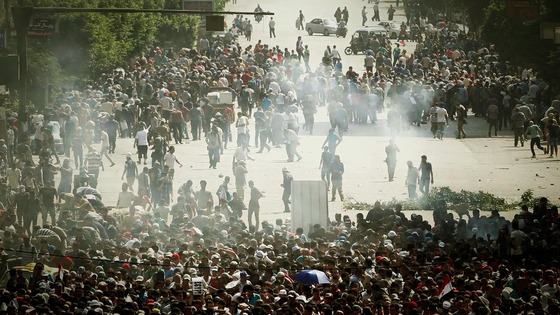 The group said the use of live ammunition to disperse several sit-ins last Wednesday was not justified by the nature of the demonstrations and was in contravention of international policing standards.
It also accuses security authorities of failing to provide a safe exit for those trying to leave the sit-ins and for those in need of medical attention.
Advertisement
Syrian ambassador defects
Human Rights Watch has claimed that videos posted to You Tube appear to show Russian-made cluster bomb casings in opposition areas.
Weapons experts at the charity identified two types of casing, including 15AO-1Sch cluster bomblets and a RBK-250 canister used to deliver the submunitions. Both, it claims, are made in Russia.
Steve Goose, from the charity's arms division, said: "If confirmed, this would be the first documented use of these highly dangerous weapons by the Syrian armed forces during the conflict."
The videos were uploaded by a user called 'Afamia1985'. Human Rights Watch could not reach him for comment, but a local activist who claimed to know him confirmed that the footage was shot in the opposition area of Jabel Shahshabu in northwestern Syria.
Cluster bombs release a spray of smaller bomblets covering an area the size of a football pitch. They can remain on the ground unexploded for many years posing a threat to civilians. Neither Syria nor Russia are signatories to the Convention on Cluster Munitions which bans their use.
Assad regrets Turkey incident
Mr Hague said the UK would work with EU partners to impose sanctions on those responsible to help bring an end to the violence.
The report, Torture Archipelago: Arbitrary Arrests, Torture and Enforced Disappearances in Syria's Underground Prisons since March 2011, includes maps locating detention centres, video accounts from former detainees and sketches of torture techniques.
Almost all the former detainees interviewed by Human Rights Watch said they had been subjected to torture or witnessed the torture of others during their detention.
Back to top