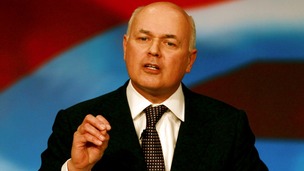 Coalition ministers have traded blows over pensioners' benefits after Iain Duncan Smith urged the wealthy to hand the money back.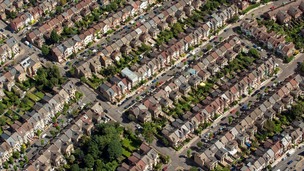 The so-called 'bedroom tax' will affect around 660,000 social housing tenants across the country but how will it work?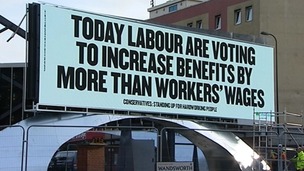 MPs have voted in favour of a Government measure to cap benefits rises. The Work Secretary says it will save £5bn from the welfare bill.
Live updates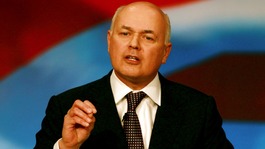 Coalition ministers have traded blows over pensioners' benefits after Iain Duncan Smith urged the wealthy to hand the money back.
Read the full story
Cap protests target politicians
Benefit protesters target politicians' homes
Protest group UK Uncut claimed that hundreds of people attended demonstrations over the bedroom tax and benefits cap at Lord Freud's home and 20 disabled activists are staging a protest at Iain Duncan Smith's country home in Buckinghamshire.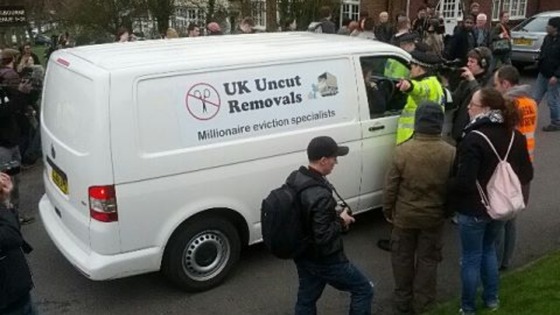 The disabled activists, from Disabled People Against the Cuts, have presented Iain Duncan Smith with an eviction notice at his home, while at Lord Freud's house children were read a Freudian bedtime story, a removal van unloaded sofas and an eviction notice was served.
Advertisement
IDS benefit petition delivery
Nearly half a million sign Iain Duncan Smith petition
A petition signed by 450,000 people calling for Work and Pensions Secretary Iain Duncan Smith to live off £53 a week will be delivered to his office today.
Protesters are angry at sweeping welfare reforms and the Cabinet minister's claim he could live off the amount if he had to.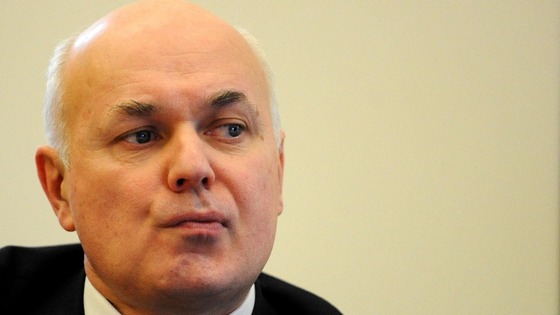 Musician and part-time shop worker Dominic Aversano, from Twickenham, near London, started the petition, which Mr Duncan Smith has dismissed as "a complete stunt".
Mr Aversano, 28, said: "[The petition] has sent a powerful message to this Government, showing the level of opposition to their vicious welfare cuts."
Benefit critics 'talk rubbish'
Government defends welfare overhaul
The Government has hit back at fierce criticism of its welfare reforms as sweeping changes, affecting many benefits and taxes, start today.
Labour has described them as immoral and inhumane, and claimed that everyone but the rich will suffer.
The Work and Pensions Secretary, Iain Duncan Smith says he isn't "slashing" welfare, but making the benefit system fairer.
ITV News Reporter Sejal Karia:
Benefit critics 'talk rubbish'
Osborne and IDS: New benefits system will be 'fairer'
The benefits system will be "fairer" as a result of a raft of reforms taking effect from today, ministers insisted in the face of a backlash from churches and charities.
Chancellor George Osborne and Work and Pensions Secretary Iain Duncan Smith dismissed "shrill" criticism that made the shake-up sound like "the beginning of the end of the world".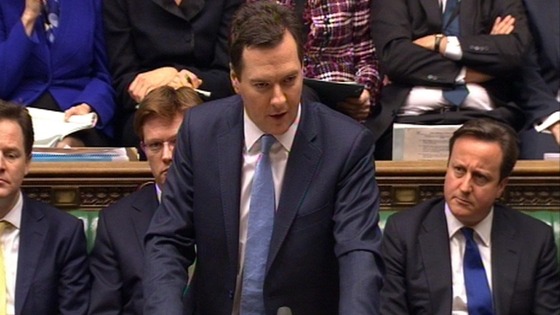 Writing in the Telegraph, the two Cabinet ministers said: "Our changes will ensure that the welfare state offers the right help to those who need it, and is fair to those who pay for it.
"Of course, if you listened to the shrill voices of the Left you'd think that every change to the welfare system, and any attempt to save money, marks the beginning of the end of the world.
"In reality, we are just restoring the original principles of the welfare state: that those who can work must work, and a life on benefits must not be more attractive than working."
Reforms 'not cutting welfare'
Labour: Iain Duncan Smith 'is failing'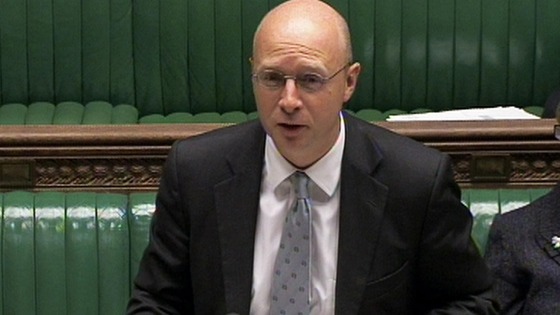 Labour's Liam Byrne, the shadow work and pensions secretary, accused Iain Duncan Smith of "failing" and of breaking "every promise he's made." He told ITV News:
"Iain Duncan Smith is failing. His Work Programme is worse than doing nothing, universal credit is descending into universal chaos and half way through the parliament unemployment is up not down and so is the benefits bill.
He's broken every promise he's made. He's running out of excuses and the country is running out of patience."
Advertisement
Reforms 'not cutting welfare'
Report: Welfare reforms are changing behaviour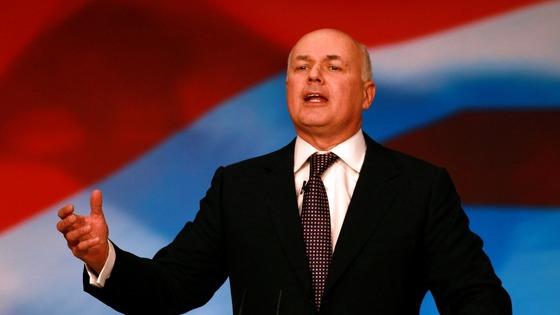 The government is due to publish figures next week showing that Iain Duncan Smith's benefits cap is "changing behaviour", reports the Daily Mail.
Senior sources told the newspaper there had been a "dramatic" drop in the number of families due to be affected by the cap, which comes into force on April 15.
The government's original assessment was that 67,000 households would be affected by the cap in 2013-14, rising to 75,000 in 2014-15.
Reforms 'not cutting welfare'
IDS: The reality is that this country is not cutting welfare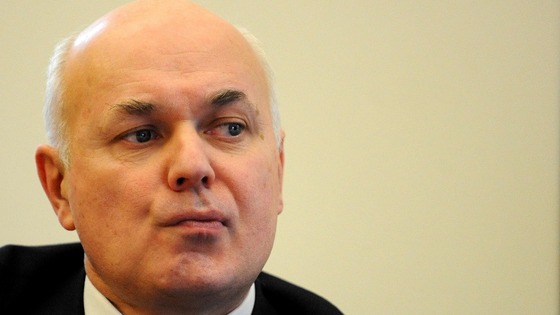 Work and Pensions Secretary Iain Duncan Smith has insisted that "all those on benefits will still see cash increases in every year of this Parliament".
Amidst criticism of welfare cutbacks due to kick in next month, Duncan Smith told the Daily Telegraph: " If you listen to what I am saying, you will understand the reality is that this country is not cutting welfare, it is managing the growth at a lower level."
Iain Duncan Smith heckled as 'a ratbag' in Edinburgh
Iain Duncan Smith has reportedly been heckled while speaking in Scotland.
The Work and Pension Secretary was starting a speech on pension reform in Edinburgh when campaigner Willie Black called the Conservative MP "a ratbag", according to the Guardian.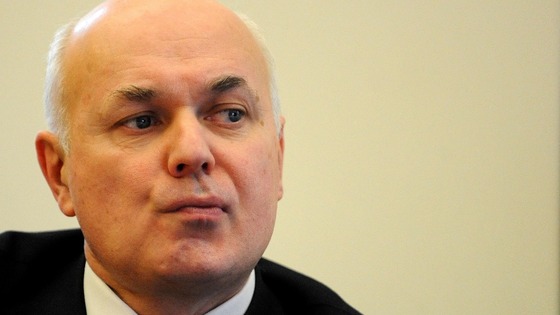 The paper said that Black shouted: "Why are you here in Scotland? We have a different philosophy. We've not elected you and your Tory cohorts. We don't want you; we don't need you. We've more pandas than you.
Referencing Edinburgh Zoo's two pandas Black continued; "You've only got one MP and we want a different Scotland that cares for people who are distressed and in poverty."
There are 15 Conservative MSPs but only one Scottish Tory in Westminster.
Claiming the bedroom tax would be the new poll tax in Scotland, he added: "And we're going to see the end of you. Back to England where you belong, you ratbag."
'Bedroom tax' concessions
Government hits human reality of the 'bedroom tax'
by Tom Bradby - Political Editor
Today's amendments to the so-called 'bedroom tax' are not a u-turn - the policy is still going ahead - but it is clear that some people in the coalition are uneasy about how it is going down with the public.
For the coalition faced with a massive budgetary deficit, the welfare bill seemed like a logical place to make savings - both politically and economically.
Coalition members feel they have a very clear principle: If you buy your own house by scrimping and saving then it is your home. But if you get a house off the state, you have it for as long as you need it, but if another family need it more then you have to move.
So far so logical, but the human reality is very different. It is clear that a lot of very vulnerable people are affected and we are now at the point where the coalition feels it has no choice but to cave in on some points.
Load more updates
Back to top