The head of the International Monetary Fund has welcomed the UK's economic progress over the last year but warned of major risks that remain.
Delivering the IMF's annual report on the state of the British economy, Christine Lagarde said that "the news coming out of the UK has been pretty much all good".
She pointed to the UK's growth rate being the highest of the advanced economies, along with signs that the economy is "rebalancing" towards a more investment-driven economy.
However, she also identified two major risks to Britain's prosperity - weak productivity and the the rapid rise of house prices.
"There is no room for complacency as there are risks looming on the horizon," Ms Lagarde said.
Advertisement
George Osborne says the International Monetary Fund will today show support for the Government's "long-term economic plan".
The Chancellor said he would "wait and see" what IMF chief Christine Lagarde would say about the British housing market when she speaks at the Treasury later.
But he argued he had created the right mechanisms to defuse the kid of risks in the housing market that have caused problems in the past.
US Secretary of the Treasury Jack Lew met Ukrainian Prime Minister Arseniy Yatsenyuk today:
Sec Lew met w Ukrainian PM today to discuss US assistance package, IMF program, efforts to implement economic reforms http://t.co/RGNCnYhLBk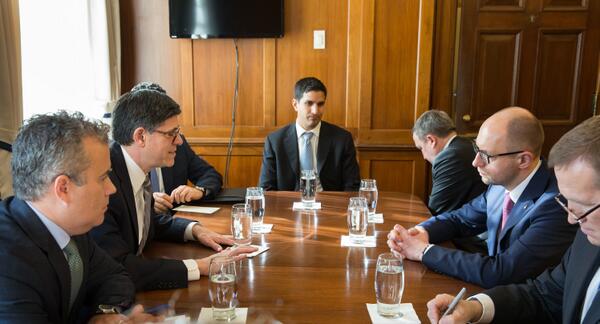 Sec Lew & Ukrainian PM agreed that securing passage of IMF quota legislation is needed to maximize int'l community's support to Ukraine
Ukraine has requested support from the International Monetary Fund, its Managing Director Christine Lagarde has confirmed.
Lagarde said the IMF is discussing with international partners how best to help Ukraine, and will send a team to Kiev in the coming days.
Ukrainian finance minister Oleksander Shlapak said they are asking for at least $15 billion.
"Today we requested the IMF send a mission and we hope that it will be here next week," the minister was quoted as saying by Interfax news agency.
Chancellor George Osborne has welcomed the IMF's upgrading of Britain's economic growth forecast, adding the coalition's plan is delivering "economic security for the hard working people of this country".
He said: "We've had two pieces of good news today, first that the IMF have upgraded the British growth forecast by more than any other country and also good numbers in manufacturing."
He added: "I think that shows there is clear evidence that by working through our plan, by avoiding the quick fixes and easy options we're delivering economic security for the hard working people of this country."
Advertisement
Responding to the IMF's raising of Britain's growth forecast, Deputy Prime Minister Nick Clegg has tweeted:
Nick Clegg on IMF forecast: This is a great boost for British businesses... this government has set Britain on the right course
Nick Clegg: We must continue to reform, it will be done fairly with investment in jobs; putting money in the pockets of ordinary people #IMF
Responding to the IMF's decision to raise Britain's growth forecast, shadow chancellor Ed Balls said the move was both "welcome and long overdue."
He added: "But this is the slowest recovery for 100 years and working people are facing a cost-of-living crisis with real wages now down £1,600 a year under David Cameron.
"With business investment still weak and the IMF forecasting that UK growth will slow down again next year, it's clear that this is not yet a recovery that is built to last."
The World Economic Outlook has put the UK's pace of expansion ahead of European rivals including Germany and France, though behind the US on 2.8%.
It forecasts that growth for 2013 will have come in at 1.7% and that after recording 2.4% this year, it will slow to 2.2% in 2015.
The figures are in line with the latest forecasts from Britain's independent Office for Budget for Responsibility (OBR), published at the time of Mr Osborne's Autumn Statement last month.
The IMF report said: "Activity in the United Kingdom has been buoyed by easier credit conditions and increased confidence."
But the report said "economic slack" - spare capacity left in the economy which can be measured by factors such as unemployment - would remain high.
Prime Minister David Cameron has trumpeted Britain's economic prospects after the IMF raised its growth forecast to 2.4 per cent in 2014, from 1.9 per cent in October.
The IMF has increased its global growth forecasts for the first time in nearly two years today amid rising demand and production in advanced economies, which have improved compared to emerging markets.
Load more updates