The arrests come after a weekend of violent clashes between riot police and anti-Nawaz Sherif protesters in Pakistan's capital Islamabad.
Read the full story ›
Imran Khan has addressed crowds in the Pakistani city of Gujranwala after shots were allegedly fired at his vehicle during a march earlier.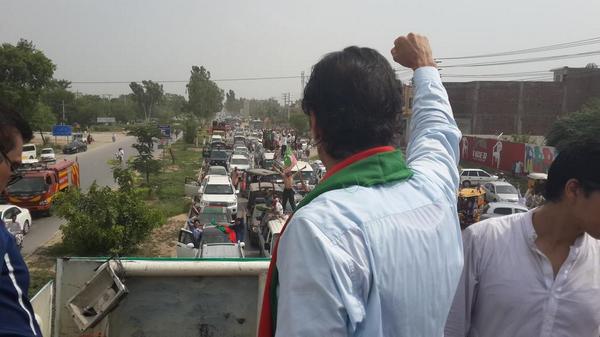 Advertisement
The Deputy Leader of Imran Khan's Tehreek-e-Insaf opposition party has appeared to criticise Pakistani police for failing to protect marchers in Gujranwala.
The party claims leader Imran Khan was shot at during protests in the city, and says police did not intervene when his convoy was attacked by a stone-throwing mob.
It is the responsibility of Punjab Police, DPO and Administration to provide safety to our Marchers

We call our workers to remain peaceful. Do not respond Stones with Stones. PTI workers Respond with Peace
– Shah Mehmood Qureshi
Pakistan opposition leader Imran Khan claims 300-to-400 people threw stones and fired on a protest march in the city of Gujranwala.
Four were injured during the clashes, which took place at a protest against Prime Minister Nawaz Sharif.
300-400 ppl threw stones & fired on our Azadi March in Gujranwala with police aiding & abetting them. 4 workers injured.
I want 2 make it clear 2 Sharif govt that they can do what they want,we will not stop r Azadi March. I will deal with them when we reach Isl
Mr Khan urged the immediate resignation of Mr Sharif following the alleged attacks.
PM Sharif should have his resignation ready His Badshahat & Gullu Butt style governance is over.Nation has spoken.
Clashes have broken out after shots were fired on Pakistan opposition leader Imran Khan during a march, his spokesperson claims.
Khan was not hurt, though his vehicle was hit by the shots, the spokesperson said.
A post on the Pakistan Tehreek-e-Insaf (PTI) Facebook page read:
Sorry, this content isn't available on your device.
Supporters of Pakistani cricketer-turned politician Imran Khan started gathering for a rally in Pakistan's northwestern city of Peshawar to halt NATO supplies into Afghanistan.
Khan, whose political party is now in charge of the volatile Khyber Pakhtunkhwa (KP) province bordering Afghanistan, has threatened to cut NATO supply lines through his region from November 23 if US drone strikes do not end.
Advertisement
The Leader of the Pakistan Muslim League (PML-N), Nawaz Sharif looks set to be Prime Minister of Pakistan for a third time. Local media reports that as of Sunday evening his party had captured 94 of the 272 contested National Assembly seats in the Pakistani parliament.
If current election trends continue then the PML-N will secure 130 seats. They need 137 to secure a majority in Pakistan's parliament, and Mr Sharif has told supporters that he is confident his party can form a coalition with minority groups.
The former cricketer Imran Khan looks set to be the main voice of the opposition in Pakistan after his party Tehrik-i-Insaf came second in the polls. The previous government led by the Pakistan People's Party is doing badly and according to Reuters looks set to come third.
Former cricketer turned politician Imran Khan looks set to claim second place in the Pakistan election after Nawaz Sharif declared victory in a jubilant speech to supporters.
Despite bombings across the country, millions turned out to vote in a historic election that will bring the first transition between civilian governments in a country that has been ruled by the military for more than half of its turbulent history.
Sharif, who looks set to become the country's prime minister for the third time, told supporters: "Results are still coming in, but this much is confirmed: we're the single largest party so far.
"Please pray that by morning we're in a position that we don't need the crutch of coalition partners."
Khan's party Tehrik-i-Insaf (PTI) looks set to come in second place thanks to vast support amongst the country's youth.
The former cricketer has called for an end to corruption and a halt to US drone strikes against suspected militants on Pakistani soil.
Imran Khan conducted his final election rally in an unusual way after addressing supporters from his hospital bed after a bad fall.
Read the full story ›
Pakistani politician Imran Khan has tweeted that he is "improving fast" after his fall at a presidential election rally on Tuesday.
He is expected to make an address from his hospital bed later today.
By the grace of God,ppl's prayers & the dedicated drs of SKMTH I am improving fast.I want 2 thank every1, incl pol ldrs 4 their prayers.
I will be in D chowk in spirit and will deliver my address live from hospital bed thru videolink to all r ppl gathered for #NayaPakistan!
Load more updates