Indonesian rescuers are finally able to use heavy-lifting equipment to clear roads leading to the site of a landslide that destroyed a village and killed at least 24 people, Reuters have reported.
Dozens are still missing, rescue and government officials have said.
Police, soldiers and volunteers had been using their bare hands and makeshift tools to search for survivors and clear the area in the aftermath of the catastrophe.
About 105 houses were swept away by the landslide in Jemblung village in Central Java province's Banjarnegara district, said Sutopo Purwo Nugroho, a spokesman for the National Disaster Mitigation Agency.
Hundreds of rescuers, including soldiers, police and residents, dug through the debris with their bare hands, shovels and hoes, while others used bamboo to carry black body bags containing corpses.
About 420 residents were evacuated to temporary shelters.
Relatives watched in horror as residents and rescuers pulled out mud-caked bodies from the village, while distraught women screamed at a hospital, MetroTV video showed.
Advertisement
According to reports, rescuers used their bare hands to search through the mud and debris for survivors.
Hundreds have been evacuated from around Jemblung village in the Banjarnegara regency of central Java, about 450 km (280 miles) from the capital, Jakarta, where media pictures showed a flood of orange coloured mud and water cascading down a wooded mountainside.
The disaster struck on Friday night and mudslides are common during the rainy monsoon season in the country.
Eight people, including an eight-year-old boy, have died in a landslide in Indonesia and rescuers are desperately searching for more than 100 people not accounted for.
Hundreds of people, including police, soldiers and residents, were digging through the debris with their bare hands, shovels and hoes.
So far 38 injured villagers have been taken to hospital, where four are said to be in a critical condition.
A spokesman for the National Disaster Mitigation Agency said mud, rugged terrain and bad weather had hampered rescue efforts and appealed for more heavy equipment to help the search.
Friday's landslide is the second in several days on densely populated Java island.
Three people are dead and 107 are missing after a landslide triggered by torrential rains buried houses in Indonesia, officials said.
Around 100 properties were swept away in the hilly district of Banjarnegara in Central Java province, a spokesman for the National Disaster Mitigation Agency said.
He added 38 injured villagers had been rushed to a hospital, four of them in critical condition.
A British national has been found dead in Bali, Indonesia, the Foreign Office has confirmed.
The Foreign Office said it stands ready to provide consular assistance to the family.
Advertisement
A British tourist was rescued and 15 other people are missing after a boat sank while travelling between islands in Indonesia.
The group was travelling between Lombok and the Komodo Islands in eastern Indonesia when the boat sank at around 7pm local time last night.
Ten people were rescued but the fate of the other 15 on board, thought to be of mixed nationalities, is not yet known.
An Indonesian girl said to have been swept away during the devastating 2004 Indian Ocean tsunami has been reunited with her parents.
Read the full story ›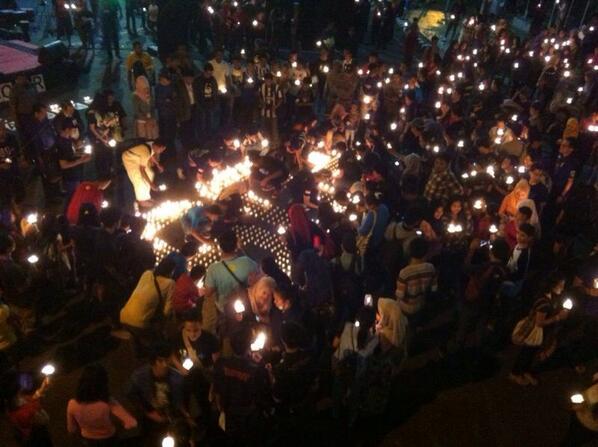 Mount Kelud began erupting last night, spewing huge amounts of ash and sand 10 miles into the air, and forcing several airports to close. The volcano is 54 south of Indonesia's second biggest city Surabaya, a major industrial centre.
National Disaster Mitigation Agency spokesman Sutopo Nugroho said the eruptions had ceased by the ash had spread 312 miles to the west and northwest.
Mount Kelud is one of 130 active volcanoes in the world's fourth most populous country, which sits along the "Ring of Fire" volcanic belt around the shores of the Pacific Ocean
Load more updates