International airlines have cancelled flights to Bali after a volcanic eruption on Indonesia's main island of Java.
Read the full story ›
Indonesia's president has promised a review of the country's ageing air force fleet as the death toll from the crash of a military transport plane passed 140.
The C-130B Hercules aircraft crashed into a residential area of the city of Medan on Tuesday.
"There must be an evaluation of the age of planes and defence systems," President Joko Widodo tweeted late on Tuesday, as work continued to recover bodies from the wreckage.
The plane had been on its way from an air force base in Medan, one of Indonesia's largest cities, to Tanjung Pinang in the Riau Islands off Sumatra when it crashed.
Advertisement
The death toll from the Indonesian plane crash continues to rise as rescuers recovered 74 bodies from the wreckage.
Rescue teams are using heavy machinery to remove the wreckage of the C-130 Hercules and search the rubble of a building shattered by the impact.
Witnesses have said that the plane suffered an engine fire before crashing into the residential area in the city of Medan shortly after take-off from Soewondo air force base.
Air force spokesman Rear Marshal Dwi Badarmanto said about 30 of the dead have been identified and they include air force personnel and members of their families.
Air force officials say there may have been more than 100 people on the C-130, and there is little hope of finding survivors.
Air force chief Air Marshal Agus Supriatna said the pilot told the control tower that the plane needed to turn back because of engine trouble.
Indonesia's air force has temporarily grounded its remaining military aircraft after one of them crashed into a residential area and killed at least 49 people.
A spokesman for the military said today that its remaining eight C-130B Hercules aircrafts have been grounded following the crash.
At least 49 bodies have so far been recovered from the site in the North Sumatra city of Medan, where the aircraft with 113 on board crashed shortly after take off.
Eye witnesses said it had appeared to explode shortly before it smashed into houses and a hotel.
At least 30 people were killed when an Indonesian military transport plane crashed into a hotel and houses in the northern Sumatra city of Medan, an official has confirmed.
A spokesman for Indonesia's search and rescue Hisar Turnip said: "The latest information we have is that 30 have died... The number could go up."
It was not yet clear how many of victims were on the ground or in the plane. The aircraft was flying from an air force base in Medan to the remote Natuna islands and crashed a few minutes after takeoff.
An air force Hercules C-130 plane has reportedly crashed into houses in a residential neighbourhood in Indonesia.
The state radio network of Indonesia has tweeted and image of the wreckage: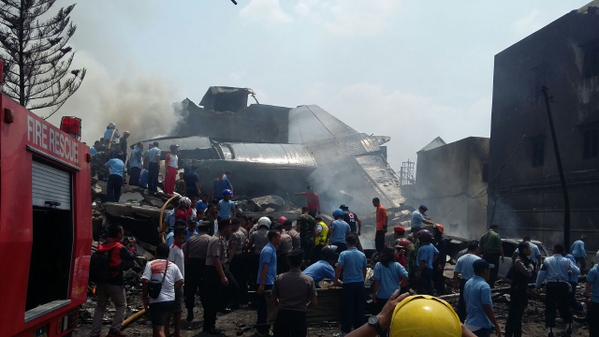 The national television network showed images of the aircraft in flames in the city, but as yet there has been no confirmation of casualties. Local radio station El Shinta reported that the plane hit houses.
The crash happened just before before noon after the plane took off from a Medan airport, in Sumatra, an air force spokesman said. He added that a rescue effort was under way.
Advertisement
A court in Indonesia has rejected a French man's last-minute appeal against the death penalty.
Serge Atlaoui, who has been jailed for drug trafficking, was excused from the group of seven foreign prisoners executed in May after being granted a reprieve to allow his lawyers to pursue all legal avenues.
The Attorney General's Office has confirmed the appeal was thrown out, though no date for execution has been set and Mr Atlaoui's have vowed to continue fighting the ruling.
Thailand is to allow the US to fly surveillance planes through its airspace to help identify boats carrying migrants adrift in south-east Asian seas.
"Yes, we are permitting it, it is starting today," said Thailand's Deputy Prime Minister General Tanasak Patimapragorn.
The flights will help the migrant crisis that is rapidly developing in the region.
American authorities have said that the thousands of migrants adrift in Southeast Asian seas are in need of urgent rescue, as countries gathered in Bangkok to discuss a crisis that's overwhelming the region.
"We have to save lives urgently," US Assistant Secretary of State Anne Richard told reporters on her way into the meeting.
Thousands of migrants are adrift, abandoned by traffickers on overcrowded boats after a Thai crackdown made it too risky for them to continue using trafficking routes through Thailand.
The US has asked Thailand to fly surveillance flights from Thai bases to identify boats carrying migrants, Richard said, but has yet to get the nod from Thai authorities.
She added America is operating similar flights from Malaysia.
Malaysia's prime minister says his country will conduct search and rescue operations for thousands of stranded migrants.
More than 3,000 people, including Rohingya Muslims fleeing persecution in Burma and Bangladeshis trying to escape poverty, have arrived in overcrowded boats on the shores of Indonesia, Malaysia and Thailand.
Najib Razak tweeted that he had ordered his country's navy and coastguard "to conduct search and rescue efforts (for) Rohingya boats. We have to prevent loss of life".
Malaysia and Indonesia have said they will provide temporary shelter to migrants, but have appealed to the international community for help in resettling them.
Load more updates