Eight people, including an eight-year-old boy, have died in a landslide in Indonesia and rescuers are desperately searching for more than 100 people not accounted for.
Hundreds of people, including police, soldiers and residents, were digging through the debris with their bare hands, shovels and hoes.
So far 38 injured villagers have been taken to hospital, where four are said to be in a critical condition.
A spokesman for the National Disaster Mitigation Agency said mud, rugged terrain and bad weather had hampered rescue efforts and appealed for more heavy equipment to help the search.
Friday's landslide is the second in several days on densely populated Java island.
Three people are dead and 107 are missing after a landslide triggered by torrential rains buried houses in Indonesia, officials said.
Around 100 properties were swept away in the hilly district of Banjarnegara in Central Java province, a spokesman for the National Disaster Mitigation Agency said.
He added 38 injured villagers had been rushed to a hospital, four of them in critical condition.
Advertisement
A British national has been found dead in Bali, Indonesia, the Foreign Office has confirmed.
The Foreign Office said it stands ready to provide consular assistance to the family.
A British tourist was rescued and 15 other people are missing after a boat sank while travelling between islands in Indonesia.
The group was travelling between Lombok and the Komodo Islands in eastern Indonesia when the boat sank at around 7pm local time last night.
Ten people were rescued but the fate of the other 15 on board, thought to be of mixed nationalities, is not yet known.
An Indonesian girl said to have been swept away during the devastating 2004 Indian Ocean tsunami has been reunited with her parents.
Read the full story ›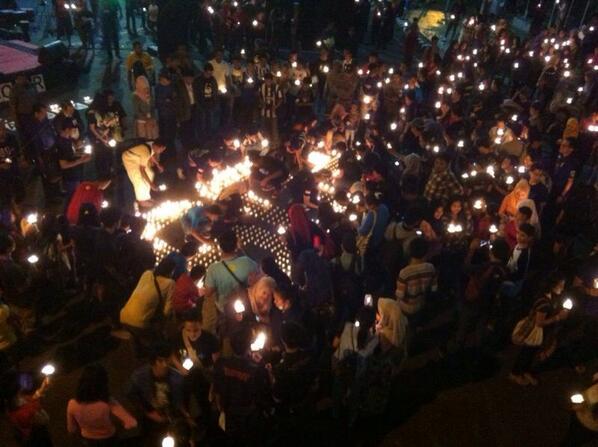 Advertisement
Mount Kelud began erupting last night, spewing huge amounts of ash and sand 10 miles into the air, and forcing several airports to close. The volcano is 54 south of Indonesia's second biggest city Surabaya, a major industrial centre.
National Disaster Mitigation Agency spokesman Sutopo Nugroho said the eruptions had ceased by the ash had spread 312 miles to the west and northwest.
Mount Kelud is one of 130 active volcanoes in the world's fourth most populous country, which sits along the "Ring of Fire" volcanic belt around the shores of the Pacific Ocean
Flights across Java in Indonesia have been grounded and seven airports have been closed after a volcanic eruption yesterday evening.
Seven airports across Indonesia's most densely populated island have been closed, and thousands of passengers remain stranded.
The only major airports still operating on Java are two in the capital, Jakarta.
More than 100,000 people have fled their homes in Indonesia's most densely populated island of Java following the eruption of Mount Kelud.
The volcanic eruption sent a huge plume of ash and sand 10 miles into the air, officials said. National Disaster Mitigation Agency spokesman Sutopo Nugroho said:
"Over 100,000 people have been evacuated and about 200,000 people were affected.
"There are some people in the 10-km (6-mile) radius but they are being evacuated now so that area is empty."
Schapelle Corby has been taken to a prosecutor's office in Bali following her release from Kerobokan jail.
It is believed the 36-year-old Australian drug smuggler, who was convicted in 2005, will now live with her sister who lives on the island. The former beauty therapist is unable to leave Bali until 2017.
Load more updates