A British national has been found dead in Bali, Indonesia, the Foreign Office has confirmed.
The Foreign Office said it stands ready to provide consular assistance to the family.
A British tourist was rescued and 15 other people are missing after a boat sank while travelling between islands in Indonesia.
The group was travelling between Lombok and the Komodo Islands in eastern Indonesia when the boat sank at around 7pm local time last night.
Ten people were rescued but the fate of the other 15 on board, thought to be of mixed nationalities, is not yet known.
Advertisement
An Indonesian girl said to have been swept away during the devastating 2004 Indian Ocean tsunami has been reunited with her parents.
Read the full story ›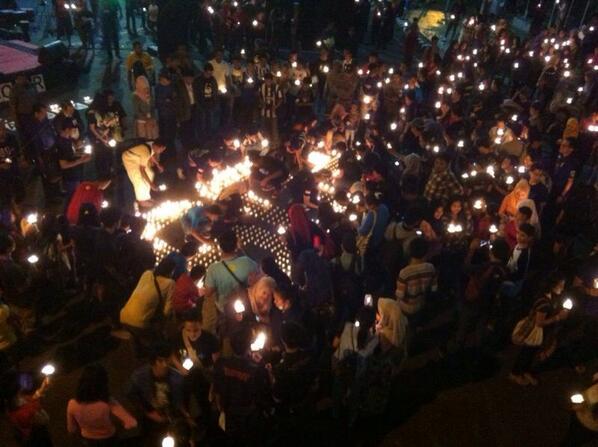 Mount Kelud began erupting last night, spewing huge amounts of ash and sand 10 miles into the air, and forcing several airports to close. The volcano is 54 south of Indonesia's second biggest city Surabaya, a major industrial centre.
National Disaster Mitigation Agency spokesman Sutopo Nugroho said the eruptions had ceased by the ash had spread 312 miles to the west and northwest.
Mount Kelud is one of 130 active volcanoes in the world's fourth most populous country, which sits along the "Ring of Fire" volcanic belt around the shores of the Pacific Ocean
Flights across Java in Indonesia have been grounded and seven airports have been closed after a volcanic eruption yesterday evening.
Seven airports across Indonesia's most densely populated island have been closed, and thousands of passengers remain stranded.
The only major airports still operating on Java are two in the capital, Jakarta.
Advertisement
More than 100,000 people have fled their homes in Indonesia's most densely populated island of Java following the eruption of Mount Kelud.
The volcanic eruption sent a huge plume of ash and sand 10 miles into the air, officials said. National Disaster Mitigation Agency spokesman Sutopo Nugroho said:
"Over 100,000 people have been evacuated and about 200,000 people were affected.
"There are some people in the 10-km (6-mile) radius but they are being evacuated now so that area is empty."
Schapelle Corby has been taken to a prosecutor's office in Bali following her release from Kerobokan jail.
It is believed the 36-year-old Australian drug smuggler, who was convicted in 2005, will now live with her sister who lives on the island. The former beauty therapist is unable to leave Bali until 2017.
Australian Schapelle Corby battled through the crowds of waiting media as she was released from a prison in Bali today.
Corby, seen here wearing a black and white hat, must remain in the island resort of Bali on parole until 2017.
Australian Foreign Minister Julie Bishop has welcomed the released of Schapelle Corby, who has been released on parole after serving nine years in a Balinese jail.
"The decision by Indonesia's minister for law and human rights is welcomed," Ms Bishop told the Australian.
"I understand that now the decision to grant parole has been made is a matter for the authorities to determine the time of the release but I hope that she's now given some privacy as she gets her life back together," she added.
Load more updates