Rachel Reeves MP, Labour's shadow work and pensions secretary, has responded to wages rising above the rate of inflation this morning's by saying:
"At long last earnings are finally rising faster than CPI inflation when bonuses are included, but after four years when prices have risen faster than wages there is a huge amount of lost ground to catch up."
"Working people are now over £1600 a year worse off than when David Cameron came to office, most people are not feeling any recovery and the link between the wealth of the nation and family finances remains broken".
Minister for Employment Esther McVey has praised the news of average earnings rising above the rate of inflation for the first time in six years.
She said: "More young people are in work, more women are in work, wages are going up, and more and more businesses are hiring - and it's a credit to them that Britain is working again."
Advertisement
The unemployment rate was 6.9%, down from 7.1% for September to November 2013 and from 7.9% for a year earlier.
Unemployment fell by 77,000 between December and February to 2.24 million, official figures showed today.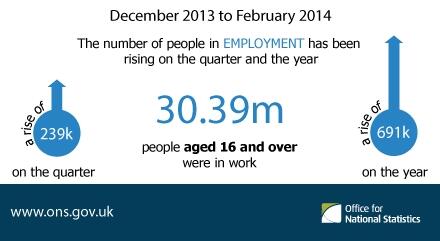 The number of people claiming Jobseeker's Allowance last month also fell by 30,400 to 1.14 million, said the Office for National Statistics.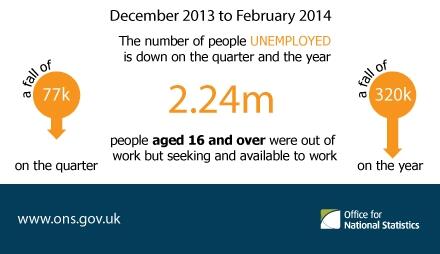 Average earnings increased by 1.7% in the year to February, above the CPI inflation rate of 1.6%.
ONS labour market statistics are expected to show that regular pay is rising at a rate of 1.8%, up from 1.3%.
Advertisement
The Government has "a series of initiatives to boost housing supply" and to support a healthy private rented sector, the Housing Minister has said.
Responding to the news that house prices rose by 9.1% in the year to February 2014, Kris Hopkins said interest rates remain at a record low, making home ownership more affordable.
Mortgage lending activity in the housing market remain below the historic average and relative to earnings, median house prices across England are around the same level they were in 2005.

And through schemes like Help to Buy we're helping people get on the property ladder with a fraction of the deposit they would normally require, with leading developers pledging to build more as a direct result of this increased demand.
– Housing Minister Kris Hopkins
Slowly but surely the Consumer Price Index is falling, and inflation is now at the lowest level since 2009. Why does that matter?
Read the full story ›
UK house prices rose by 9.1% in the year to February 2014, up from 6.8% in the year to January 2014.
The rise in house price inflation was driven by a rise in London of 17.7%, according to the latest figures from the Office for National Statistics.
House price annual inflation grew by 9.7% in England, 5.3% in Wales, 2.4% in Scotland and 2.8% in Northern Ireland.
Excluding London and the South East, UK house prices increased by 5.8%.
Load more updates