The tech giant had scrambled to fix the software glitch that left some of its new iPhones unable to make calls, but some analysts say Apple's response to the high-profile gaffe may be more important than the fault itself.
Hours later Apple released a new update, dubbed iOS 8.0.2, which it said would fix the problems caused by the iOS 8.0.1 update that it released on Wednesday.
Advertisement
Computer giant Apple has apologised after an update of i.O.S.8.1 left some iPhone6 users without service and other problems.
They said: "We apologise for the great inconvenience experienced by users, and are working around the clock to prepare iOS 8.0.2 with a fix for the issue, and will release it as soon as it is ready in the next few days."
They added that they had a workaround for iPhone 6 and iPhone 6 Plus users which enabled them to restore the phone service and Touch ID functionality after updating to iOS 8.0.1.
Apple pulled iOS 8.01. after users reported problems after downloading the update onto their iPhones.
Read the full story ›
By: Alok Jha - ITV News Science Correspondent
The bending rumours are unlikely to put any die-hard Apple fans (or many others) off from buying their new iPhones but if you're worried, it seems sensible to exercise a little common sense when using it.
As Rik Henderson wrote for Pocket Lint: "Don't put a 5.5-inch superthin phone in your back pocket, no matter whether it is made by Apple, Samsung or any other manufacturer.
"You wouldn't put your glasses in your back pocket would you? And they probably cost less."
Advertisement
Angry owners have claimed the new iPhone 6 Plus has bent in their pockets just days after buying them in what has been dubbed 'Bend Gate'.
Read the full story ›
Apple has sold more than 10 million of the new iPhone 6 models in the first weekend - a record total that could have been higher if more stock had been available.
Tim Cook, chief executive, said that sales of iPhone 6 and iPhone 6 Plus, had exceeded the technology giant's expectations. It took more than four million pre-orders for the new smartphones, which boast larger screens.
"While our team managed the manufacturing ramp better than ever before, we could have sold many more iPhones with greater supply and we are working hard to fill orders as quickly as possible," he added.
Apple sold five million iPhone 5 handsets, four million iPhone 4S models and 1.7 million iPhone 4 units during the first weekend.
Comedian Joan Rivers seemed to promote the new iPhone 6 from the grave today after posts appeared on her official Facebook and Instagram accounts, TMZ reported.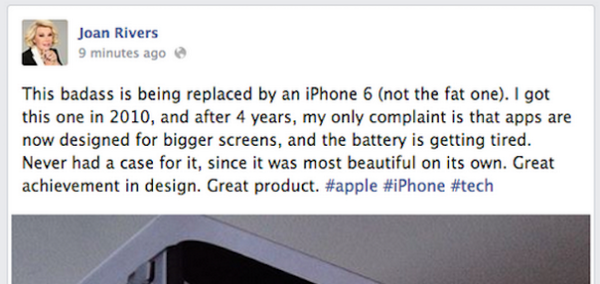 The post appeared on Rivers' Facebook and Instagram pages for a brief period this morning before they were removed.
TMZ suggests the posts were the result of a "pre-negotiated deal" with Apple and before her death she had scheduled them to publish on the iPhone's launch day.
Apple has taken a record four million orders for the two new iPhone 6 models in the first 24 hours following last week's launch.
The figure is double the number of pre-orders taken for the iPhone 5 in September 2012.
The technology giant said that demand for the smartphones, which boast larger screens, outstripped the initial supply and that some customers would have to wait until October.
However, customers in Britain will be able to buy some stock of the iPhone 6 and iPhone 6 Plus from 8am Friday in Apple stores. It has been generally well received by reviewers.
It will run on Apple's iOS 8 software, which will be available to download on Wednesday for existing devices.
Load more updates