Angry owners have claimed the new iPhone 6 Plus has bent in their pockets just days after buying them in what has been dubbed 'Bend Gate'.
Read the full story ›
Apple has sold more than 10 million of the new iPhone 6 models in the first weekend - a record total that could have been higher if more stock had been available.
Tim Cook, chief executive, said that sales of iPhone 6 and iPhone 6 Plus, had exceeded the technology giant's expectations. It took more than four million pre-orders for the new smartphones, which boast larger screens.
"While our team managed the manufacturing ramp better than ever before, we could have sold many more iPhones with greater supply and we are working hard to fill orders as quickly as possible," he added.
Apple sold five million iPhone 5 handsets, four million iPhone 4S models and 1.7 million iPhone 4 units during the first weekend.
Advertisement
Comedian Joan Rivers seemed to promote the new iPhone 6 from the grave today after posts appeared on her official Facebook and Instagram accounts, TMZ reported.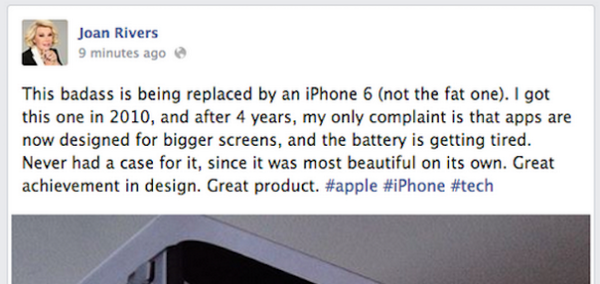 The post appeared on Rivers' Facebook and Instagram pages for a brief period this morning before they were removed.
TMZ suggests the posts were the result of a "pre-negotiated deal" with Apple and before her death she had scheduled them to publish on the iPhone's launch day.
Apple has taken a record four million orders for the two new iPhone 6 models in the first 24 hours following last week's launch.
The figure is double the number of pre-orders taken for the iPhone 5 in September 2012.
The technology giant said that demand for the smartphones, which boast larger screens, outstripped the initial supply and that some customers would have to wait until October.
However, customers in Britain will be able to buy some stock of the iPhone 6 and iPhone 6 Plus from 8am Friday in Apple stores. It has been generally well received by reviewers.
It will run on Apple's iOS 8 software, which will be available to download on Wednesday for existing devices.
Irish rock band U2 surprised fans worldwide last night by giving away their first album for more than five years after performing at the iPhone 6 and Apple Watch launch.
The band gave Songs Of Innocence to around half a billion iTunes music store users as well as subscribers to their website.
The announcement was made at the Apple launch last night and is the latest collaboration between the band and technology firm
We wanted to make a very personal album. Let's try to figure out why we wanted to be in a band, the relationships around the band, our friendships, our lovers, our family.
– Bono talking to Rolling Stone magazine
The 11-track album will be given an official release on October 13 and is their fist record in five years after 2009's No Line On The Horizon.
Apple launched the iPhone 6, iPhone 6 Plus and Apple Watch yesterday but what do the critics think of the new products from the tech giant.
Read the full story ›
Advertisement
Questions have been raised over the future of Apple's iPod classic after the launch of the iPhone 6 and smartwatch.
The music playing device no longer shows up on the Online Apple Store or the technology giant's dedicated page to the iPod.
The iPod website does however still promote other versions of the device including the touch, nano and shuffle.
Apple has not made an official statement regarding the iPod classic, which was released in 2007 and has changed little since.
The iPhone 6 and iPhone 6 Plus will have larger screens and be thinner than their predecessors and will be available to pre-order from Friday.
Apple has released this video introducing its new iPhone 6 and iPhone 6 Plus.
The new iPhones feature "a larger, more advanced display and significant leaps in capability and performance," the firm said.
A number of people have taken about Apple's new smartwatch, claiming it is not designed for use by those who are left-handed.
The Apple Watch's functions rely on a 'digital crown', which in all photos released by the tech company so far have been on the right-hand side.
Apple watch is amazing! It will do laundry, make dinner! Oh, you're a lefty? Never mind. #lefty #AppleEvent
So far no lefties have been shown wearing an Apple Watch on their right arm. #AppleLive
It remains unclear whether a left-handed model will be released. Apple could not be immediately contacted for comment.
Apple made a raft of new announcements at its "special event" today - here are the key points we things about them so far.
Read the full story ›
Load more updates