Britain has said it is "concerned and saddened" by the execution of an Iranian woman for killing a man she claimed was trying to sexually assault her.
Foreign Office minister Tobias Ellwood said there were "questions around due process" in the case of 26-year-old Reyhaneh Jabbari, who was hanged in a Tehran prison.
He also warned that such actions would not help Iran revive relations with the rest of the world.
Mr Ellwood said: "I am very concerned and saddened that (the death penalty) has been used in the case of Reyhaneh Jabbari where there have been questions around due process. Actions like these do not help Iran build confidence or trust with the international community."
An Iranian woman convicted of killing a man she said tried to rape her has been executed, despite international campaign urging a retrial.
Reyhaneh Jabbari, 26, was arrested in 2007 for the murder of Morteza Abdolali Sarbandi, a former employee of Iran's Ministry of Intelligence.
She was sentenced to death in 2008 after what Amnesty International called a "deeply flawed investigation and trial".
Miss Jabbari admitted to stabbing the man, but said she acted in self defence after he tried to sexually abuse her.
"Her claims do not appear to have ever been properly investigated," Amnesty International said.
Reyhaneh Jabbari's execution has been deferred a number of times, including last month.
Advertisement
The mother of a woman imprisoned for more than 100 days for trying to watch a volleyball game has joined her daughter on hunger strike.
Read the full story ›
A British man has tried to give Iran's President a petition calling for his sister, Ghoncheh Ghavami, to be released from jail in Tehran.
Read the full story ›
Iranian President Hassan Rouhani said the rise of violent extremism was down to "certain states" and unidentified intelligence agencies who "put blades in the hands of madmen".
He said only countries within the region could find a solution to the rise of extremism.
He told the United Nations General Assembly: "The right solution to this quandary comes from within the region and regionally provided solution with international support and not from the outside the region."
Iran's President Hassan Rouhani has met Prime Minister David Cameron in New York after the US and its allies launched air strikes against the Islamic State in Syria.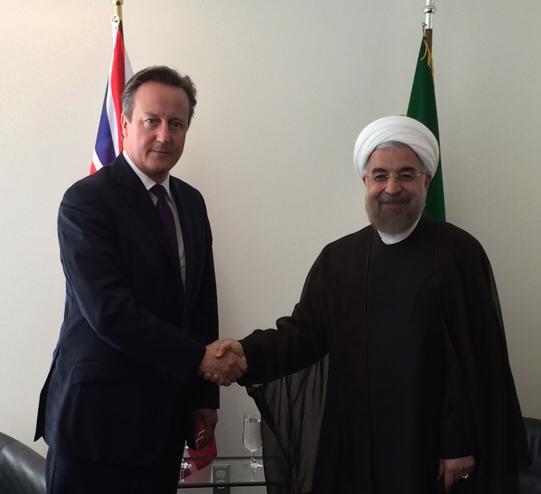 It is the first time a British Prime Minister has met with an Iranian leader since the country's revolution in 1979.
Advertisement
Prime Minister David Cameron is to meet the president of Iran to urge him to join an international effort to tackle the Islamic State terror group and drop his country's support for the Assad regime in Syria.
The meeting with Hassan Rouhani, at a crucial United Nations summit in New York, will be the first time a British prime minister has held face-to-face bilateral talks with an Iranian president since the country's Islamic revolution in 1979.
It marks Mr Cameron's determination to enlist the active support of regional powers in the Middle East in taking on IS, which has seized control of swathes of territory in Iraq and Syria and carried out a string of atrocities against local people and foreigners as it seeks to impose its own brand of extremist Sunni Islam.
The family of a British human rights activist being held in prison in Iran have told ITV News the government here must do more to try to secure her release.
Ghonche Ghavami was arrested during a protest as she tried to enter a men-only arena to watch a volleyball match in Tehran.
Ms Ghavami's supporters say she has been held for more than two months in Iran's Evin prison including some time in solitary confinement.
Iraqi's new prime minister Haider al-Abadi and visiting Iranian Foreign Minister Mohammad Javad Zarif have discussed the need for international efforts to eliminate Islamic State.
An Iranian mathematician has become the first female recipient of the Fields Medal - the highest recognition in the discipline.
Maryam Mirzakhani, a professor at Stanford University in California, won the prize for her work on "the dynamics and geometry of Riemann surfaces and their moduli spaces."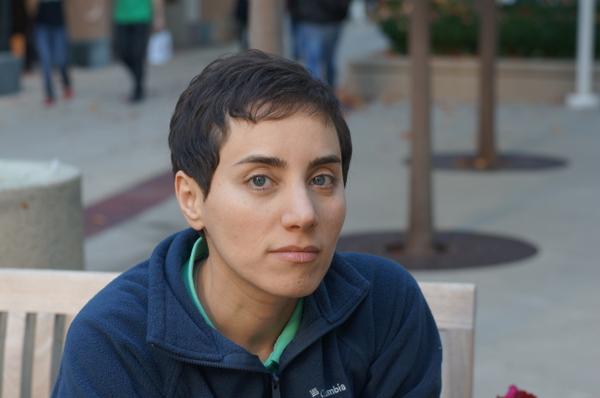 Mirzakhani was born in the Iranian capital Tehran and won gold medals in the International Math Olympiad twice as a teenager, before moving to the US for her doctorate.
Her former tutor, Curtis McCullen, praised her "fluency in many disciplines, which is unusual in the modern era, when considerable specialization is often required".
The Fields Medal, awarded by the International Mathematical Union since 1936, is sometimes referred to as the "Nobel Prize of Mathematics".
Load more updates