The Foreign Office (FCO) have confirmed reports that Ghoncheh Ghavami has been released from jail in Iran.
A spokesperson said: "We are aware Miss Ghoncheh Ghavami has been released on bail in Iran. We remain in regular contact with her family."
Miss Ghavami has arrested after trying to watch a volleyball match in Iran.
Ghoncheh Ghavami, the British-Iranian woman arrested after trying to watch a volleyball match in June, has been released on bail her fiance has confirmed to ITV News.
Advertisement
A comprehensive deal to resolve the stand-off over Iran's nuclear ambitions will be "impossible" to achieve before tomorrow's deadlines, the country has reportedly said.
"Considering the short time left until the deadline and number of issues that needed to be discussed and resolved, it is impossible to reach a final and comprehensive deal by Nov 24," the Iranian Student News Agency (ISNA) quoted an unnamed member of Iran's negotiating team in Vienna as saying.
The source was also quoted as saying that that an extension was one option that would be discussed if no deal was reached.
The United States, Britain, France, Germany, Russia and China began a final round of talks with Iran on Tuesday, with hopes of acheiving an agreement in which Tehran would curb its nuclear work in exchange for the lifting of sanctions.
Dog lovers in Iran could face up to 74 lashes under new plans drafted by the country's parliament, that would also ban keeping the pets or walking them in public, according to the Agence France Presse (AFP).
Those guilty of dog related offences could faces fines ranging from 10 million to 100 million Rials (£236 to £2364), if the bill, signed by 32 lawmakers, is passed. Others could face lashes, the agency reported.
Dogs are regarded as unclean under Islamic custom and are not common in Iran. However, some families do keep them behind closed doors and, especially in more affluent areas, walk them outside.
Britain has said it is "concerned and saddened" by the execution of an Iranian woman for killing a man she claimed was trying to sexually assault her.
Foreign Office minister Tobias Ellwood said there were "questions around due process" in the case of 26-year-old Reyhaneh Jabbari, who was hanged in a Tehran prison.
He also warned that such actions would not help Iran revive relations with the rest of the world.
Mr Ellwood said: "I am very concerned and saddened that (the death penalty) has been used in the case of Reyhaneh Jabbari where there have been questions around due process. Actions like these do not help Iran build confidence or trust with the international community."
An Iranian woman convicted of killing a man she said tried to rape her has been executed, despite international campaign urging a retrial.
Reyhaneh Jabbari, 26, was arrested in 2007 for the murder of Morteza Abdolali Sarbandi, a former employee of Iran's Ministry of Intelligence.
She was sentenced to death in 2008 after what Amnesty International called a "deeply flawed investigation and trial".
Miss Jabbari admitted to stabbing the man, but said she acted in self defence after he tried to sexually abuse her.
"Her claims do not appear to have ever been properly investigated," Amnesty International said.
Reyhaneh Jabbari's execution has been deferred a number of times, including last month.
Advertisement
The mother of a woman imprisoned for more than 100 days for trying to watch a volleyball game has joined her daughter on hunger strike.
Read the full story ›
A British man has tried to give Iran's President a petition calling for his sister, Ghoncheh Ghavami, to be released from jail in Tehran.
Read the full story ›
Iranian President Hassan Rouhani said the rise of violent extremism was down to "certain states" and unidentified intelligence agencies who "put blades in the hands of madmen".
He said only countries within the region could find a solution to the rise of extremism.
He told the United Nations General Assembly: "The right solution to this quandary comes from within the region and regionally provided solution with international support and not from the outside the region."
Iran's President Hassan Rouhani has met Prime Minister David Cameron in New York after the US and its allies launched air strikes against the Islamic State in Syria.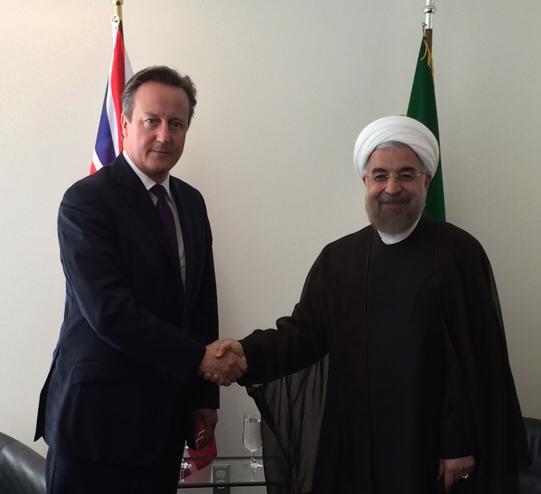 It is the first time a British Prime Minister has met with an Iranian leader since the country's revolution in 1979.
Load more updates