A smoke ring floats in the air above Kobani as air strikes continue to rain down on the war-torn town.
A series of explosions producing smoke which looked like giant mushrooms filled the sky this afternoon.
It is thought they were the result of US air strikes targeting IS.
Islamic State leader Abu Bakr al-Baghdadi has called for attacks in Saudi Arabia, and said his Caliphate was expanding across the Arab world and called for "volcanoes of jihad" across the globe in a speech purported to be in his name.
Baghdadi also said that a US-led military campaign against his group in Syria and Iraq was failing. ITV News cannot independently verify the speech or its content.
There had been reports that Baghdadi had been injured or killed in a US airstrike over the weekend.
Advertisement
The Ministry of Defence (MoD) has confirmed that an unmanned RAF 'Reaper' drone carried out attacks against militants in Iraq for the first time at the weekend.
The MoD said the drone was used during a series of coalition missions conducted near Bayji, north of Baghdad and "successfully attacked the terrorists using a Hellfire missile".
The drone also provided "intelligence, surveillance and reconnaissance assistance to coalition aircraft which enabled them to conduct further strikes" according to the MoD.
An RAF unmanned drone has been used for the first time in the ongoing fight against ISIS in Iraq.
First strike from an RAF unmanned drone (a Reaper) in Iraq against ISIS
The United States government has no information that indicates the commander of the so-called Islamic State was wounded near the Iraqi city of Mosul in a recent air strike, officials have said.
The Foreign Office is investigating claims that a British man was involved in a suicide bombing in Iraq. The man, named in reports as Kabir Ahmed from Derby, is thought to have died in an attack in the town of Beiji, north of Baghdad.
The 32-year-old is said not to have told his family that he was fleeing Britain to fight for terrorist organisation Islamic State.
It would make Ahmed the second British jihadist suicide bomber, after Abdul Waheed Majeed - a 41-year-old father-of-three from Crawley in West Sussex - blew himself up in February in Syria.
Advertisement
Iraqi state television is now quoting a senior Iraqi official confirming that Isis leader Abu Bakr al-Baghdadi has been injured in an airstrike near Mosul, ITV News understands.
Yesterday US officials said that airstrikes had destroyed a moving, 10-vehicle Islamic State convoy near Mosul, but said it was unclear whether al-Baghdadi was present at the time.
An army colonel and a witness have said Iraqi military forces reached the centre of the northern city of Baiji on Sunday to try to break an Islamic State siege of the country's biggest refinery nearby, triggering fierce clashes with the militants.
Islamic State Sunni insurgents seized Baiji city in June during a lightning advance through northern Iraq. Since then, they have surrounded the refinery and halted its production while a detachment of government troops has held out for months under siege inside it.
The colonel said Iraqi troops entered Baiji, a city of about 200,000 people, from the south and west and took over the al-Tamim neighbourhood and city centre.
The British jihadist who killed himself in a suicide attack in Iraq was one of three men to be jailed in 2012 for handing out a leaflet calling for gay people to be executed.
Kabir Ahmed distributed material entitled The Death Penalty? that showed an image of a mannequin hanging from a noose and quoted Islamic texts that said capital punishment was the only way to rid society of homosexuality.
Following a trial at Derby Crown Court, Ahmed and two co-defendants Ihjaz Ali and Razwan Javed were convicted of distributing threatening written material intending to stir up hatred on the grounds of sexual orientation - the first prosecution of its kind since legislation came into force in March 2010.
Judge John Burgess told the men their intention was "to do great harm in a peaceful community".
A married father-of-two is believed to have become the second British jihadist to have killed himself while fighting in Syria and Iraq.
Here's a picture of Abu Sumayyah al-Britani (Kabir Ahmed from Derby), British suicide bomber in Baiji, Iraq. http://t.co/ikCNFrn5cA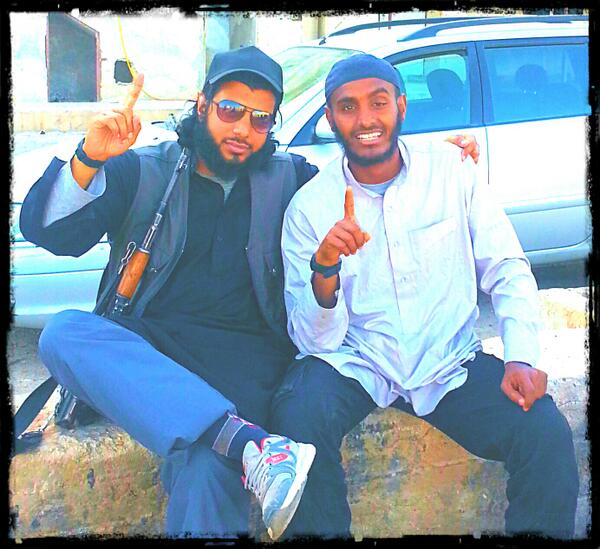 Kamir Ahmed (left), was going under the name Abu Sumayyah.
Ahmed died when he drove a truck packed with explosives into a convoy of a top Iraqi police officer, killing eight people including the ranking official, authorities said.
Load more updates