ITV News are embedded with the Peshmerga forces on the frontline and have witnessed liberated villages.
Read the full story ›
ITV News Middle East News Editor Lutfi Abu Aun has seen the rocket launcher pads left behind by the so-called Islamic State as Peshmerga forces continue the operation to liberate Mosul.
Abu Aun is embedded with group as they battle to reclaim city from the terror group and said Tuesday had been a "relatively calm day" on the eastern frontline.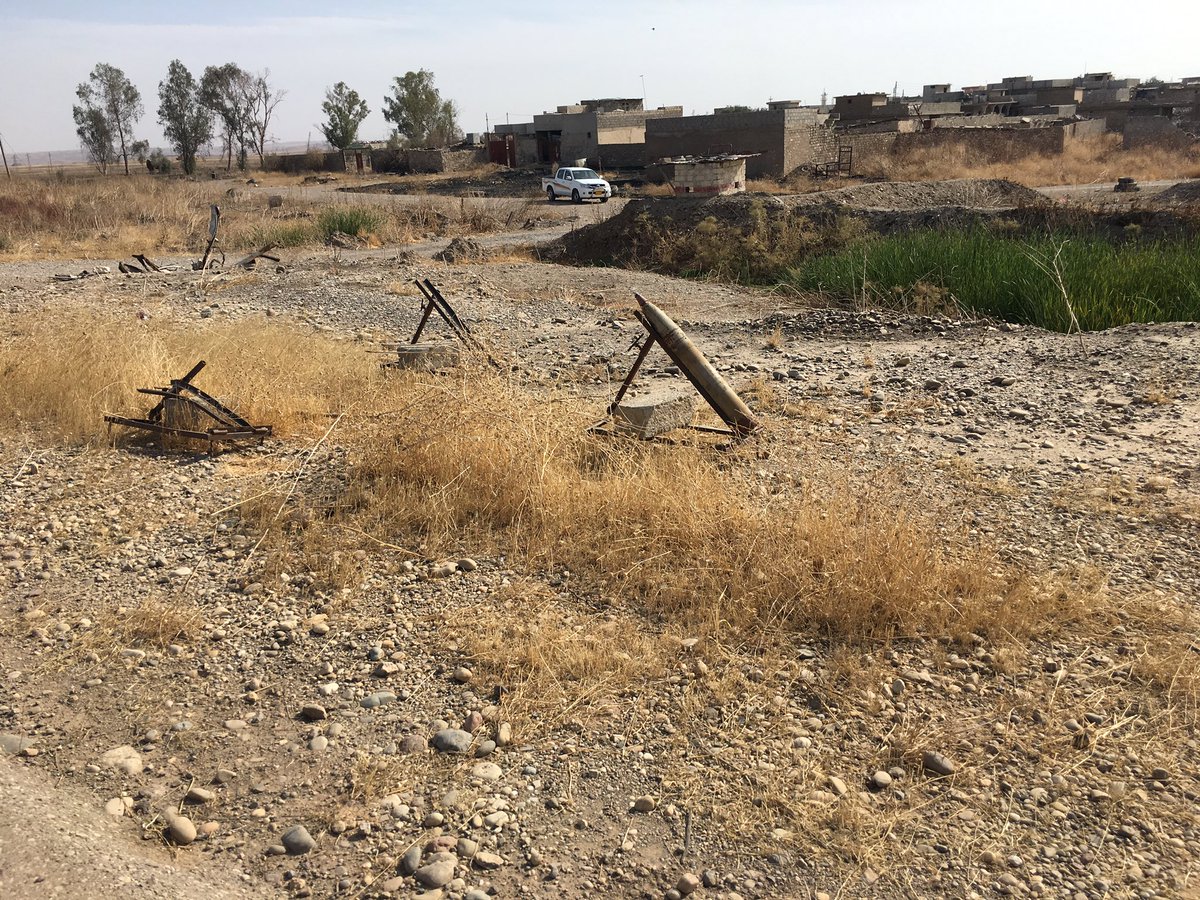 Advertisement
The Secretary of State for Defence addressed the House of Commons during an urgent question on Mosul.
Read the full story ›
France and Iraq will co-host a ministerial summit on October 20 to discuss how to stabilise Mosul once the so-called Islamic State have been defeated there.
Foreign Minister Jean-Marc Ayrault said defeating the terrorists in their Iraqi stronghold could take time and, with militants expected to escape over Syrian border into Raqqa, it was important to consider how best to retake that city too.
He said: "For Raqqa, a similar method will be needed to Mosul. It will take time and political will, but we have to organize ourselves.
"We can't let Islamic State reconstitute itself or strengthen to create an even more dangerous hub. We have to prepare ourselves."
The International Committee of the Red Cross (ICRC) has appealed for all sides in the battle for Mosul to spare civilians and allow the wounded to be evacuated.
Robert Mardini, the charity's regional director for the Near and Middle East, said they have reinforced medical centres and will be able to treat any patient contaminated in the event of a chemical attack.
The aid agency said they plan to monitor the treatment of people detained or screened by the Iraqi government as they flee the northern city.
They said they still hope to have dialogue with so-called Islamic State fighters about the "basic rules of war".
The head of the International Organization for Migration (IOM) in Iraq has said coalition forces have started to obtain gas masks in preparation for a chemical attack from the so-called Islamic State.
Although IOM Chief of Mission Thomas Lothar Weiss didn't say whether there was a immediate threat, they fear the terror group could use the weapons following similar attacks on Peshmerga forces several weeks ago.
Advertisement
Video report by ITV News International Affairs Editor Rageh Omaar
The Pentagon said the early stages of the battle to retake Mosul have been a success.
It is the largest military confrontation since the battle for Iraq in 2003.
It is a key strategic and political target and with so much at stake, it could be a lengthy battle.
The battle was well publicised in advance with Iraqi troops dropping leaflets onto the city.
Six Kurdish Peshmerga fighters died in clashes with Islamic State on the first day of the battle to liberate Mosul.
The Peshmerga forces reached all the villages surrounding Mosul that they had planned to - but couldn't enter all of them due to the threat of ambush and booby-traps.
ITV News Senior International Correspondent John Irvine reports from Erbil in Iraq
Video report by ITV News Senior International Correspondent John Irvine
Pro-Iraqi forces are still a few miles from the gates of Mosul as the battle for the liberation of the city gets underway.
If the push to retake Mosul is successful it will be the biggest blow yet to Islamic State fighters.
There are still villages to be cleared of Islamic State fighters, made difficult by roads seeded with booby-traps and landmines by Islamic State.
Iraqi forces told ITV News Senior International Correspondent John Irvine they are sure there are no civilians left in the villages surrounding the besieged city.
All sides engaged in the Mosul offensive must ensure civilian lives are "not put in peril", Labour's Shadow International Development Secretary said.
Kate Osamor MP said: "The needs of women, men and children fleeing Mosul, as well as those trapped inside the city, need to be addressed urgently in order to prevent a catastrophic humanitarian crisis in the area.
"It is important that all sides engaged in this conflict take every step possible to ensure that civilian lives are not put in peril and provide unfettered access to humanitarian aid."
Load more updates