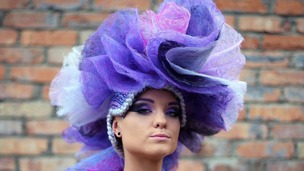 Dublin hosts some of Ireland's top hairdressers in the National Hairdressing Championships.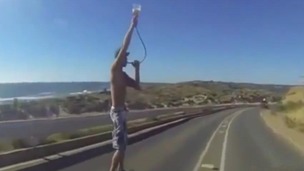 The deaths of two men in Ireland have been linked to a new internet craze were participants dare each other to 'neck' pints of alcohol.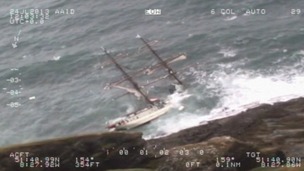 Thirty people had to be rescued after the tall ship they were sailing hit rocks and ran aground off the coast of Ireland.
Live updates
Environment Agency: 'Could have done better over flooding'
A number of flights out of Dublin Airport have been cancelled as Ireland was battered by strong winds with gusts of almost 75mph.
At one stage 5,500 homes and properties were left without power - 4,000 of them in Ennis, Co Clare.
There was also flooding in several parts, including Tralee in Co.Kerry and Cork city where the River Lee overflowed its banks shortly after high tide.
Higher radioactivity levels 'not attributable' to Sellafield site
Irish officials have been in contact with Britain over raised levels of radioactivity at the Sellafield nuclear reprocessing plant, the government has said.
Only around 112 miles (180km) separates the nuclear site from the coast of Ireland.
"Officials from the Department of the Environment have been in contact with their UK counterparts ... and will receive updates throughout the day," the Irish government said in a statement.
Advertisement
Abuse victim wins landmark ruling against Irish state
The European Court of Human Rights has ruled that the Irish state failed to protect a woman who was sexually abuse by her school principal in the 1970s.
The court found that Ireland's system of detection and reporting of abuse was ineffective during this time as it allowed more than 400 incidents of abuse over such a long period.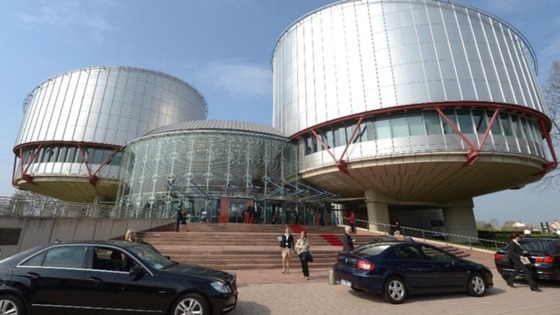 It said if adequate action had been taken in 1971 when the first complaint against Leo Hickey was made, Louise O'Keeffe might have not been abused by him.
The court ruled that Ms O'Keeffe's rights had been violated under article three of the European Convention on Human Rights which prohibits inhuman and degrading treatment and of article 13 which gives rights to an effective remedy.
The result could pave the way for claims against the State from hundreds, if not thousands, of people who were abused in schools.
Abuse victim wins landmark ruling against Irish state
A woman who was sexually abused by her school principal has won a landmark lawsuit against the Irish state for failing to protect her.
Louise O'Keeffe took Ireland to the European Court of Human Rights claiming inhuman and degrading treatment as a nine-year-old at Dunderrow National School in Co Cork in 1973.
Ms O'Keeffe's former principal Leo Hickey was charged for with 386 criminal offences of sexual abuse involving 21 former pupils of the school in the1990s.
In 1998 he pleaded guilty to 21 sample charges and was sentenced to three years in jail.
The court ruled today that Ms O'Keeffe's rights were breached on two grounds in a judgment that could have ramifications for other survivors of abuse, including in terms of compensation.
A man was knifed to death in a frenzied attack over a late night chess game, detectives believe.
Irish police were called to the scene of the bloody killing in a suburb of north Dublin at around 1:50am.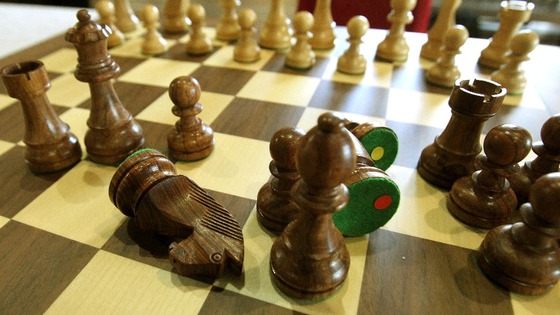 A 39-year-old researcher, who owned the house at Beech Park Avenue, Castleknock, was found with multiple stab injuries inside.
They believe a violent row erupted over a chess move and spiralled out of control.
Another man - aged 34 years and understood to be from Palermo in Italy - was arrested at the scene.
The niece of fashion designer Ralph Lauren has been fined 2,000 euros (£1,651) for pushing an air hostess and swearing at airline staff.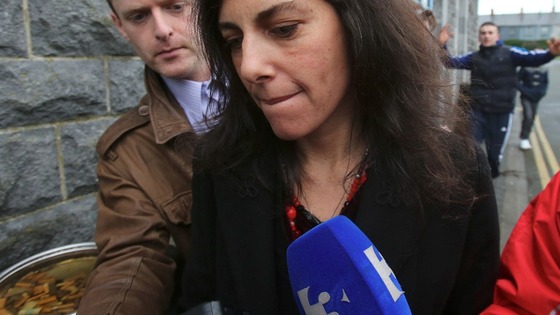 Jennifer Lauren pleaded guilty to breaching the peace and being drunk onboard a transatlantic Delta Air Lines flight that had to be diverted almost 400 miles to Shannon Airport in west Ireland on Monday afternoon.
The court heard the abuse continued for more than an hour until touchdown when Lauren was arrested by police.
Officers noted she was incoherent and smelt of alcohol, despite airline crew stating she drank little or no alcohol on board.The diversion cost the airline more than $43,000 (£26,000).
Advertisement
New Year celebrations around the world
Thousands of revellers weave through the streets of Dublin carrying lights as part of the New Year celebrations.
Fire-breathers, stilt walkers, dancers and other street entertainers are leading the People's Procession of Light through the streets to Stephen's Green where the event will culminate with a fireworks display.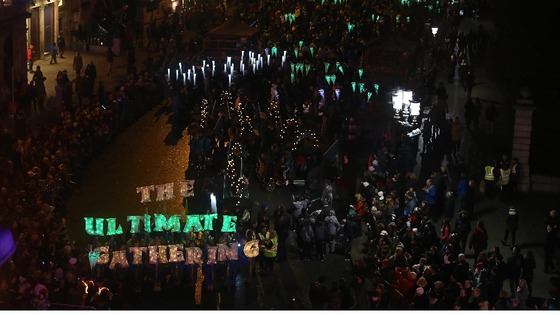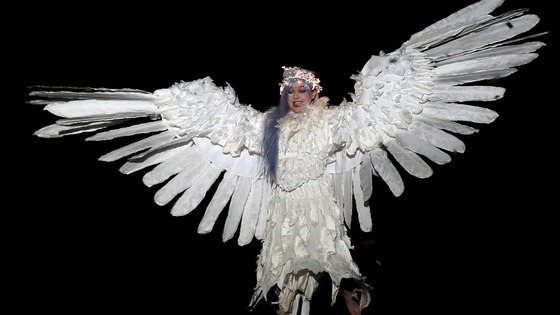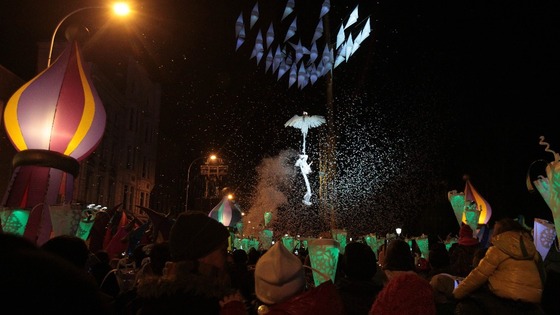 Energy boss: 'More could have been done'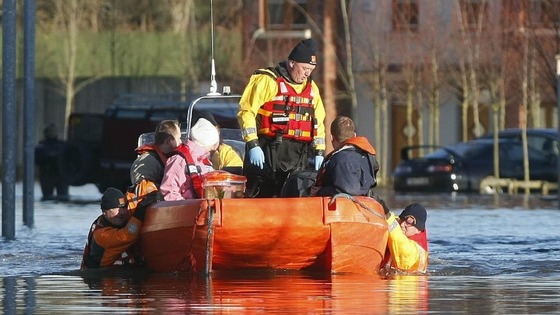 The Irish Meteorological service has issued a Red Alert status for the Republic of Ireland, urging people to take action to protect themselves and property.
Up to 10,000 homes remain without power and gusts of up to 150 kmh are expected in coastal areas.
The alert is to remain in place until 3pm tomorrow.
Thousands left without power after storms hit UK
A young woman has died after a tree fell on her car amid gale force storms battering Ireland.
The 23-year-old died from her injuries after paramedics cut her free from the wreckage, near Mullingar in Co Westmeath.
Emergency services worked to free the woman, who was the sole occupant of the car, and took her to the Midland Regional Hospital. She died from her injuries at around 5.30pm.
Three ex-PMs to join Cameron at Mandela memorial
Irish supermarket workers who went on strike for almost three years over the import of goods from apartheid South Africa are set to attend Nelson Mandela's funeral.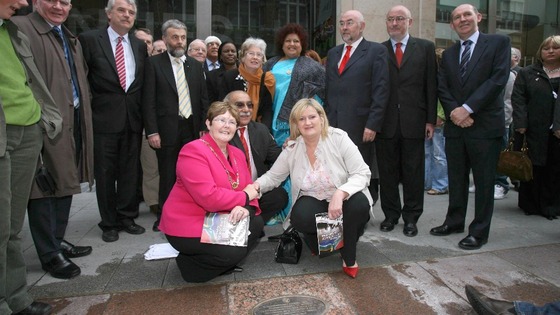 Trade unions are trying to organise transport for some of those who took part in the high-profile picket at Dunnes Stores in Dublin in the 1980s.
The action was triggered in 1984 when 21-year-old cashier Mary Manning was suspended for refusing to handle goods bought from South Africa.
Read: Premier League pays tribute to Mandela before kick-off
One of the longest strikes in trade union history only ended when the Irish Government agreed to ban the import of South African fruit and vegetables until the apartheid regime was over.
Mr Mandela met the strike workers during a visit to Dublin in the early 1990s.
Load more updates
Back to top