Hundreds of passengers escaped down emergency slides as smoke on a Korean Air Lines plane forced a mass evacuation before take-off.
Read the full story ›
Advertisement
Brexit would cause pose a serious risk to global growth, world leaders have warned at the G7 summit in Japan.
Leaders said in a declaration: "UK exit from EU would reverse trend toward greater global trade, investment and jobs. Brexit would be [a] serious risk to global growth."
The group of industrial powers expressed concern about the risks to the world economy amid a modest economic performance, and pledged to seek strong and sustainable growth.
In a statement ending the two-day summit, the G7 said: "Global growth remains moderate and below potential, while risks of weak growth persist. Global growth is our urgent priority."
German Chancellor Angela Merkel said that although G7 leaders did not specifically discuss the possibility of Britain leaving the EU at their summit meeting, there was a consensus that they wanted Britain to remain in the union.
"It was no subject here," she told reporters on the sidelines of the summit. "But there was the signal that all who sat here want Britain to stay part of the EU. The decision is up to the British voters."
ITV News Deputy Political Editor Chris Ship tweeted from Japan: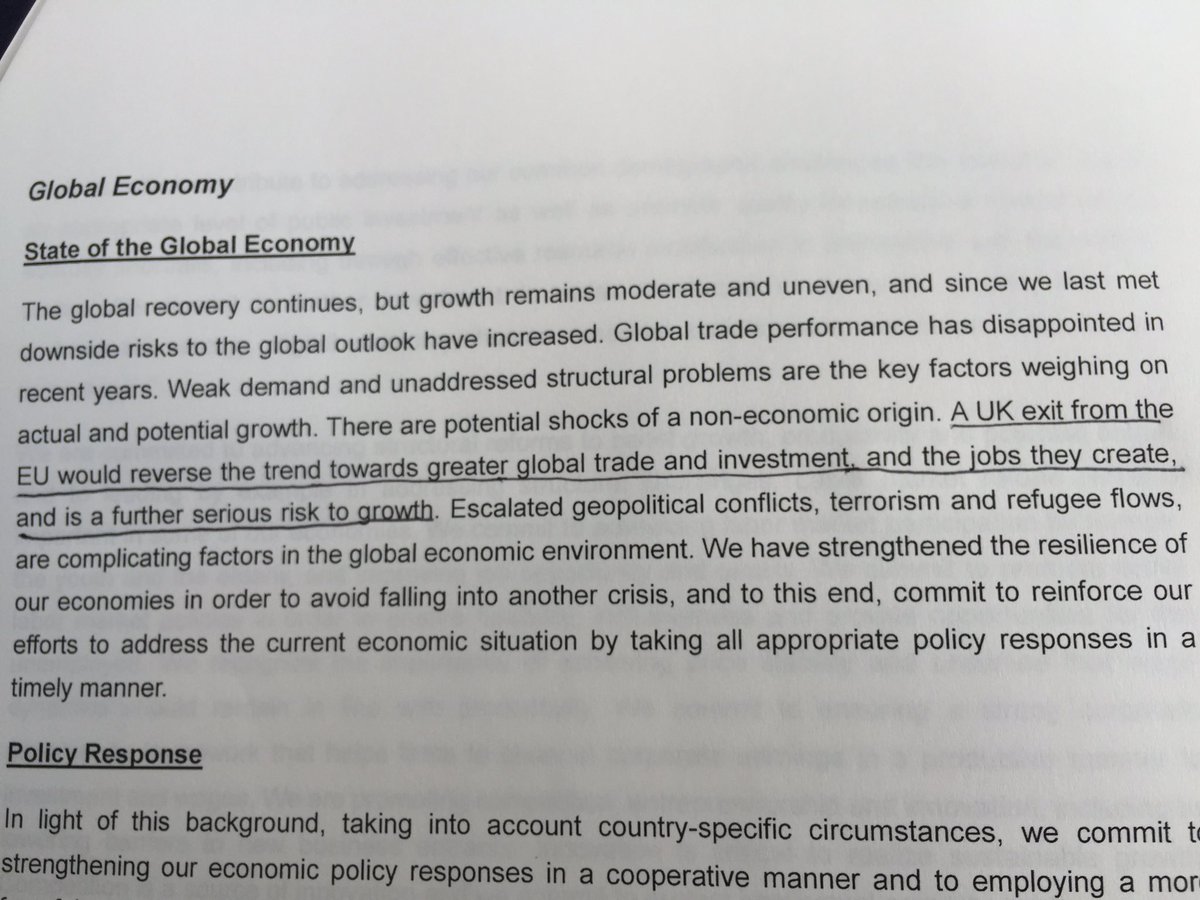 Obama's visit to Hiroshima will be laced with history, and remembrance but not, as the president has made clear - an apology.
Read the full story ›
Cash worth £8.9m has been stolen from cash machines across Japan in what is believed to have been a coordinated criminal operation.
Read the full story ›
A Japanese man has been transported to prosecutors on charges of attempted murder over allegedly stabbing a singer ahead of a gig.
Read the full story ›
Advertisement
An earthquake measuring 6.1 magnitude has struck eastern Japan, the US Geological Survey said.
There was no immediate tsunami warning, or reports of damage or casualties.
It is the third quake to hit the country in less than a week.
Nearly 50 people died when a series of quakes struck late last week.
Mitsubishi has admitted its employees falsified fuel mileage test data on several of its vehicles.
Read the full story ›
Rescue teams fear more people are trapped under buildings after two major quakes in Japan.
Read the full story ›
More than 200,000 people have been told to evacuate their homes in the wake of a powerful earthquake that hit Japan leaving as many as 40 people dead.
Japanese authorities have issued evacuation orders to around 240,000 people amid growing fears of landslides and overcrowding at emergency shelters set up to house those affected by the 7.3 magnitude tremor.
Rescue operations launched following Saturday morning's quake are continuing in a desperate bid to find survivors in the rubble caused by the tremor but Prime Minister Shinzo Abe has warned a government meeting that as bad weather continues efforts may be hampered.
He said: "The wind is expected to pick up and rain will likely get heavier. Rescue operations at night will be extremely difficult ... It's a race against time."
Load more updates