Japan has put its military on alert for a possible North Korean ballistic missile launch, according to the Kyodo news agency.
The country has also ordered naval destroyers and anti-ballistic missile Patriot batteries to be ready to shoot down any projectile heading for it, the agency added.
But a spokesman for Japan's Ministry of Defence in Tokyo declined to say whether such an order has been issued.
Locals have been warned to stay away from the mountain forest after four people were killed in the past month.
Read the full story ›
Advertisement
A Japanese boy who was abandoned in a forest by his parents as a punishment has left hospital.
Read the full story ›
The father of Yamato Tanooka, who was left in a Japanese forest as a punishment, said he has apologised to his son for "causing him pain".
Read the full story ›
The 75 soldiers joined a group of 130 police, firefighters, rescue personnel and volunteers already searching for the boy.
Read the full story ›
Search for missing seven-year-old underway after he was reportedly abandoned in a forest by his parents as "punishment" for throwing rocks.
Read the full story ›
Advertisement
Hundreds of passengers escaped down emergency slides as smoke on a Korean Air Lines plane forced a mass evacuation before take-off.
Read the full story ›
Brexit would cause pose a serious risk to global growth, world leaders have warned at the G7 summit in Japan.
Leaders said in a declaration: "UK exit from EU would reverse trend toward greater global trade, investment and jobs. Brexit would be [a] serious risk to global growth."
The group of industrial powers expressed concern about the risks to the world economy amid a modest economic performance, and pledged to seek strong and sustainable growth.
In a statement ending the two-day summit, the G7 said: "Global growth remains moderate and below potential, while risks of weak growth persist. Global growth is our urgent priority."
German Chancellor Angela Merkel said that although G7 leaders did not specifically discuss the possibility of Britain leaving the EU at their summit meeting, there was a consensus that they wanted Britain to remain in the union.
"It was no subject here," she told reporters on the sidelines of the summit. "But there was the signal that all who sat here want Britain to stay part of the EU. The decision is up to the British voters."
ITV News Deputy Political Editor Chris Ship tweeted from Japan: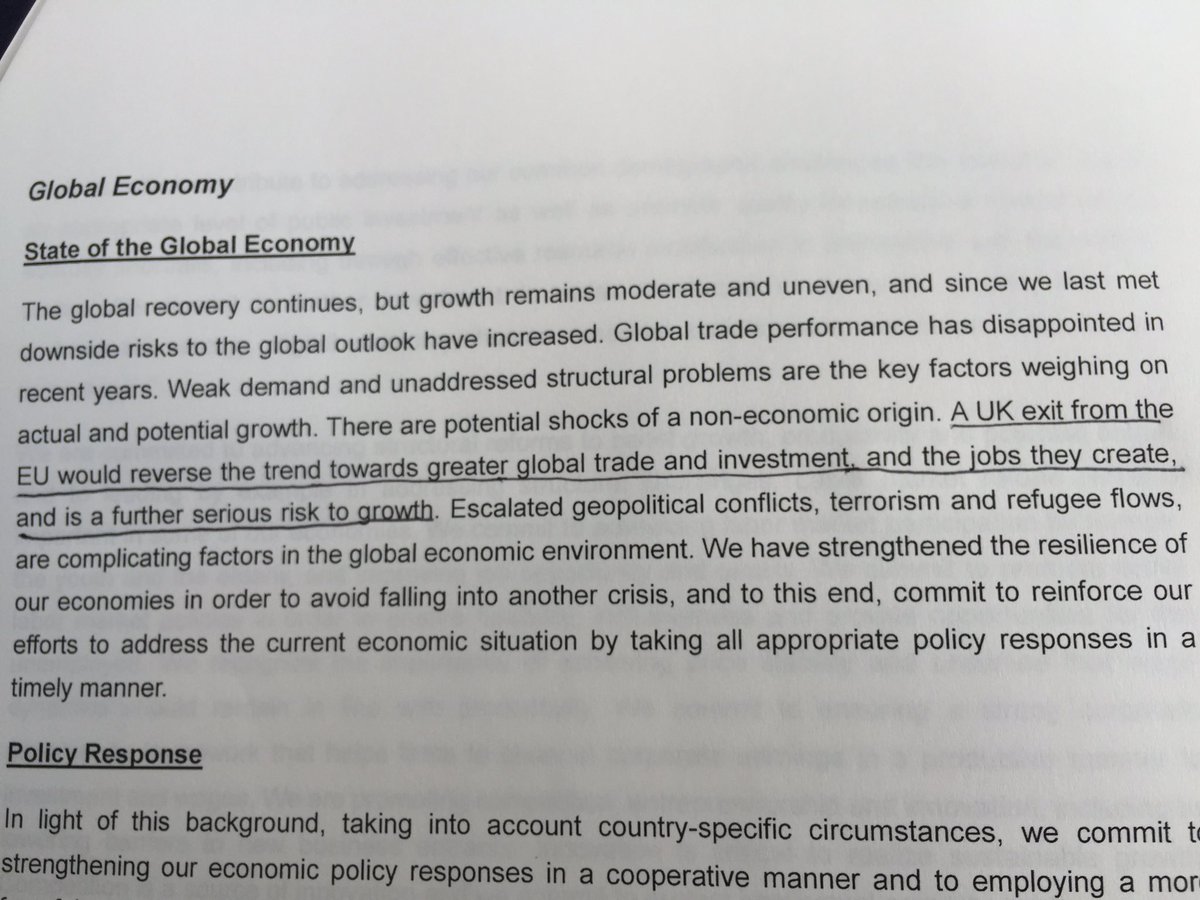 Obama's visit to Hiroshima will be laced with history, and remembrance but not, as the president has made clear - an apology.
Read the full story ›
Load more updates