Pro-Leave campaigner Boris Johnson has responded in a politely worded letter to Jean-Claude Juncker's invitation to "come back to Brussels".
Read the full story ›
European Commission President Jean-Claude Juncker invited the former London mayor to Brussels to get a more 'accurate view of the EU'.
Read the full story ›
Advertisement
Prime Minister David Cameron has received another blow in his battle with Europe over immigration rules, this time from the man he attempted - in vain - to deny gaining power in the European Commission.
Incoming EC president Jean-Claude Juncker labelled Cameron's bid to change the rules on freedom of movement in Europe as "irresponsible", echoing the stance of his predecessor José Manuel Barroso.
Cameron will tomorrow meet with the leaders of the other 27 nations in the European Union but is expected to face near complete opposition to his proposals to change one of the union's founding principles.
In the middle of a tough week for David Cameron, some good news as the UK Commissioner, Lord Hill, gets a plum financial role in the EU.
Read the full story ›
David Cameron and EU Commission President-elect Jean-Claude Juncker high-fived as they met to discuss the Prime Minister's EU reform agenda in Brussels.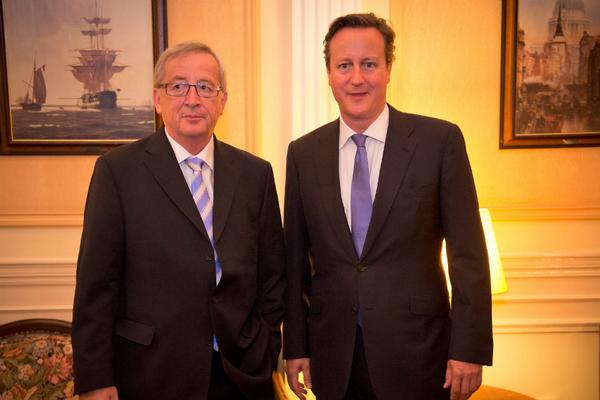 Prime Minister David Cameron is meeting with the incoming President of the EU Commission, Jean-Claude Juncker, to discuss his reform agenda.
Advertisement
Prime Minister David Cameron will return to Brussels to try and secure a European Commission post for Britain today.
After failing to prevent Jean-Claude Juncker being installed EU president, Mr Cameron has announced that Lord Hill of Oareford is the UK's nomination to serve in his team.
The Prime Minister's spokesman said the peer would be treated with "very very considerable respect" by EU figures.
"In terms of the UK portfolio, our view about the importance of economic priorities to us hasn't changed and Lord Hill's nomination is fully consistent with that," the spokesman added.
European Union heads of state and government are set to attend the EU summit tomorrow, after Jean-Claude Juncker was elected head of European Commission.
The European Commission's newly-elected head Jean-Claude Juncker found himself heckled by Eurosceptics in the European Parliament. Mr Juncker told MEPs (in French): "The single currency protects Europe." He was subsequently heckled by some who deemed it "rubbish".
He accused Ukip leader Nigel Farage, a staunch opponent of the appointment, of "secretly" voting for the former leader of Luxembourg.
Mr Juncker addressed him (in French): "I'm led to believe that your Parliament will vote by a secret ballot. And I understand that, because Mr Farage wouldn't want his voters to discover he voted for me".
The appointment of Jean-Claude Juncker as European Commission president is a "very good sign" for Europe's ability to act, German Chancellor Angela Merkel said, after a meeting with leaders of south east European countries in Croatia.
Ms Merkel added: "I would like to congratulate Jean-Claude Juncker on his election as EU president with a clear result in the first round of voting [...] It will inspire us to resume the work with the European commission."
Load more updates