'Poor workforce planning' is to blame for rising staff costs in the NHS not the tactics of employment agencies, according to an recruitment expert.
Tom Hadley, director of policy at the Recruitment and Employment Confederation, which advises the government on the labour market, told ITV News that the government had sets its aim on the wrong target over the issue.
"The real reason why costs have escalated is because there's a huge demand for staff in the NHS, so the real challenge is how do we bring more people into the NHS," he said.
Jeremy Hunt has set his sights on the agencies who supply staff to the NHS, accusing them of ripping off the taxpayer.
The Health Secretary, who has today launched plans to limit the role of employment agencies within the Health Service, told ITV News how non-permanent staff shouldn't be used as the "norm".
"There will always be a need for agency staff... but they should be there for those times when there is a cold snap, when there's a flu outbreak, when you have sudden spike in demand you couldn't predict," he said.
Advertisement
Jeremy Hunt has accused staffing agencies of "ripping off the NHS" as he announced new measures to clampdown on
Read the full story ›
Jeremy Hunt has compared modern politics to dating app Tinder and called for a return to old-fashioned doorstep canvassing.
Read the full story ›
Jeremy Hunt has said that the challengers' debate revealed the 'secret negotiations' which he said would have to happen if Ed Miliband needed to form a coalition after the election.
He went on say the lack of consensus shown would lead to a 'coalition of chaos.'
What we saw tonight was the negotiations that will happen in secret if Ed Miliband were to win the election and were to have to form a coalition with other parties of the left. And we saw they couldn't agree on Trident, they couldn't agree on the NHS.
– Jeremy Hunt
Advertisement
The government will legislate to protect whistleblowers who apply for NHS jobs from discrimination by prospective employers, Health Secretary Jeremy Hunt has announced.
Hunt said he would accept the Francis review's recommendation in principle and then consult on a package of measures to implement them.
Jeremy Hunt has announced his response to a report into the treatment of NHS whistleblowers.
You can re-watch the Health Secretary's statement here:
Health Secretary Jeremy Hunt said "significant changes" have been made to make the NHS more transparent since the Mid Staffordshire scandal, but stressed that "more needs to be done".
Hunt tweeted this diagram yesterday ahead of the NHS whistleblower review being published:
Big day for NHS tomorrow with Francis whistleblowing report. Much culture change since last report, but more to do: http://t.co/iaETmsJiSs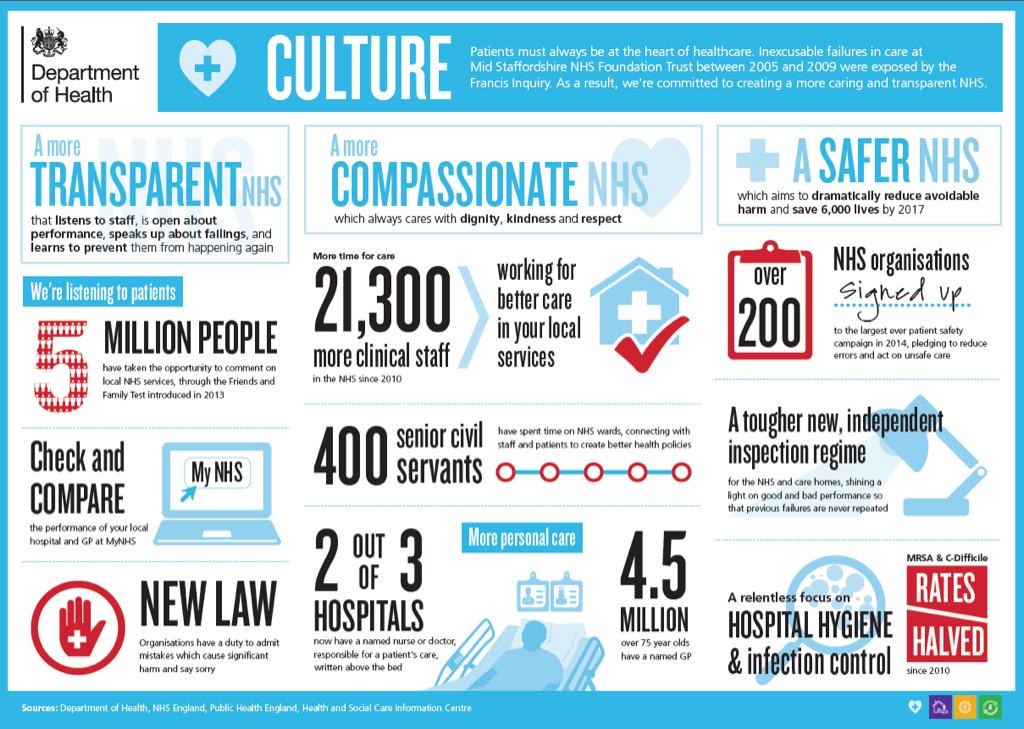 "We agree with Sir Robert [Francis QC] that listening to patients and staff is absolutely vital and will be responding to this report later today," Hunt added.
Unison said a new offer on NHS pay means that more than 250,000 of the lowest paid workers will get a pay rise of between 2.2% and 5.6% next year.
Load more updates