The government will legislate to protect whistleblowers who apply for NHS jobs from discrimination by prospective employers, Health Secretary Jeremy Hunt has announced.
Hunt said he would accept the Francis review's recommendation in principle and then consult on a package of measures to implement them.
Advertisement
Jeremy Hunt has announced his response to a report into the treatment of NHS whistleblowers.
You can re-watch the Health Secretary's statement here:
Health Secretary Jeremy Hunt said "significant changes" have been made to make the NHS more transparent since the Mid Staffordshire scandal, but stressed that "more needs to be done".
Hunt tweeted this diagram yesterday ahead of the NHS whistleblower review being published:
Big day for NHS tomorrow with Francis whistleblowing report. Much culture change since last report, but more to do: http://t.co/iaETmsJiSs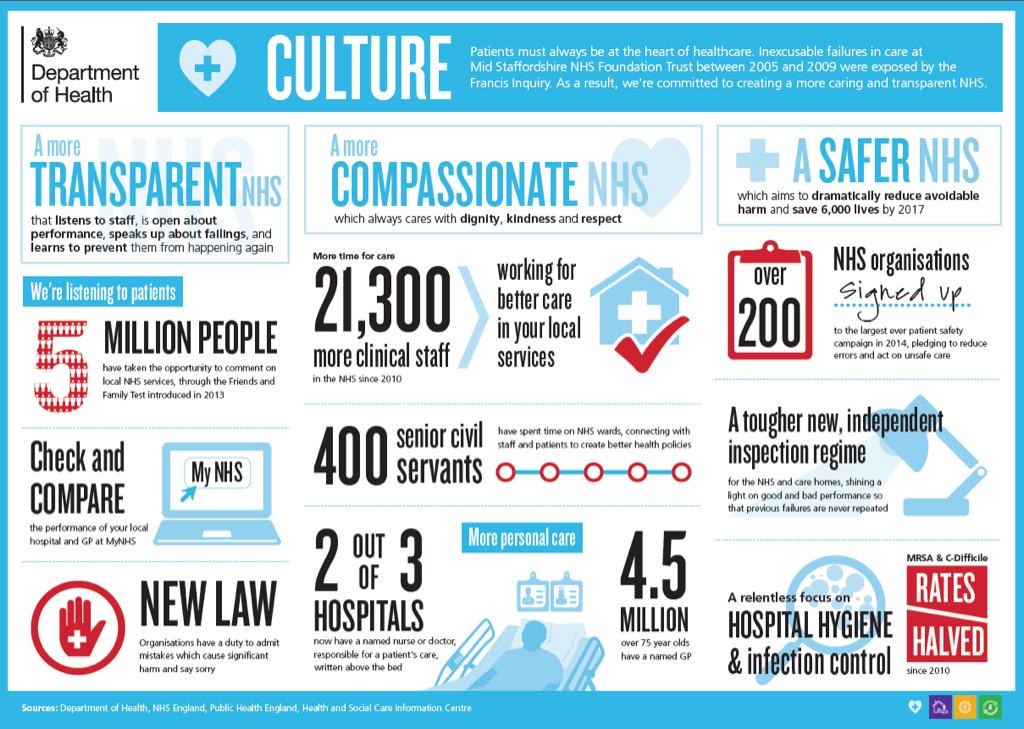 "We agree with Sir Robert [Francis QC] that listening to patients and staff is absolutely vital and will be responding to this report later today," Hunt added.
Unison said a new offer on NHS pay means that more than 250,000 of the lowest paid workers will get a pay rise of between 2.2% and 5.6% next year.
Advertisement
Union leaders have cautiously welcomed a new offer from the Government in an ongoing row over pay.
Unison's head of health Christina McAnea said it "isn't a great offer" but that it would consult its members on the new terms.
The GMB amd Unite unions both said they too would consult members on the new offer.
Dr Peter Carter, general secretary of the Royal College of Nursing, said the "breakthrough" was a "positive start, but there is more to be done".
Planned strikes by health workers in England and Northern Ireland have been suspended, unions announced today.
It follows new offers made to union leaders in talks with the Department of Health, which are believed to include:
A consolidated 1% payment for staff up to senior level
An additional £200 consolidated payment for lower paid staff
Abolition of the first point on the pay scale, and the second raised to £15,100.
The industrial action had been planned for Thursday and next month in a row over pay.
Talks aimed at averting next week's NHS strike have adjourned and will resume on Monday, unions have said.
The GMB union has issued formal notice of a strike by health workers planned for 29th January.
It comes as union officials return to talks with the Government later today aimed at averting industrial action.
GMB said it had served NHS employers in England and Northern Ireland with the necessary information about the stoppage involving hospital and ambulance workers.
Ambulance members of the union will strike for 24 hours from 0001, while other health workers will take action for 12 hours from midday.
Members of Unison and Unite are also set to go on strike on the same day.
Load more updates