Joan Rivers' daughter is suing the New York clinic where she suffered brain damage and died after a routine procedure.
Melissa Rivers is also suing the doctors who treated her mother before her death. In a statement she said she is filing the lawsuit so that no other family had to go through what she did.
Comedian Joan Rivers died last September aged 81 of brain damage due to lack of oxygen after she stopped breathing during an endoscopy days earlier.
The federal Centres for Medicare and Medicaid Services cited the clinic for failing to identify deteriorating vital signs and provide timely intervention.
Yorkville Endoscopy did not immediately respond to a request for comment. The clinic could lose its Medicare accreditation.
The New York City clinic where comedian Joan Rivers suffered a fatal complication during a medical procedure is losing its accreditation at the end of the month.
"Yorkville Endoscopy no longer meets the conditions for a supplier of ambulatory surgical centre services," government agency the Centres for Medicare Services said.
As of 31st January, the Manhattan medical centre will no longer be eligible to receive government funds for services provided to Medicare and Medicaid beneficiaries.
Acid-tongued Rivers, 81, who smashed the male-dominated realm of late-night talk shows and starred with her daughter on E! in Fashion Police, died on 4th September last year.
The city's medical examiner found she died of brain damage due to lack of oxygen when she stopped breathing during an endoscopy days earlier.
The clinic said in a statement it was continuing to work with all regulatory bodies.
"We intend to communicate with CMS and appropriate authorities to have the decision reversed. Yorkville continues to be a licensed facility and perform procedures while co-operating with the regulatory process," it said.
The clinic had presented a plan to correct problems uncovered during an investigation after Rivers' death.
But the CMS said yesterday that Yorkville remained deficient in four areas, including "surgical services; quality assessment and performance improvement; governing body and management; and environment".
Rivers' death was classified as a therapeutic complication and no negligence was alleged in the agency's report.
Her daughter Melissa Rivers has hired a prominent malpractice lawyer to investigate.
Advertisement
Comedian Joan Rivers died from low blood oxygen during a routine medical procedure to check out voice changes and reflux, the New York City medical examiner's office has ruled.
The 81-year-old died on Septemebr 4 after suffering brain damage during a procedure to examine her gastrointestinal tract and vocal folds.
Rivers had been sedated during the procedure with the anaesthetic propofol, the medical examiner said.
Her daughter Melissa declined to comment on the findings, saying in a statement: "We continue to be saddened by our tragic loss and grateful for the enormous outpouring of love and support from around the world."
Comedian Joan Rivers seemed to promote the new iPhone 6 from the grave today after posts appeared on her official Facebook and Instagram accounts, TMZ reported.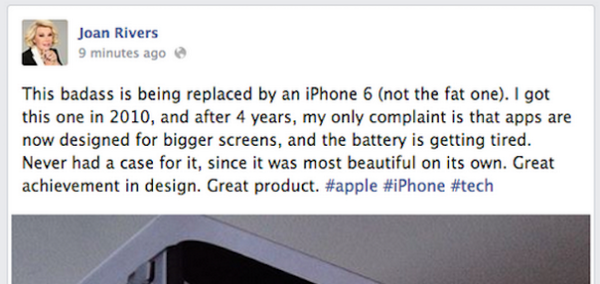 The post appeared on Rivers' Facebook and Instagram pages for a brief period this morning before they were removed.
TMZ suggests the posts were the result of a "pre-negotiated deal" with Apple and before her death she had scheduled them to publish on the iPhone's launch day.
The New York Times posted on Twitter after Joan Rivers' funeral: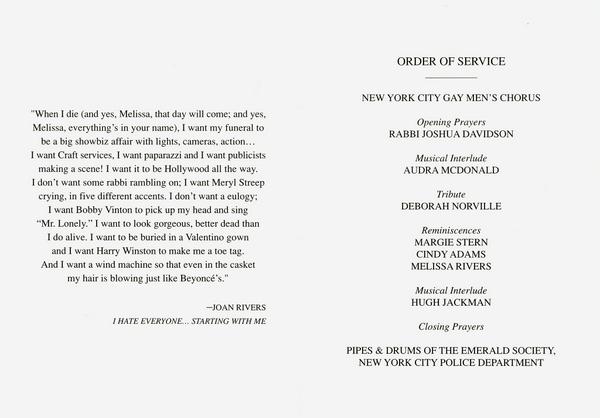 US television presenter Billy Bush has called the send-off given to Joan Rivers in New York today as the "best funeral ever". He tweeted:
Irreverent to say the least. Best funeral ever. Really. Joan Rivers would have loved it.
The @joanrivers funeral was irreverent and hysterical, poignant and touching. The throngs on 5th amazing.
Advertisement
The funeral of comedian Joan Rivers has been held in Manhattan, attended by celebrities including Whoopi Goldberg, Sarah Jessica Parker, Kelly Osbourne and her daughter Melissa.
The service opened with the New York City Gay Men's Chorus and closed with the bagpipe band of New York City Police Department, while actor Hugh Jackman was reported to have performed Quiet Please, There's a Lady on Stage from his musical The Boy From Oz.
Rabbi Joshua Davidson led opening prayers: "We mourn with her family, friends and all those millions to whom she brought laughter and joy."
Tributes to the 81-year-old comedian came from Melissa, friend Margie Stern and gossip columnist Cindy Adams.
Kelly Osbourne, who appeared with Joan Rivers on her E! show Fashion Police, has arrived at the comedian's funeral in New York today.
US television station 6abc tweeted this picture of Kelly sporting a mauve mohawk hairstyle: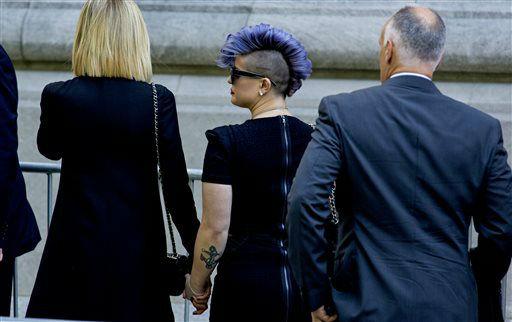 Dozens of celebrities are attending the funeral of Joan Rivers in New York today. The comedian died aged 81 on Thursday after suffering a heart attack during surgery.
Thousands of fans have gathered outside the Manhattan temple where the funeral of Joan Rivers is being held today.
Celebrities including Rosie O'Donnell, Judge Judy, Kyle MacLachlan and Kelly Osbourne have arrived for the private funeral of the pioneering comedian.
NBC News reporter Ron Mott has tweeted this picture:
Huge crowd of media/spectators outside Temple Emanu-el in New York City for Joan Rivers memorial service. http://t.co/OBTcsYf38j
Load more updates