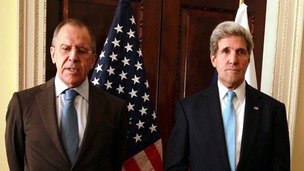 John Kerry warned of "consequences" after his Russian counterpart made clear Moscow would respect the outcome of Crimea's referendum.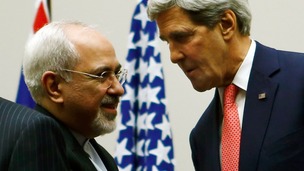 The nuclear agreement between Western powers and Iran was broadly welcomed by politicians, former world leaders and Middle East experts.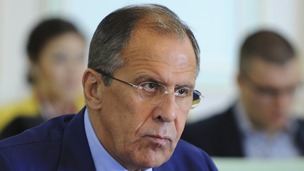 As Sergei Lavrov and John Kerry bid for a peaceful resolution to Syria, a former British diplomat says the US is "taking on the master".
Live updates
US Secretary of State John Kerry will travel to Vienna this weekend to try to break the deadlock in negotiations over Iran's nuclear programme, a senior Western official told Reuters.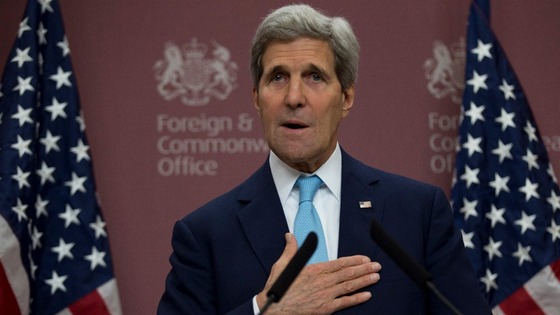 The source, who spoke on condition of anonymity, said: "I can tell you that Kerry will be in Vienna this weekend, probably on Saturday."
However, the official added it was unlikely there would be an agreement signed in the near future, given the disagreements between Iran and western nations over Tehran's nuclear programme.
Read: Iran's leader: Western expectations 'stupid and idiotic'
Financial and military aid to Afghanistan would be cut if any party tries to seize power illegally, US Secretary of State John Kerry has said.
The warning comes after Afghan presidential candidate Abdullah Abdullah claimed he was the winner of last month's run-off vote, despite preliminary results showing that Ashraf Ghani won the June 14 second round.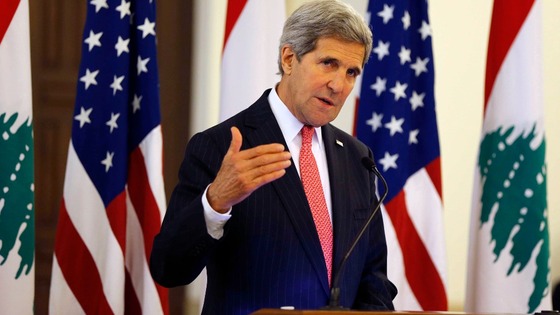 Thousands of Abdullah's supporters gathered in Kabul with some suggesting his camp should declare victory and form a parallel government.
"I have noted reports of protests in Afghanistan and of suggestions of a 'parallel government' with the gravest concern," said Mr Kerry in a statement during a trip to Asia.
Read: Abdullah claims victory in Afghan presidential vote **
Advertisement
Kerry in Cairo for talks on Muslim Brotherhood crackdown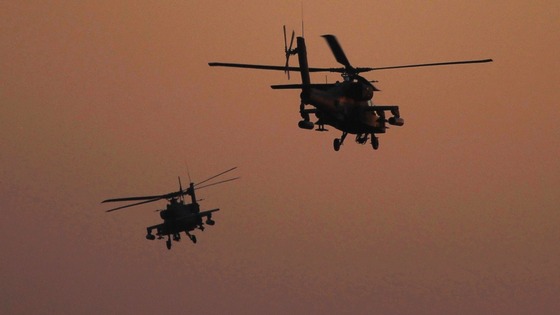 US Secretary of State John Kerry has made the highest-level American visit to Egypt since President Abdel-Fattah el-Sissi took office in an attempt by Washington to press the country for more moderate policies.
Kerry said the US government has proposed providing an aid package worth $650 million (£380m) to Egypt and is working with Congress to settle differences over the final amount
More: Kerry arrives in Egypt for talks with new president
Earlier this month, the US quietly agreed to send an estimated $572 million US dollars to Egypt in military and security assistance - widely believed to include Apache attack helicopters- on top of $200 million US dollars in economic aid already delivered.
Kerry in Cairo for talks on Muslim Brotherhood crackdown
US secretary of state John Kerry has arrived in Cairo for talks with President Abdel Fattah al-Sisi over Egypt's crackdown on the Muslim Brotherhood and the threat which the conflict in Iraq poses to the Middle East.
Kerry is the highest-ranking US official to visit Egypt since Sisi, the former military leader who toppled Islamist President Mohamed Mursi after mass protests last year, won a May presidential election.
His visit comes a day after an Egyptian court confirmed death sentences against 183 members of Mursi's Muslim Brotherhood, including its leader Mohamed Badie, in a mass trial on charges of violence in which one policeman was killed.
Hague and Jolie attend sexual violence in war summit
Foreign Secretary William Hague said he hopes today's summit on sexual violence in war will be a "turning point" in the battle against war zone rape.
He responded to US Secretary of State John Kerry on Twittter:
.@johnkerry could not agree more, looking forward to working with you to make it a turning point in battle against warzone rape #TimeToAct
Read: Hague and Jolie to attend sexual violence in war summit
D-Day veterans honoured 70 years after Normandy landings
US Secretary of State John Kerry has arrived at a cemetery in Colleville-Sur-Mer to attend a memorial service for American veterans.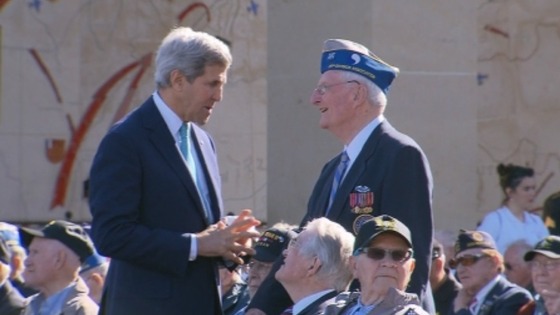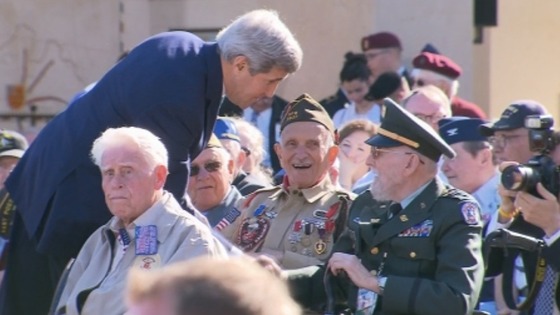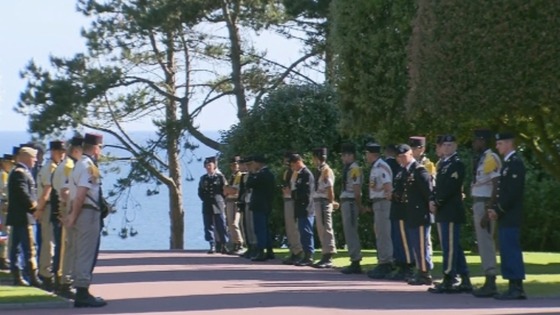 Advertisement
'Friends of Syria' agree to support Assad opposition
US Secretary of State John Kerry has agreed with European and Gulf allied foreign ministers to ramp up support to the moderate Syrian opposition, Reuters has reported.
Nigeria: Captured girls 'face rape danger'
US Secretary of State John Kerry has said the "entire world" should be doing everything they can to help find the kidnapped Nigerian schoolgirls.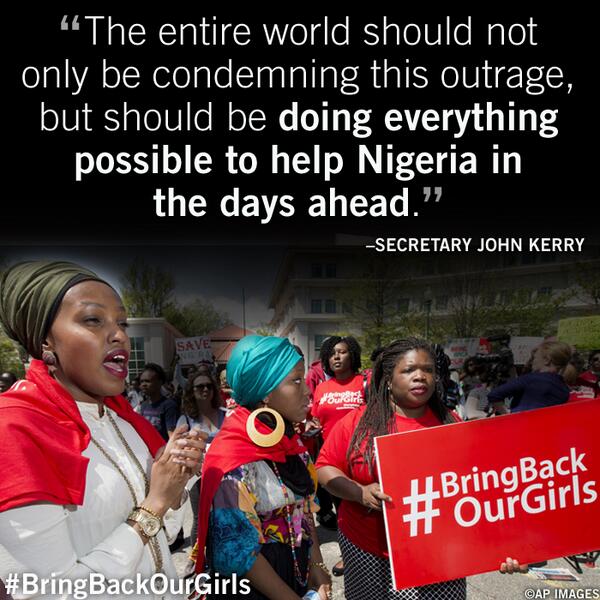 Read: Mixed hopes in search for missing Nigerian schoolgirls
Nigeria: Captured girls 'face rape danger'
US Secretary of State John Kerry has reiterated his condemnation of the recent kidnapping of more than 200 Nigerian schoolgirls as a US team prepares to offer direct assistance on the ground
Kerry said at a Washington news conference: "Our inter-agency team is hitting the ground in Nigeria now, and they are going to be working in concert with President Goodluck Jonathan's government to do everything that we possibly can to return these girls to their families and their communities.
"We are also going everything possible we to counter the menace of Boko Haram.
"The entire world should not only be condemning this outrage, but should be doing everything possible to help Nigeria in the days ahead."
Nigeria: Captured girls 'face rape danger'
US Secretary of State John Kerry said the United States has offered Nigeria support in its search for more than 200 girls kidnapped in Nigeria.
Kerry said the US Embassy in Abuja will form a "coordination cell" that will provide expertise on intelligence, investigation and hostage negotiations, while also helping to facilitate information sharing and victim assistance.
He said he spoke with Nigerian President Goodluck Jonathan earlier that day, who accepted the offer.
Load more updates
Back to top