US secretary of state John Kerry has arrived in Cairo for talks with President Abdel Fattah al-Sisi over Egypt's crackdown on the Muslim Brotherhood and the threat which the conflict in Iraq poses to the Middle East.
Kerry is the highest-ranking US official to visit Egypt since Sisi, the former military leader who toppled Islamist President Mohamed Mursi after mass protests last year, won a May presidential election.
Foreign Secretary William Hague said he hopes today's summit on sexual violence in war will be a "turning point" in the battle against war zone rape.
He responded to US Secretary of State John Kerry on Twittter:
.@johnkerry could not agree more, looking forward to working with you to make it a turning point in battle against warzone rape #TimeToAct
Advertisement
US Secretary of State John Kerry has arrived at a cemetery in Colleville-Sur-Mer to attend a memorial service for American veterans.
US Secretary of State John Kerry has agreed with European and Gulf allied foreign ministers to ramp up support to the moderate Syrian opposition, Reuters has reported.
US Secretary of State John Kerry has said the "entire world" should be doing everything they can to help find the kidnapped Nigerian schoolgirls.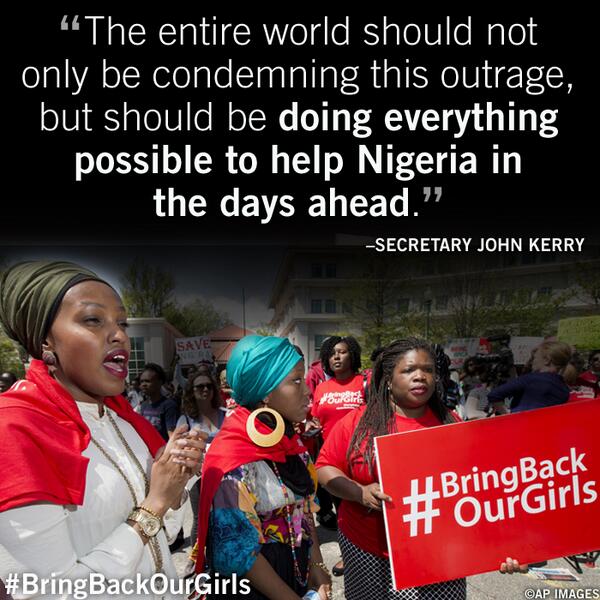 US Secretary of State John Kerry has reiterated his condemnation of the recent kidnapping of more than 200 Nigerian schoolgirls as a US team prepares to offer direct assistance on the ground
Kerry said at a Washington news conference: "Our inter-agency team is hitting the ground in Nigeria now, and they are going to be working in concert with President Goodluck Jonathan's government to do everything that we possibly can to return these girls to their families and their communities.
"We are also going everything possible we to counter the menace of Boko Haram.
"The entire world should not only be condemning this outrage, but should be doing everything possible to help Nigeria in the days ahead."
Advertisement
US Secretary of State John Kerry said the United States has offered Nigeria support in its search for more than 200 girls kidnapped in Nigeria.
Kerry said the US Embassy in Abuja will form a "coordination cell" that will provide expertise on intelligence, investigation and hostage negotiations, while also helping to facilitate information sharing and victim assistance.
He said he spoke with Nigerian President Goodluck Jonathan earlier that day, who accepted the offer.
The US Secretary of State has called events in Ukraine a "wake up call" to NATO allies.
John Kerry said allies must make it clear to Russia that NATO territory is inviolable, saying "we will defend every piece".
He said the Ukraine crisis puts "our entire model of global leadership" at risk.
Sergei Lavrov has told US Secretary of State John Kerry that Ukraine must stop its military operation in the country's southeastern as part of efforts to defuse the crisis, the Russian Foreign Ministry said.
In a telephone conversation with Kerry, Lavrov also urged the US to use its influence to secure the release of what the ministry called leaders of the "protest movement" in the region - a reference to pro-Russian separatists.
Kerry and Lavrov discussed efforts to resolve the situation involving detained OSCE military observers, the ministry said, adding that the controlling parts of southeastern Ukraine had not been properly informed of the observers' plans to travel there.
Load more updates