John Lewis Partnership has posted a 14.7% fall in half-year pre-tax profits to £81.9 million, citing "deep structural changes in the retail market".
After exceptional items, including a £25 million write-down on property assets that it no longer intends to develop, pre-tax profits in the period plunged 75% to £56.9 million.
The group, which also owns Waitrose, said its commitment to competitive pricing, increasing pay and investment held back profits in the six months to July 30.
Chairman Sir Charlie Mayfield said the results were not linked to the EU referendum result.
He said: "We have grown gross sales and market share across both Waitrose and John Lewis, but our profits are down. This reflects market conditions and, in particular, steps we are taking to adapt the partnership for the future."
John Lewis believes it has outperformed its rivals, but thinks the fight with one in particular - Amazon - still isn't a fair one.
Read the full story ›
Advertisement
Black Friday delivered record sales for John Lewis - so why does its managing director have "mixed feelings" about it as an event?
Read the full story ›
John Lewis has said that 'Black Friday' sales have disrupted traditional Christmas trading patterns and may have to be reined in.
Read the full story ›
Google has been voted the best place to work by UK employees in a poll by a jobs website, winning out over John Lewis and other tops firms.
Read the full story ›
Retailer John Lewis launches its eagerly-anticipated Christmas advert today featuring a reworked song written by John Lennon.
Read the full story ›
Advertisement
France is "finished" and any British entrepreneurs in the country should "get out quickly", John Lewis' managing director has said.
Read the full story ›
John Lewis has warned shoppers in Scotland they could face higher prices in an independent Scotland.
Partnership chairman Sir Charlie Mayfield said the company had no intention of reducing its presence north of the border, where it has nine shops, a contact centre and employs more than 3,000 people.
But he cautioned firms were unlikely to continue sharing the burden of the higher operating costs incurred in Scotland across UK customers in the event of the break up of the Union.
Sir Charlie told BBC Radio 4's Today programme:
The debate has clearly become very, very fractious. As a businessman it is not my place to tell Scottish voters how to vote in next week's referendum.

But I will say two things. From a business perspective there will be economic consequences to a Yes vote, not just in uncertainty but some of the turmoil we are hearing about.

And it is also the case that it does cost more money to trade in parts of Scotland and therefore those hard costs, in the event of a Yes vote, are more likely to be passed on.
– Sir Charlie Mayfield, John Lewis Partnership chairman
John Lewis has reported buoyant trading over Christmas with like-for-like sales climbing 6.9 percent over the five weeks to December 28.
House of Fraser also performed well in the festive period, hailing its best ever Christmas with comparable store sales up 7.3 percent.
A five-year-old girl who wrote a letter of apology to department store John Lewis after she broke a bauble has been found following a social media campaign.
The girl, who signed her name as Faith, sent the letter after she accidentally broke the decoration while visiting a shop in Cambridge.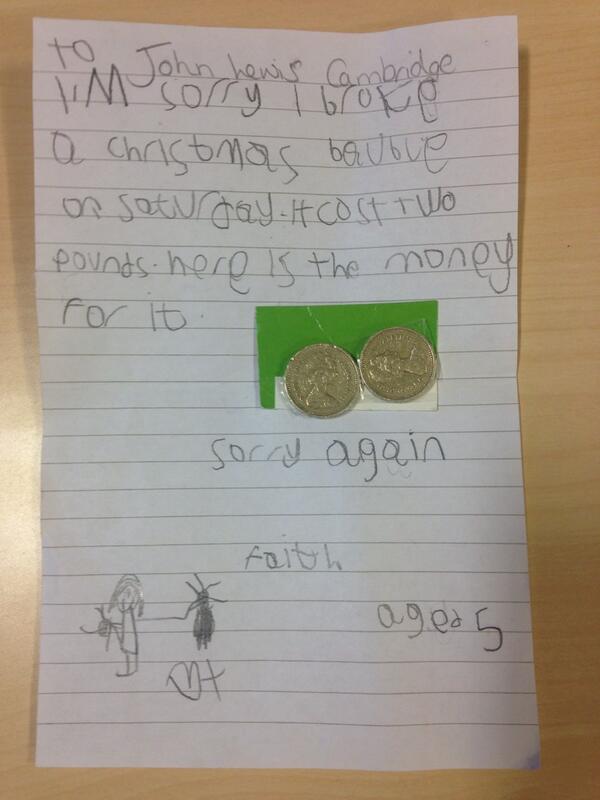 Branch manager Dominic Joyce launched a bid to find the girl on Twitter using the tag #findfaith, saying he would like to thank her for the "adorable gesture".
John Lewis confirmed that the girl's parents had been in touch this morning but had indicated that no further thanks was needed.
Load more updates