Former US presidential candidate Senator John McCain has been diagnosed with a brain tumour after having a blood clot removed.
Read the full story ›
John McCain, the former presidential candidate, has warned President Trump against reviving Bush-era torture tactics.
Read the full story ›
Advertisement
Donald Trump has refused to apologise for attacking John McCain for being captured during the Vietnam war.
Read the full story ›
Former US presidential candidate John McCain has mocked Russia after they included him on a list of nine Americans who are banned from the country.
He said: "I guess this means my spring break in Siberia is off, my Gazprom stock is lost, and my secret bank account in Moscow is frozen.
"Nonetheless, I will never cease my efforts on behalf of the freedom, independence, and territorial integrity of Ukraine, including Crimea."
Former US presidential candidate Senator John McCain and Speaker of the House of Representatives John Boehner are among the nine Americans banned from Russia under sanctions imposed by Moscow.
Russia announced sanctions against US officials in retaliation against US visa bans and asset freezes.
White House Correspondent for CQ Roll Call Steven Dennis tweeted the full list of Americans who have been banned by Russia: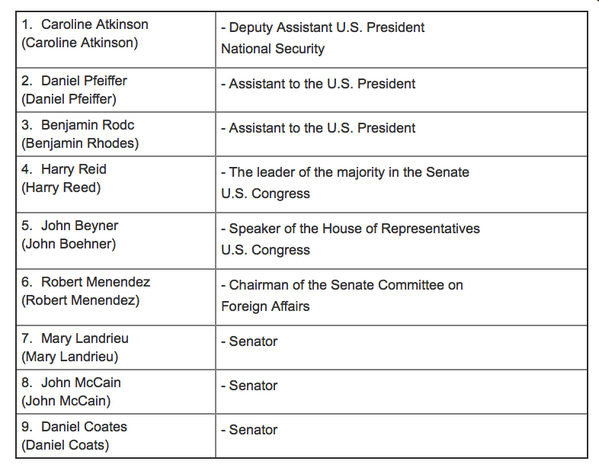 Former US presidential candidate Senator John McCain said he was "disappointed" that the UK has ruled out military intervention in Ukraine and said European countries were "ignoring the lessons of history".
Asked if it was right to avoid such sanctions, McCain he told BBC Newsnight, "Of course not. I am not astonished, to be very frank with you. Disappointed but not astonished."
The situation was "the result of five years of naive relations with Russia, not the beginning of it", he continued.
"If the Europeans decide that the economic considerations are too important to impose severe sanctions on Vladimir Putin - which you get from the statement by Angela Merkel today - then they are ignoring the lessons of history," he added, comparing Putin's actions with those of Adolf Hitler in 1938.
Advertisement
United States Senator John McCain has told protesters rallying for Ukraine's integration within the European Union that "Ukraine will make Europe better and Europe will make Ukraine better".
"We are here to support your just cause, the sovereign right of Ukraine to determine its own destiny freely and independently," Senator McCain said.
"The destiny you seek lies in Europe."
Former presidential candidate John McCain has said John Kerry was "unbelievably unhelpful" when the Secretary of State said that any strike on Syria would be "unbelievably small."
Kerry says #Syria strike would be "unbelievably small" - that is unbelievably unhelpful
US Republican Senator John McCain has said he does not back the Senate panel draft resolution authorising use of force in Syria.
"There are a number of people who are unhappy," McCain told reporters on Capitol Hill.
The Senate Foreign Relations Committee draft was narrower than the request made by President Obama, and the panel, of which McCain is a member, may vote on it later today.
Senator McCain has been calling for US intervention in the civil war for many months now.
Load more updates