John Terry should still be playing for England as he is among the best defenders in the country, according to former Three Lions boss Fabio Capello.
Speaking at the Laureus World Sports Awards in Shanghai, Capello told several national newspapers: "He is one of the best. [England] haven't got a lot of defenders but they sometimes have problems.
"It's better to have a player like John Terry than not have him. But I don't think he has the chances to play with the national team any more."
Of the incident that led to his resignation, Capello added: "[The FA] decided he could not play with the national team and I didn't understand because he was not guilty.
"When it happened I said to [then FA chairman David Bernstein], 'You decided he's guilty? No, he's not guilty'.
"I fought for this and they said, 'No, you can't decide about the player, you need to wait for the court decision and everything'. I said, 'Why have you decided before I've asked you?'"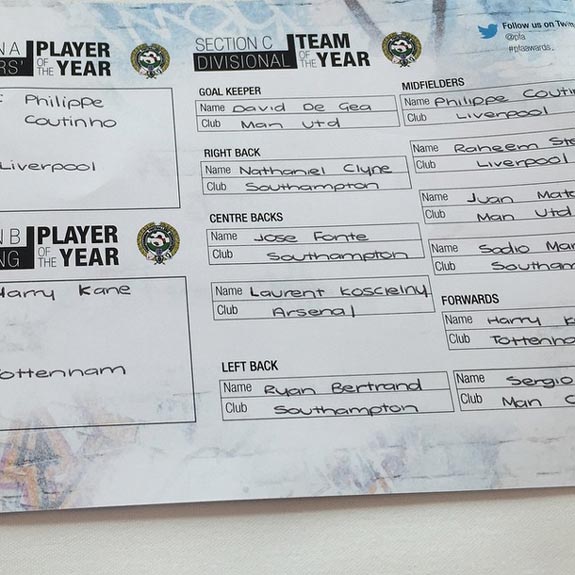 Chelsea skipper John Terry posted this Instagram shot of his voting form for the end-of-season PFA awards, revealing that he chose Liverpool playmaker Philippe Coutinho as his Player of the Year. Spurs striker Harry Kane got Terry's vote for the best Young Player.
Note: Players can't vote for club team-mates, hence Terry didn't vote for Eden Hazard (for example).
Terry's Team of the Year: De Gea, Clyne, Bertrand, Fonte, Koscielny, Coutinho, Sterling, Mata, Mane, Aguero, Kane.
Advertisement
John Terry wants to carry on at Chelsea for many years to come, he admitted after extending his contract for another 12 months.
Read the full story ›
Chelsea captain John Terry has put pen to paper on a new one year contract with the Premier League club
Read the full story ›
Chelsea captain John Terry will be at the club next season, the Premier League leaders' manager Jose Mourinho said on Tuesday.
"I know what my board tells me and the player tells me and no doubt he is going to get his contract," Mourinho told a news conference ahead of Wednesday's game at West Ham United.
The 34-year-old Terry, who joined Chelsea in 1998 and has made more than 600 appearances at the heart of their defence, signed a one-year contract extension at the end of last season.
"All of these big guys are difficult to replace but you have to think what next and I think that is the best way to do things," Mourinho said.
John Terry's emotions were stirred on hearing the national anthem at Wembley but the Chelsea captain has no plans to reconsider his retirement from England duty.
The 34-year-old scored his first major final goal in a 2-0 defeat over Spurs before lifting the League Cup on Sunday.
"I have missed it, playing in these big stadiums and in these competitions and I'm delighted to get back to Wembley," Terry said.
"They started playing the national anthem before the game and I was going then."
Asked if he was considering an England return, Terry, who earned 78 caps, added: "No. It's the simple answer, I don't want to go into it right now.
"Being back at Wembley, the atmosphere, the stadium, it's one of the best I have played in, but it's never crossed my mind.
"I have drawn a line under it and the England squad can move on now."
Advertisement
Chelsea captain John Terry is on course to secure a one-year contract extension, but Jose Mourinho has refused to comment on reports he is close to agreeing fresh terms on his own deal.
Terry stated after Tuesday night's 1-1 draw at Paris St Germain that he would like to extend his stay at Stamford Bridge knowing that club policy is to only grant single season deals to players over 30.
Mourinho insists the 34-year-old's form points towards another campaign with the Premier League leaders.
Everyone wants to stay at Chelsea, especially John Terry because he has been here all of his life.

He accepts our policy on players over 30 with a smile and accepts it as a challenge. Last season he won the challenge by performing so well and getting the one-year extension.

This season he is winning the challenge and the right to have another one-year extension. It's what John wants, it's what the club wants.
– Chelsea manager Jose Mourinho
John Terry has hit back at critics that berated him for celebrating Chelsea's Champions League win in his full kit - despite not playing.
Read the full story ›
Chelsea footballer John Terry has described the late actor Richard Attenborough as a "true legend and a real gentleman".
Attenborough was a dedicated fan of the club and Terry says he would "often come over after games and say 'hi' and 'well done' and 'congratulations'."
The political crisis currently engulfing Ukraine was sparked by former England captain John Terry, according to the country's embattled president.
Viktor Yanukovych said the Chelsea defender's clearance that led to a 'goal' being disallowed during a match at Euro 2012 between his country and England is a key reason why he resents the European Union.
The president made the remarks during a 70-minute rant to two visiting US senators.
Connecticut senator Chris Murphy described Mr Yanukovych's speech as "the longest monologue to which I have ever borne witness" in a blog on his website.
"He opens by restating his commitment to joining the EU, but spends most of the speech listing the slights he feels Europe has lodged against him and his country," he wrote.
"At one point he spends more than a few minutes talking about a disallowed goal by Ukraine in a 2012 Euro Cup match against England."
Load more updates