Jose Mourinho has urged Chelsea fans to stop giving Steven Gerrard a hard time over his costly slip at Anfield last season.
Liverpool's captain fell over with the ball at his feet when Chelsea visited Anfield in a crucial Premier League clash in April 2014.
The Blues broke away and took the lead, eventually winning the fixture 2-0 and effectively ending Liverpool and Gerrard's hopes of collecting his first ever league title.
Chelsea fans will travel to Liverpool in their thousands for Tuesday's meeting, but Mourinho wants them to scrap any chants directed at Gerrard.
Gerrard is an historical player for Liverpool, an historical player for the Premier League, an opponent I always admired and respect. Our fans have a song (about him) that I don't like, I don't like it at all.

Maybe a couple of times it's good fun, but to go on and go on, especially when a player like him deserves respect, I don't think we need that. We have so many other songs that we don't need that one.

I love those quotes when Gerrard was saying that, in this life, he would never score against Liverpool. I understand why he was almost, almost, almost coming to Chelsea, and he didn't. I respect that a lot.

The decision (to stay at Liverpool) for me was proven right because he will always be a Red for ever.
– Chelsea manager Jose Mourinho
Chelsea manager Jose Mourinho admits failing to sign Liverpool captain Steven Gerrard is one of the biggest disappointments in his career
Read the full story ›
Advertisement
Jose Mourinho has questioned Man City's compliance with Finacial Fair Play after claiming "the rules are different" for the Premier League champions.
City bought Wilfried Bony from Swansea this week for a fee which could rise to £30m, and Mourinho congratulated them on landing the striker before making one of his typically subtle and conspiracy-led remarks.
Chelsea travel to Swansea this weekend while City host Arsenal.
Chelsea manager Jose Mourinho will not face the press on Friday after being charged with misconduct by the Football Association.
Mourinho was due to face the media to preview the home Barclays Premier League clash with Newcastle but the Blues announced that assistant Steve Holland would take his place shortly after the Portuguese was charged for comments made about match officials following last month's clash with Southampton.
Mourinho claimed there was a "clear campaign" against the club following the 1-1 draw, alleging the campaign was being orchestrated by "people, pundits, commentators and coaches from other teams" and branding the booking of Cesc Fabregas for diving at St Mary's on December 28 a "scandal".
"It is alleged his remarks constitute improper conduct in that they allege and/or imply bias on the part of a referee or referees and/or bring the game into disrepute," a statement issued by the FA read.
Mourinho, who does not view officials as part of the campaign but fears they may have been influenced by it, has until 6pm on January 13 to respond to the charge.
Chelsea manager Jose Mourinho has blasted Fifa's Team of the Year awards saying that they are not good for football.
Two of Chelsea's players, Eden Hazard and Cesc Fabregas, have been shortlisted for this year's Fifa award.
But Mourinho, when asked of the duo's nomination in today's press conference said: "When I see these trophies, I think they are not good for football. I don't care about it."
"Sometimes it seems we are looking for stars, people who are more important than other people and that is not the culture in this club."
Chelsea manager Jose Mourinho admits he's powerless to stop Diego Costa being called up by Spain next week
Read the full story ›
Advertisement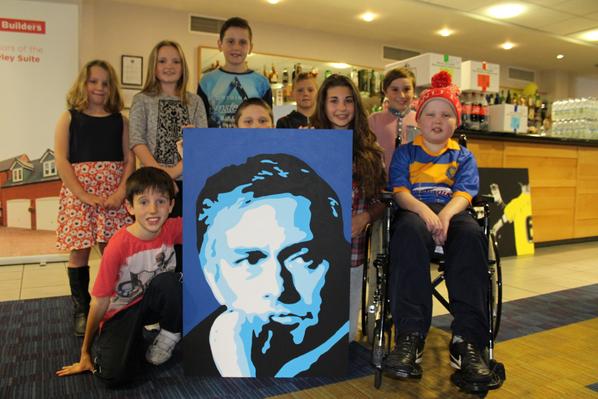 A promising young footballer who is now wheelchair bound and suffering from cancer will be greeted by Chelsea manager Jose Mourinho tonight.
Lloyd Burton, 11, was once scouted by Man United and Aston Villa, but may never walk again after undergoing chemotherapy on a brain tumour last year.
Described as Shrewsbury Town's most famous supporter by manager Nicky Mellon, the youngster met David Beckham earlier this year as part of the Stand Up to Cancer fundraising programme on Channel 4.
Lloyd has helped to produce a portrait of Mourinho as part of a community scheme, which the Portuguese manager will sign before kick-off in tonight's League Cup clash between Shrewsbury and Chelsea at New Meadow.
The portrait will be auctioned off in the hope of raising enough money to improve Lloyd's standard of living at home, where his family want to install a lift and equipment to help him bathe more comfortably.
'We're going to sell it for £1million!" Shrews boss Mellon boasted.
Jose Mourinho has sarcastically accepted the criticism from Aston Villa boss Paul Lambert and assistant Roy Keane
Read the full story ›
Arsene Wenger has apologised for pushing Jose Mourinho during Arsenal's Premier League defeat against Chelsea.
The Frenchman initially refused to accept any blame following the incident on October 5th, which was sparked by a bad challenge from Gary Cahill on Alexis Sanchez.
Wenger walked across Mourinho's technical area on the touchline to check on Sanchez, but was impeded by Chelsea's manager, and subsequently shoved him out of the way.
Speaking to French football programme Telefoot, Wenger said:
They gave too much importance to this story.

In hindsight I think I should not have reacted at all, it's not a way to behave on a football field. I always regret any signs of violence and I apologise, but that's a part of games where everything is manic. And then we have quite a substantial past.

Did Mourinho provoke me? That is how I felt. I did not enter Chelsea's technical area.
– Arsenal manager Arsene Wenger
Roy Keane tells Chelsea's boss he would be 'knocked out' if he tried to shake hands before the final whistle in non-league football
Read the full story ›
Load more updates