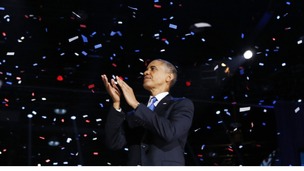 Barack Obama's 2012 social media election strategy, Kevin Spacey, Jerry Seinfeld and Justin Bieber were winners at the 'Webby Awards'.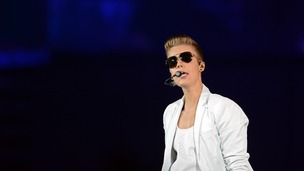 Swedish police have said they have found drugs on Justin Bieber's tour bus in Stockholm but were unlikely to pursue the case further.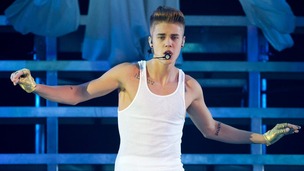 Justin Bieber has drawn criticism after writing that he hoped Holocaust victim Anne Frank "would have been a Belieber".
Live updates
Norway schools reschedule exams for Bieber concerts
Norway's Ministry of Education and Research has said that five schools in the western part of the country have rescheduled exams so that students can attend Justin Bieber concerts in Oslo.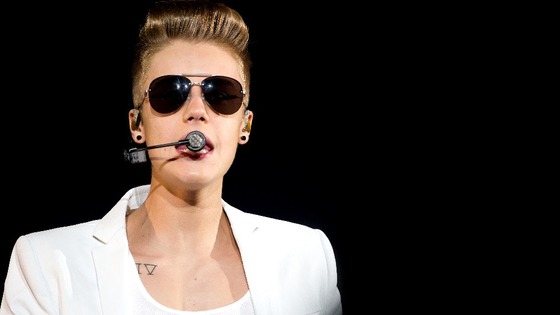 The Canadian pop star is scheduled to perform in the Norwegian capital on 16th and 17th April stoking fears that some students in remote schools would skip midterm exams due to take place at the same time.
Minister Kristin Halvorsen says schools have the right to change dates for midterms exams and that the ministry does not intend to intervene.
Justin Bieber given a month to collect pet monkey
Justin Bieber has been given just four weeks to collect his monkey by German authorities.
The pet capuchin monkey, named Mally, was seized by German customs last week when the 19-year-old singer failed to produce the necessary customs documents after landing in Munich.
Read: Bieber's pet monkey 'seized by customs' at airport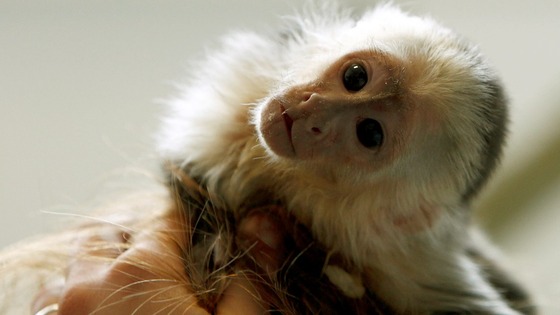 The shelter caring for Mally said in a statement that the 14-week-old animal should not have been taken away from its mother until it was a year old.
Advertisement
Bieber's pet monkey 'seized by customs' at airport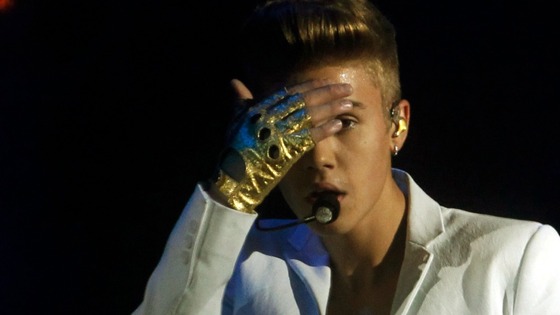 Justin Bieber's pet monkey was seized by customs as he attempted to take it with him on a flight to Germany, according to reports.
The 19-year-old pop star faces a fine of more than £10,000 for trying to take Mally the capuchin on his private jet from Los Angeles to Munich, The Sun said.
It added that the animal, which did not have the correct papers, broke German health laws and will now be kept in quarantine.
Bieber investigated over claims he 'attacked' neighbour
Bieber investigated over claims he 'attacked' neighbour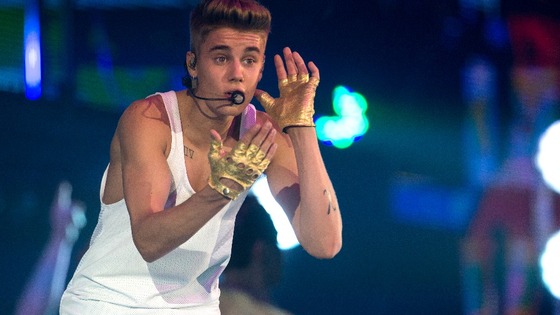 Police are investigating claims that singer Justin Bieber attacked and threatened a neighbour during an argument in Los Angeles.
Steve Whitmore, a spokesman for the Los Angeles County Sheriff's Department, said: "There have been allegations made against Mr Bieber of battery and making threats."
No arrests have been made and it is not yet clear who called the authorities.
Justin Bieber attacks 'countless lies' and rehab claim
Justin Bieber has unleashed a scathing attack on the media, accusing the press of writing "countless lies" about him.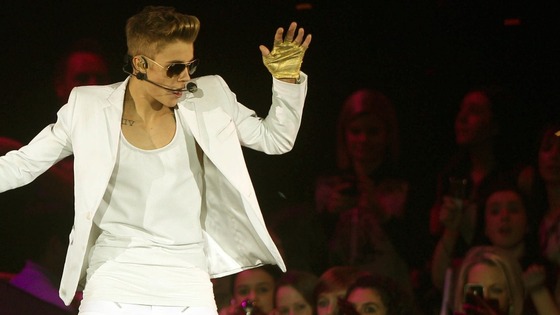 In a fortnight which saw the 19-year-old singer cancel a concert, left short of breath at London's O2 and swear at a photographer, he was forced to deny on Instagram that he's going into rehab. Bieber added he had done nothing to deserve the negative publicity surrounding his European tour.
Justin Bieber added: "All this isn't easy. I get angry sometimes. I'm human. I'm gonna make mistakes. In gonna grow and get better from them. But all the love from you guys overcomes the negativity."
Justin Bieber: People are 'stupid' to think I need rehab
Canadian pop sensation Justin Bieber posted an online rant on his Instagram page yesterday in response to accusations in the media that he is going off the rails.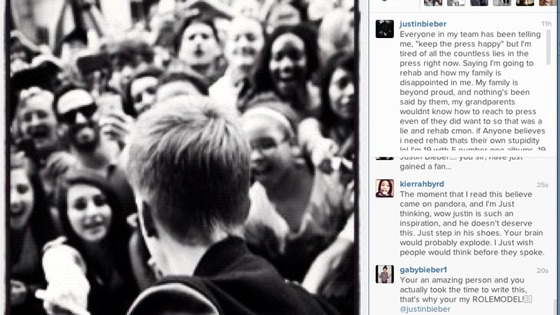 He said: "If anyone believes I need rehab that's their own stupidity lol I'm 19 with 5 number one albums, 19 and I've seen the whole world.
"19 and I've accomplished more than I could've ever dreamed of, I'm 19 and it must be scary to some people to think that this is just the beginning."
The Sun reported that in an earlier post, which the singer later removed, Bieber said he was no Lindsey Lohan: "And to those comparing me to LINDSAY LOHAN look at her 2012 tax statements."
Read: Justin Bieber's scuffle with paparazzi ends a 'rough' week
Advertisement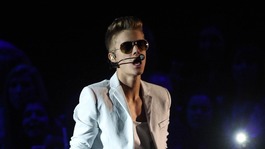 Justin Bieber has thanked One Direction members Louis Tomlinson and Zayn Malik for their support after his "rough week" in London.
Read the full story
Bieber 'blessed' after photo row
Jessie J congratulates Bieber on 'incredible show'
Bieber 'blessed' after photo row
Bieber: 'Too many blessings to allow the stress in'
Justin Bieber has said he is counting his blessings after performing the final night of his controversy filled four-show stint at The O2 in London, which came hours after his angry showdown with a member of the paparazzi.
After coming off stage, the Canadian tweeted:
still a little short of breathe tonight but was an incredible show. London fans go hard! 4 SOLD OUT O2 shows in a row!! #BLESSED
From
@justinbieber
on Twitter:
too many blessings to allow the stress in. the press made things look nuts but really I have enjoyed London. The fans are incredible
From
@justinbieber
on Twitter:
so while I have seen some crazy stuff it is all smiles. Im gonna get some rest and keep doing what i love. Entertain all of u. thanks
From
@justinbieber
on Twitter: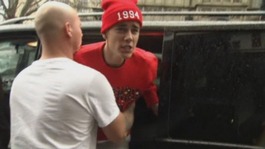 Justin Bieber's visit to London has included illness, a late appearance and now fisticuffs after the pop star lashed out at a photographer.
Read the full story
Load more updates
Back to top