HMS Daring will "help get donations to those who need it" in typhoon-hit areas of the Philippines, International Development Secretary Justine Greening has said.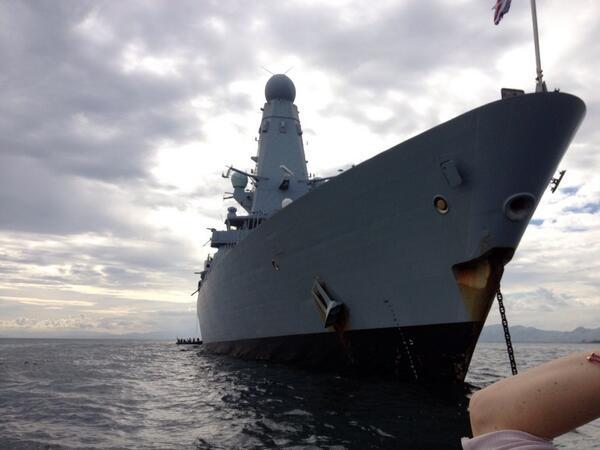 International Development Secretary Justine Greening said there has been "a tremendous response" to the disaster in the Philippines, "these appeals underline just how serious the situation is".
Ms Greening said: "Backing the UN and Red Cross appeals will ensure the relief effort is properly co-ordinated and much-needed assistance gets to those who need it.
"I hope other countries will be joining us to give the Philippines the support it needs."
Advertisement
The Government has begun implementing a £6 million "rapid response" to the crisis in the Philippines, the International Development Secretary has said.
The British response is being co-ordinated with aid agencies that already have a presence "on the ground", the minister told ITV's Daybreak.
"We've also flown out two NHS experts, and I think what we'll now do is quickly assess the scale of the needs," she said.
The Government has pledged a further £2 million in aid for Syria's children, many of whom "have lost absolutely everything".
International Development Secretary Justine Greening told Daybreak the money will be focused on the children in Unicef-run refugee camps in Iraq.
Ms Greening said: "This money will first of all help provide safe zones for them so we can actually make sure they are being taken care of, secondly trauma support and counselling, and where they have medical needs they need to get care for that as well."
International Development Secretary Justine Greening claimed she missed the crucial vote on Syria because she did not hear the division bell
Read the full story ›
A Cabinet minister who failed to support the Government's motion on Syria did not cast her vote because the bell that alerts MPs of a division in the House of Commons was apparently not rung.
International Development Secretary Justine Greening and Foreign Office minister Mark Simmonds failed to vote to back the principle of military action in Syria.
It is understood Ms Greening and Mr Simmonds were in a room near the Commons chamber discussing a different foreign policy matter and were unaware that the vote was taking place.
Both MPs voted against the Labour amendment at 10pm, which called for "compelling evidence" the Assad regime was behind the chemical attack.
Mr Simmonds then apparently asked to speak to Ms Greening about a separate Foreign Office issue and the pair went to a meeting room, where they apparently did not hear the bell for the second vote.
Advertisement
International Development Secretary Justine Greening has just held a meeting with major retailers about improving conditions after Bangladesh disaster.
Just got UK retailers in to DFID for the first time. Great meeting: everyone wants progress on improving supply chains in developing world.
Tesco, M&S and Arcadia all attended.
The UK has been at the forefront of the humanitarian response in Syria and our £114m funding for previous UN-led appeals has already helped to provide food, medicine and shelter to hundreds of thousands of people.

Britain has never stood on the sidelines and we are ready to play our role. We will be making further announcements over the next weeks and months, but other donors must also play their part.
– Justine Greening, International Development Secretary
The UK's direct aid to South Africa will end in 2015, International Development Secretary Justine Greening will announce.
The Government's aid programme to South Africa is currently worth £19 million a year, down from its peak of more than £40 million in 2003, and has focused on reducing the mortality rate among women giving birth, as well as supporting businesses.
Mr Greening will tell a conference of African ministers and business leaders in London tomorrow that the relationship will change to one of "mutual co-operation and trade".
The government will cut foreign aid to India because its growing economy means it no longer needs handouts, according to reports.
Justine Greening, International Development Secretary, is expected to announce that the UK's aid commitment to India will change at the end of the current funding programme.
Indian finance minister Pranab Mukherjee said last year that India no longer wants or needs aid from Britain, describing the money as "a peanut in our total development expenditure".
Load more updates