Kim Kardashian and Kanye West provoked the ire of fashion aficionados when they attended a Lanvin show in Paris yesterday.
The couple were loudly booed as they arrived at their front row seats beside the catwalk at the National School of Fine Arts.
Kanye protested, telling photographers at the event: "[designer] Alber asked to see us, it wasn't us. Alber asked to see us. We're not late, we're not late."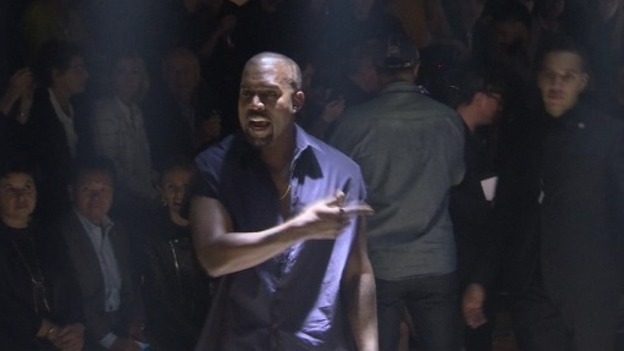 Advertisement
Kim Kardashian and Kanye West are set to tie the knot at Florence's imposing 16th Century Belvedere Fort on May 24, according to a spokeswoman at the local mayor's office.
The couple, known as "Kimye", rented the fort next to Florence's famed Boboli Gardens for €300,000 (£245,000) and a Protestant minister will conduct the wedding ceremony, Elisa Di Lupo added.
The 36-year-old rapper proposed to the reality star businesswoman on her 33rd birthday in October 2013, renting out San Francisco's AT&T Park for the occasion.
This will be West's first marriage and the third trip down the aisle for Kardashian.
Neither the Kardashian camp nor West have confirmed the report.
Kanye West, Drake and Bruno Mars are set to headline the tenth Wireless Festival this summer as it becomes a two-site event.
The three-day event will take place in London's Finsbury Park, as well as introducing a new venue at Birmingham's Perry Park.
Other acts confirmed to perform include Outkast, Ellie Goulding, Pharrell Williams, Rudimental, John Newman and current UK singles chart-toppers Clean Bandit.
The festival takes place over the weekend of July 4 to 6.
Video footage has emerged of the moment Kanye West proposed to his girlfriend Kim Kardashian at San Francisco's Major League Baseball stadium.
The rapper surprised his girlfriend and popped the question in front of family and friends at her 33rd birthday celebration on Monday.
West and Kardashian started dating in April 2012 and have a daughter, North West, who was born in June.
Advertisement
US rapper Kanye West and reality star Kim Kardashian have got engaged, according to US media reports.
West reportedly surprised his girlfriend and popped the question in front of family and friends at her 33rd birthday celebration on Monday.
The couple's daughter North West was born in June.
Music star Kanye West has been charged with battery and attempted theft after an alleged altercation with a photographer at Los Angeles International Airport.
It is claimed by 19-year-old Daniel Ramos that The College Dropout singer struck him in an unprovoked attack and attempted to wrestle him to the ground to take his camera on July 19.
Prosecutors have decided to pursue misdemeanour charges against West, who is due to appear in court next month.
Rapper Kanye West has revealed the first photo of his baby daughter on the US chat show the Kris Jenner Show.
Click the link on the tweet below to see a picture of North West:
His partner Kim Kardashian gave birth to North in June.
Police are investigating an alleged scuffle between rapper Kanye West and a cameraman at Los Angeles International Airport.
Sgt Steve Savala of LAX Police said witnesses were being interviewed about yesterday's incident.
Celebrity gossip website TMZ posted a video of the alleged incident, showing West being mobbed by paparazzi while trying to get into a waiting Mercedes.
West appears to accuse the throng of trying to provoke him before lunging at the camera and trying to wrestle it away.
Load more updates