An elderly man has been killed by a train after leaping onto the tracks to save the life of a woman who had jumped onto a railway line.
Read the full story ›
The county of Kent has been named Europe's top spot for a family holiday, according to travel guide experts.
Read the full story ›
Advertisement
A man has been arrested following a severe pile up car crash in Kent that left three people needing hospital treatment.
Read the full story ›
A witness of the earthquake in Kent in the early hours of this morning has described how he thought it was an "explosion".
So I'm not going mental, my house shook due to an earthquake in Kent of all places. Thank god for 24 hrs news & social media to find out.
He added: "Lying in bed when the house suddenly shook. Thought something had collapsed outside, so got up to check.
"I've looked outside and all appears to be fine in the street. No damage that I can see. Will obviously see more later when it's lighter. Weird experience anyway.
"I actually thought it was an explosion of some sort and not an earthquake."
Kent residents have tweeted their reactions after being awoken by the tremors in the early hours of this morning.
Definitely just had a minor earth tremor or something here in Canterbury, the bed was shaking, scared the life out of me!
Vikki Petts said: "So we just had a 4.3 magnitude earthquake in Kent and my housemates slept through the entire thing. certainly woke me up!"
Jonathan Tapp said: "Earthquake in East Kent and now can't get back to sleep. Despite months spent in NZ this is my first one that I've felt."
The British Geological Survey has downgraded the earthquake felt across Kent this morning to 4.2 magnitude.
Here's seismicity map for this morning's 4.2 earthquake, 5km south of Ramsgate, Kent & approx 100km east of London http://t.co/XaF9cRY4gm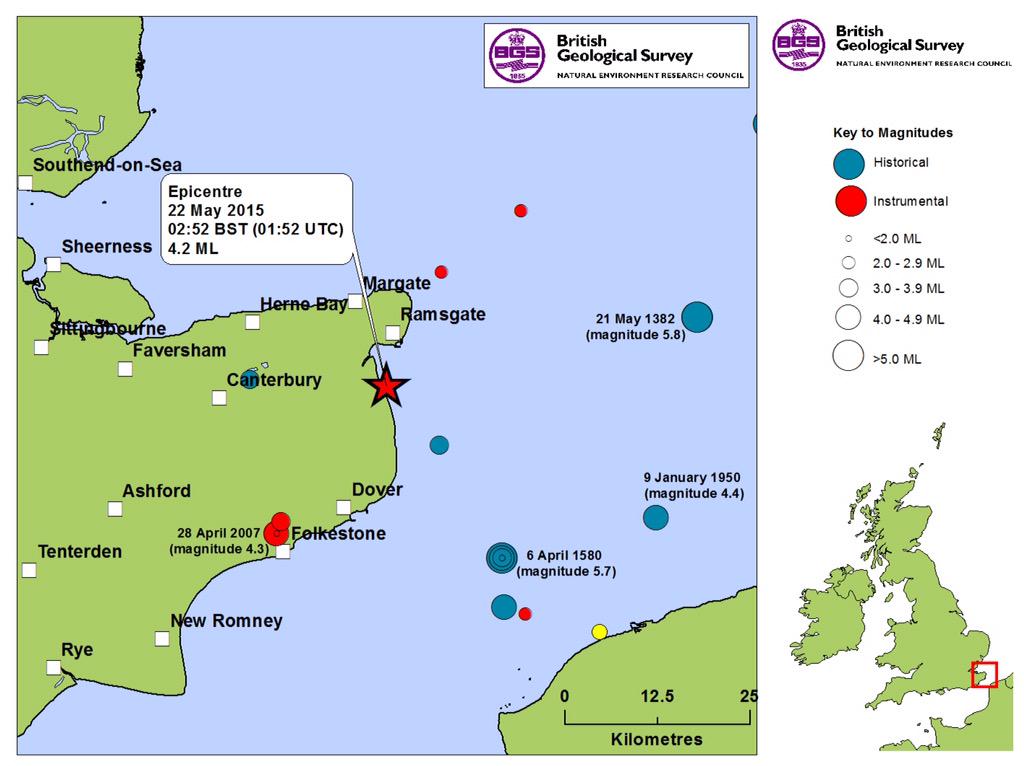 This morning's earthquake is approx 25km north-east of the 28 April 2007 Folkestone earthquake which had a magnitude of 4.3 ML
Advertisement
Kent Police has been inundated with phone calls about the earthquake that rattled the region.
The force wrote on Twitter:
We are aware of reports of tremors being felt by residents in East Kent & are monitoring the situation.No injuries have been reported.
Kent Fire and Rescue Service are reporting say that there has been no major damage caused by the tremor. They are dealing with reports of a small scale damage to roofs.
We can confirm that there has been an earth tremor in parts of Kent that registered 4.3 on the richter scale. @kent_police
The British Geological Survey has released an image of the seismic reading taken at its Elham station as an earthquake shook Kent in the early hours of this morning.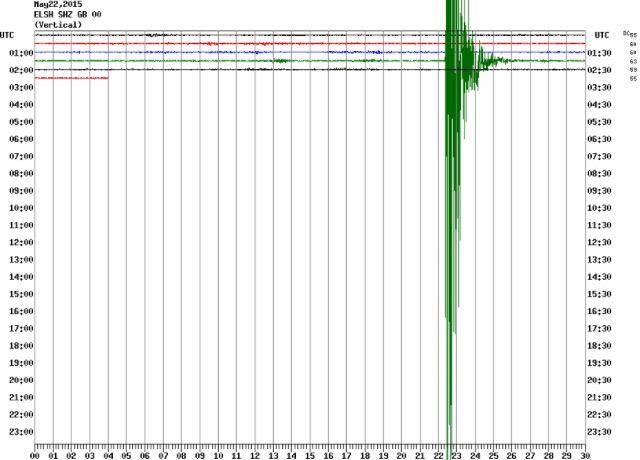 earthquake in kent. shook my house and woke me up!!!!
Earthquake in Canterbury, nice way to wake up at 3:00am
2.52 am and just had a mini earthquake. Whole house and bed really shook. Scary. ?
Load more updates