The British Geological Survey has released an image of the seismic reading taken at its Elham station as an earthquake shook Kent in the early hours of this morning.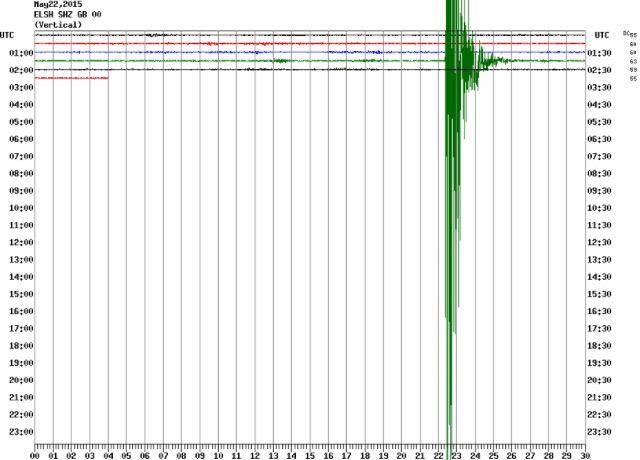 earthquake in kent. shook my house and woke me up!!!!
Earthquake in Canterbury, nice way to wake up at 3:00am
2.52 am and just had a mini earthquake. Whole house and bed really shook. Scary. ?
Advertisement
An earthquake measuring 4.3 has been felt across Kent. It struck just before 3am.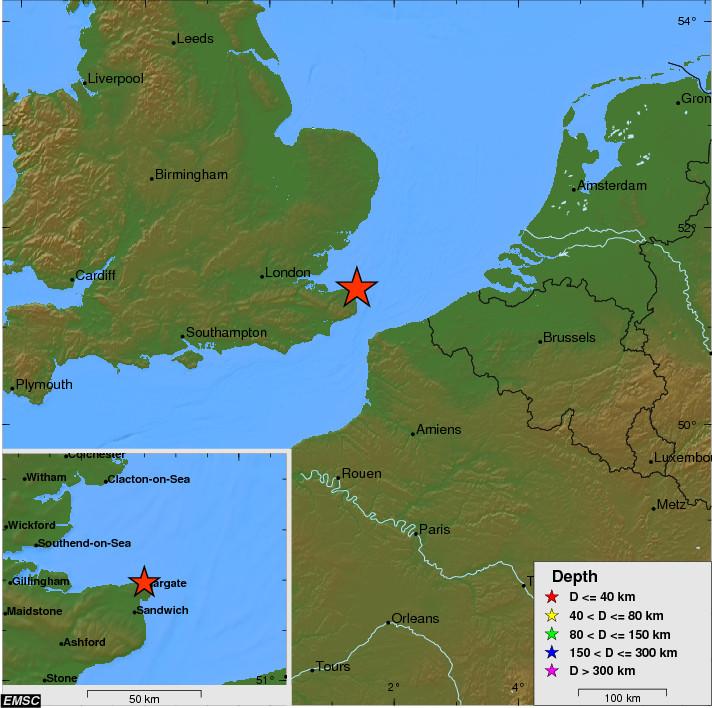 A pregnant woman and her partner have been rescued after their trimaran capsized and they were left in the water clinging to the upturned hull.
The alarm was raised by a member of the public who spotted the couple in the water a mile from Dungeness Point, Kent, at 3.30pm.
The HM Customs cutter Valiant, which was nearby, was able to locate the upturned vessel within minutes.
A coastguard spokesman said the cutter stood by the vessel, ensuring the safety of those in the water, until an RNLI lifeboat from Dungeness arrived to take the couple ashore.
They were then taken to the William Harvey Hospital by the rescue helicopter from RAF Watisham.
A worker would take a break and a KitKat - before stealing small bundles of cash he hid inside the empty chocolate wrappers, it has been reported
CCTV caught Peter Mills, 68, hiding £50 notes in empty KitKat wrappers up to three times a day at the cash handling depot where he worked. Police said Mills would then conceal the KitKat wrappers on his body, and smuggled out more than £20,000 from Vaultex Limited in Tonbridge, Kent.
Mills, of Burma Way, Chatham, pleaded guilty to four counts of theft, amounting to a total of £20,350, and was jailed for 21 months at Maidstone Crown Court.
Kent Police are investigating after the alleged incident at a McDonald's in Canterbury in the early hours of Friday morning.
Read the full story ›
Advertisement
The expected life of Dungeness B nuclear power station in Kent is to be extended by 10 years, EDF Energy announced today.
The Attorney General is unable to review the suspended sentence of a religious studies teacher convicted of having sex with a 16-year-old student because his crimes are not included in the "unduly lenient" sentence scheme.
Stuart Kerner, 44, from Aylesford, Kent, was found guilty of two counts of sexual activity with a child by a person in a position of trust and was given a suspended 18-month sentence by Judge Joanna Greenberg QC.
The judge said it was clear his 16-year-old victim was ''obsessed'' with the teacher, prompting complaints to the Attorney General's Office, which initially said it would consider whether to refer the sentence to the Court of Appeal.
But an AGO spokeswoman said: "After a number of complaints, we carefully considered whether Stuart Kerner's sentence could be referred to the Court of Appeal for being too low - as part of the 'unduly lenient sentence scheme'.
"Mr Kerner's crimes are not included in this scheme, meaning the law officers are unable to refer this.
"However, it's important that the public can challenge what they believe to be exceptionally low sentences. We have been looking at whether the scope of the current scheme is right."
Kent Police are operating a traffic calming system on the M20 whereby non-freight traffic is being diverted onto the A20 between junctions 8 and 9.
The measure allows backed-up lorries, destined for the Port of Dover, tp queue in the coastbound carriageway.
The Attorney General is to investigate whether the sentencing of a former religious studies teacher who walked free from court after being convicted of repeatedly having sex with a student should be reviewed.
Stuart Kerner, 44, of Aylesford in Kent, was handed a suspended 18-month sentence by Judge Joanna Greenberg QC, sitting at Inner London Crown Court, who said it was clear his 16-year-old victim was "obsessed" with him.
The Attorney General's Office wrote on its Twitter page:
AGO have received complaints about Stewart Kerner sentence and will consider whether to refer to Court of Appeal under ULS scheme
Stuart Kerner's sentence will be considered. Decision due by 11 February (note amended spelling of first name)
Load more updates