5 railway substations are on fire this evening after a lightning strike near Folkestone in Kent. Firefighters are tackling the flames along the line from Dover priory to Sandling station. Hundreds of passengers have faced long delays due to signalling problems since just after rush hour.
Solicitor Sharon Lam, acting for the widow of a 51-year-old father of one who died days after surgery, said her client feels they were treated 'like a human guinea pig'.
Ms Lam said the man, who has not been named, had keyhole surgery to remove a tumour in his oesophagus last year and died from a haemorrhage five days after being discharged.
Our main concern is that the deceased could have opted for a more conventional procedure, but this particular procedure was highly advocated by the surgeon.

It was as if it was being sold to him, that he could have it done early and it would be carried out by a top surgeon.

The patient was made to feel that they were quite lucky to have this surgery.

Our client feels they have been treated like a human guinea pig to test the eligibility of this surgery.

He was not told that it was a very new surgery. At no time was he offered the conventional surgery, and it all happened so quickly."
– Solicitor Sharon Lam
Advertisement
We are sorry that some patients did not receive the level of care and treatment that they should have due to potentially avoidable surgical complications.

We are in contact with, and have apologised to, the families who have beenaffected and have been clear that we need to make improvements.

As part of its review, the trust commissioned an assessment of its upper GI cancer surgery by the Royal College of Surgeons last year.

It highlighted that the service had a higher-than-expected complication rate in 2012 and last year...
– Dr Paul Sigston, Medical director, Maidstone and Tunbridge Wells NHS Trust
Potentially avoidable surgical complications may have contributed to the deaths of five cancer patients, an NHS Trust has revealed.
The five all died within a year following upper gastrointestinal (GI) surgery at Maidstone Hospital in Kent, run by Maidstone and Tunbridge Wells NHS Trust.
Upper GI surgery has been suspended and the trust is now sending patients requiring it to St Thomas' Hospital in central London instead.
The incidents have been referred to the General Medical Council (GMC), and the trust has conducted its own internal inquiry.
A section of the M2 motorway will remain closed in both directions tonight after a large hole appeared in the central reservation yesterday.
The Highways Agency said the hard shoulder will be opened to motorists tomorrow morning.
A spokesman said: "It is hoped the hard shoulder will reopen in both directions by 6am tomorrow morning. Traffic heading to and from Dover is still advised to continue using the M20."
The hole has been filled with 40 tonnes of pea shingle before a further assessment takes place, which is likely to take at least another 48 hours, he added.
Advertisement
An Environment Agency team has been monitoring the level of the River Nailbourne near Patrixbourne in Kent.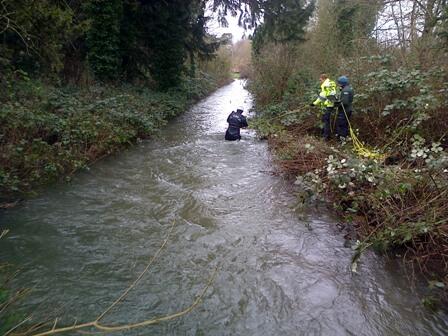 After a large hole opened up on a busy motorway a road expert has said it is 'a surprise' that it has not happened earlier and said there the costs of repairs to our roads after the recent severe weather will be 'huge'.
Professor Stephen Glaister, director of the RAC foundation, said: "We already have the most congested road network in Europe and our motorways carry a third of all traffic. This will have a major impact on a main route in and out of the country.
"The surprise is that something on this scale hasn't happened before yet everyday our highways are literally being undermined by the rain. When the deluge finally stops we will be left with a huge repair bill on roads across the country."
The Highways Agency have confirmed that he hole on the M2, in the central reservation between junctions 5 and 6, near Lynsted is approximately 15 feet in depth, not 50 feet (15 metres) as previously stated.
Their engineers are on site carrying out an investigation and this includes the cause of the hole.
A 15ft-deep sinkhole has opened in the central carriageway of the M2. The motorway is closed in both directions between junctions 5 and 6 - that's between Sittingbourne and Faversham.
The Highways Agency has diversions in place, but say there will be long tailbacks in both directions.
Load more updates