Eight people have been arrested on suspicion of smuggling guns into the UK.
Seven men and a woman, aged between 24 and 58, are being questioned by the National Crime Agency (NCA) as part of an investigation into the suspected importation of firearms.
A number of potentially workable firearms and ammunition had been seized near the marina and sent for forensic tests, the NCA said.
The spokesman added: "The investigation, which relates to the criminal use of firearms, continues."
A 23-year-old man has been arrested in Rochester, Kent, on suspicion of supporting a 'proscribed' organisation, the South East Counter-Terrorism Unit said.
He is being questioned at a police station in the Kent area following what officers said was a "pre-planned" operation not linked to any immediate threat in the UK.
Advertisement
A train has been derailed after hitting cows that had strayed onto the line near Canterbury in Kent.
Read the full story ›
A teenage boy has been found dead at a prison criticised for high levels of violence.
Read the full story ›
An elderly man has been killed by a train after leaping onto the tracks to save the life of a woman who had jumped onto a railway line.
Read the full story ›
The county of Kent has been named Europe's top spot for a family holiday, according to travel guide experts.
Read the full story ›
Advertisement
A man has been arrested following a severe pile up car crash in Kent that left three people needing hospital treatment.
Read the full story ›
A witness of the earthquake in Kent in the early hours of this morning has described how he thought it was an "explosion".
So I'm not going mental, my house shook due to an earthquake in Kent of all places. Thank god for 24 hrs news & social media to find out.
He added: "Lying in bed when the house suddenly shook. Thought something had collapsed outside, so got up to check.
"I've looked outside and all appears to be fine in the street. No damage that I can see. Will obviously see more later when it's lighter. Weird experience anyway.
"I actually thought it was an explosion of some sort and not an earthquake."
Kent residents have tweeted their reactions after being awoken by the tremors in the early hours of this morning.
Definitely just had a minor earth tremor or something here in Canterbury, the bed was shaking, scared the life out of me!
Vikki Petts said: "So we just had a 4.3 magnitude earthquake in Kent and my housemates slept through the entire thing. certainly woke me up!"
Jonathan Tapp said: "Earthquake in East Kent and now can't get back to sleep. Despite months spent in NZ this is my first one that I've felt."
The British Geological Survey has downgraded the earthquake felt across Kent this morning to 4.2 magnitude.
Here's seismicity map for this morning's 4.2 earthquake, 5km south of Ramsgate, Kent & approx 100km east of London http://t.co/XaF9cRY4gm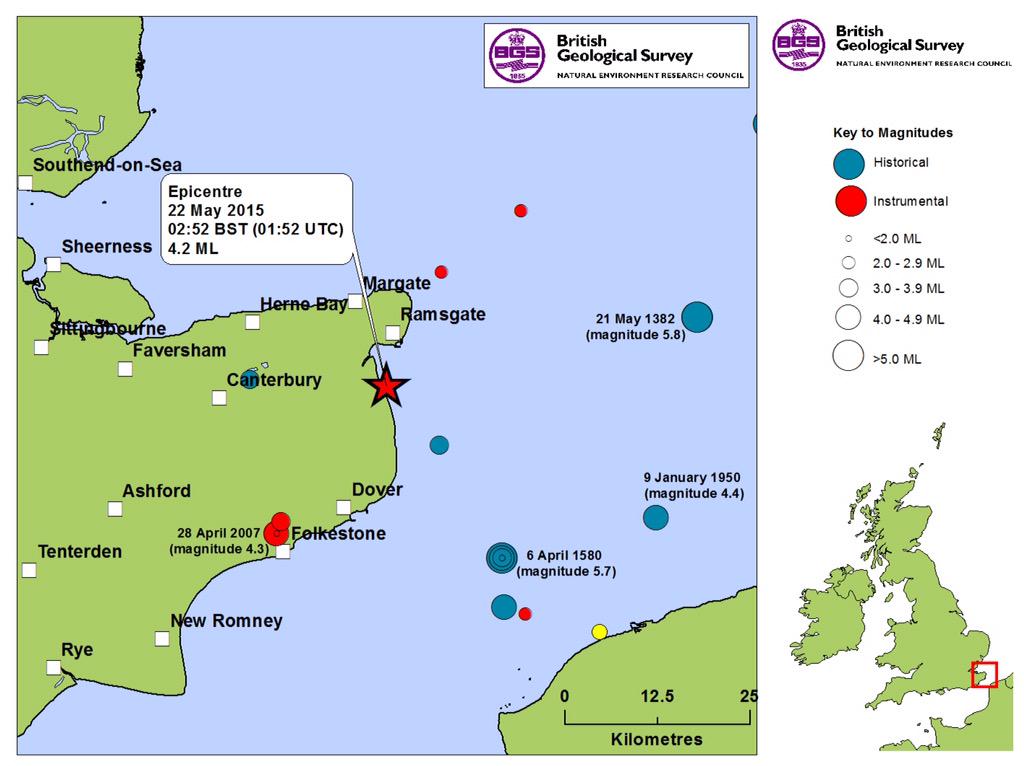 This morning's earthquake is approx 25km north-east of the 28 April 2007 Folkestone earthquake which had a magnitude of 4.3 ML
Load more updates