The tanker slammed into other vehicles and burst into flames on a major road leading from the capital Nairobi.
Read the full story ›
So-called Islamic State has claimed responsibility for an attempted knife attack last week on a Kenyan police officer that took place outside the US embassy in Nairobi.
The group's Amaq news agency claimed on Saturday the attacker, who was shot dead outside the embassy during the incident, was a "soldier" for the group.
"The person who carried out the stabbing of a guard outside the American embassy in Nairobi last Thursday was a soldier of Islamic State responding to calls to target coalition countries," Amaq said.
The US embassy said at the time of the attack that none of its staff had been involved in the incident.
Advertisement
A man has been shot dead outside the US Embassy in Nairobi after trying to attack a Kenyan police officer guarding an entrance, officials have confirmed.
Police chiefs in Kenya said the attacker was armed with a knife and was shot in "self defence", while the US Embassy confirmed there had been a shooting but said none of its staff were involved.
The motive of the attack was not immediately clear.
Six people have been killed in an attack by suspected Islamist militants from the Somali group al-Shabaab in northeast Kenya.
The governor of Mandera county, where the attack happened, told Reuters six people had been confirmed dead.
Kenya's Daily Nation said on its website the attack, which it blamed on al-Shabaab, happened early in the morning.
The Great Elephant Census has taken two years to complete, and shows that savannah elephant populations have declined by a third.
Read the full story ›
Anti-doping authorities are to investigate claims after a Kenyan athletics official was filmed offering to protect athletes from tests.
Read the full story ›
Advertisement
China has become Africa's biggest trading partner - but amid accusations of exploitation, all is not well in this remarkable partnership.
Read the full story ›
Three more people have been rescued from a building which collapsed in Kenya six days ago.
Two women and a man were rescued in addition to a woman who was found earlier today.
One of the rescued women was pregnant but sadly her baby did not survive.
The Kenya Red Cross welcomed the news, tweeting:
Super news! Three more people have been rescued alive from the Huruma building collapse. One male and two female. https://t.co/8P93E2dqvw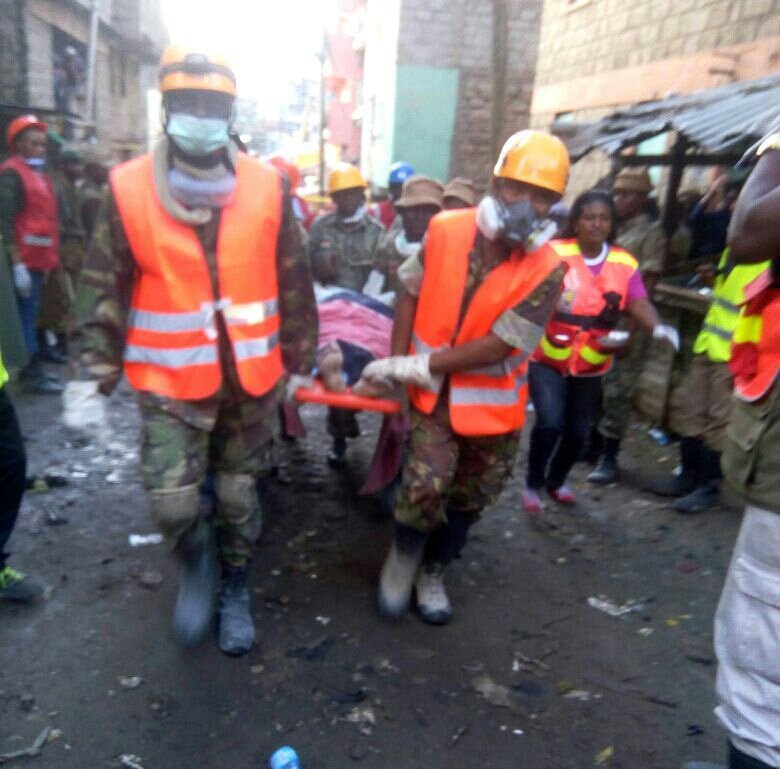 A woman has been pulled alive from beneath the rubble of a collapsed building in Kenya, six days after it came down.
Rescue workers spent several hours carefully digging their way to the woman after she was spotted still breathing earlier today.
She was carried to an ambulance as passers-by and well-wishers cheered.
At least 36 people were killed when the residential building in Huruma, Nairobi, which had been deemed not suitable for human habitation, collapsed on Friday night following several days of heavy rain.
Around 80 people are still thought to be missing.
A woman has been found alive in the rubble of a collapsed building in Kenya, six days after it came down.
Rescuers are currently working to free her.
At least 35 people have been confirmed dead after the Huruma building in Nairobi - which had been declared unfit for human habitation and did not have an occupancy permit - collapsed.
More than 80 people are still believed to be missing.
Five suspects believed to have links with the building and its management appeared in court on Wednesday and were released on Sh1 million (£6,870) bond each.
Load more updates