Live updates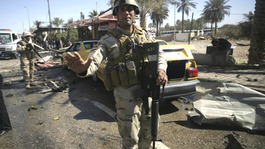 Reminders of Iraq's recent past, and alarm about its future echoed around some of its cities in deadly explosions.
Read the full story
52 killed in Iraq bomb attacks
Reports say at least 22 people have been killed in a series of blasts in Iraqi cities on Tuesday, the latest in a spate of violence ahead of next week's Arab League summit in Baghdad.
The deadliest attack was in the southern Shi'ite holy city of Kerbala, where two explosions killed at least nine people and wounded 40, the sources said.
Advertisement
Back to top