Ed Miliband has defended Ed Balls, after the shadow chancellor labelled David Cameron a "troll".
Mr Balls accused the Prime Minister of "making politics nastier" with personal attacks on other politicians.
But Mr Miliband dismissed the comments as "light-hearted remarks" and said the Prime Minister had been "throwing mud" at him.
Mr Balls told London's Evening Standard:
He's made politics nastier. He lashes out in a personal way. The reason he's not popular with women, and why there are very few women in the Cabinet and he keeps sacking them, are all of a piece.

The way he talked to Nadine Dorries, and said 'Calm down dear' to Angela Eagle - it reflects something. David Cameron is a bit of a troll. Look at the Conservative Party and the way they operated on Twitter for the first half of the parliament, they were very trolling, as in officially trolling. It was a reflection of David Cameron.
– Ed Balls
Asked whether he would ask shadow ministers to tone down attacks of this sort, Mr Miliband told the BBC: "I'm sure Ed Balls is making a light-hearted remark, but we are focused on the issues, we are focused on the British people, we are focused on how we are going to change this country."
Advertisement
Rachel Reeves told Good Morning Britain: "Particularly if you have got child care responsibilities and a family, not knowing from week to week, day to day...whether you're going to afford to pay the rent and bills and put food on the table, that's just not good enough. The Prime Minister says he couldn't live on it, well if he couldn't live on it we shouldn't be asking fellow citizens to do so."
The Conservatives say business leaders have sent a "clear message" about the "risk" Labour poses to Britain's economic recovery with their open letter.
100 business leaders have sent a clear message about the risk of Labour to the recovery. RETWEET to let friends know. http://t.co/51PaXbccEK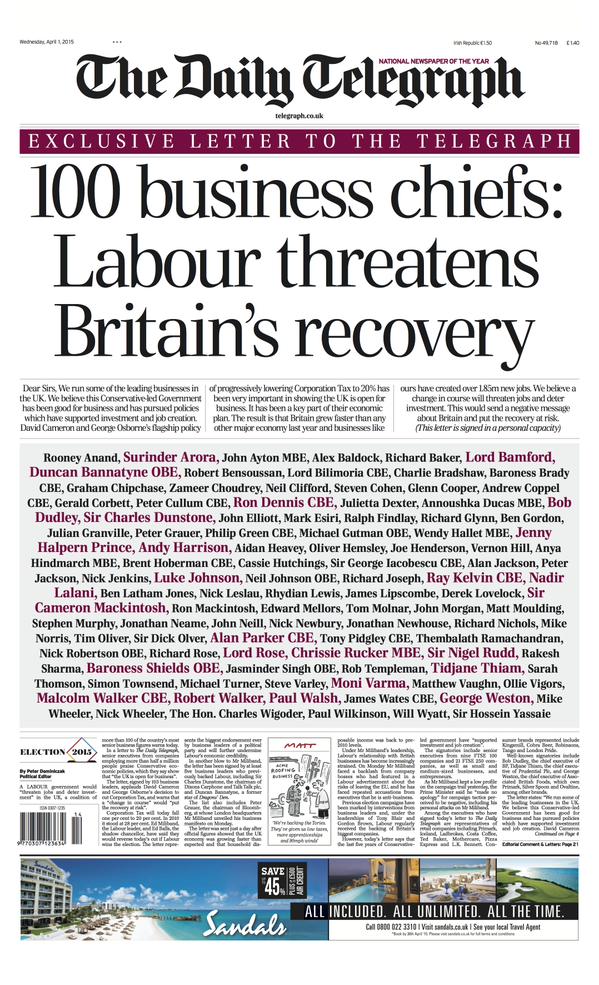 Chuka Umunna, Labour's shadow business secretary, has dismissed a letter from business leaders declaring support for a Tory-led government as "nothing new".
"No one will be surprised that some business people are calling for low taxes for big businesses," Mr Umunna said.
"That's nothing new and under Labour Britain will have the most competitive corporation tax rate in the G7.
"But whilst the recovery may have reached some firms it hasn't reached many others which is why we will prioritise tax cuts for the smallest firms with an immediate cut in business rates for 1.5 million small business premises.
"We don't believe, as David Cameron does, in more tax cuts for the richest in society - the priority is tax cuts for small firms, working people and saving our NHS."
Frances O'Grady, the general secretary of the Trades Union Congress (TUC) has welcomed Ed Miliband's proposals to effectively outlaw zero-hours contracts.
Zero-hours workers are often too afraid to speak up for their rights for fear of losing work.

We need a fairer system that guarantees zero-hours workers decent rights at work and stops them from being treated like second-class employees.
– Frances O'Grady
Advertisement
John Cridland, the director-general of the CBI, said Britain's flexible jobs market had helped deliver an employment rate "that is the envy of other nations", accusing Mr Miliband of "playing with jobs".
"Of course action should be taken to tackle abuses, but demonising flexible contracts is playing with the jobs that many firms and many workers value and need," he said.
"These proposals run the risk of a return to day-to-day hiring in parts of the economy, with lower stability for workers and fewer opportunities for people to break out of low pay."
Ed Miliband has pledged to give zero-hours workers the right to convert their contract into a regular job after three months.
Read the full story ›
More than 100 business leaders have signed a letter to declare their support for a Conservative-led government.
Read the full story ›
Ed Miliband has admitted that his own home may be liable for Labour's proposed mansion tax - and said that would be "fine" with him.
The Labour leader told ITV News Granada that the NHS, tax avoidance and the mansion tax are live issues "on the ballot paper" - to which he was asked about his own home's eligibility for the tax.
"It might well yes, I think it will, I will be paying the mansion tax and that's fine," he said.
Questioned again about his personal popularity and image, Mr Miliband said: "I don't care about the attacks on me, I care what's going to happen to the British people in the next five years."
Load more updates