Leader of the Scottish Labour Party Johann Lamont has resigned.
A Labour source said: "She realised it was time for a change in Scotland. She has put the party first. Ed regards her as an honourable woman who has served party well and we hope will serve the party again in the future."
Labour's shadow health secretary Andy Burnham has said that today's five-year forecast for the NHS "endorses key planks of Labour's plan".
He said he agrees with the report's finding that primary care has been under-resourced and called on the government to stop cuts to the budget for GPs.
Mr Burnham also noted that the report "does not give one mention to competition" and says the Coalition should review its competition rules.
While the Health Secretary denied that the report endorses Labour's vision, he said there were large parts of it that Labour and the Conservatives "can agree on".
Advertisement
Labour has promised football fans a right to representation on their club's board if they win the general election.
Read the full story ›
Labour's narrow victory in the Heywood and Middleton byelection shows "the scale of disillusionment with Westminster politics", Ed Miliband has said.
Speaking alongside the new MP Liz McInnes, the Labour leader said this disillusionment had led long-time Labour voters to side with Ukip - who came second in the seat, just 600 votes behind Labour.
Shadow chancellor Ed Balls has congratulated Labour's newest MP after she won the Heywood and Middleton byelection: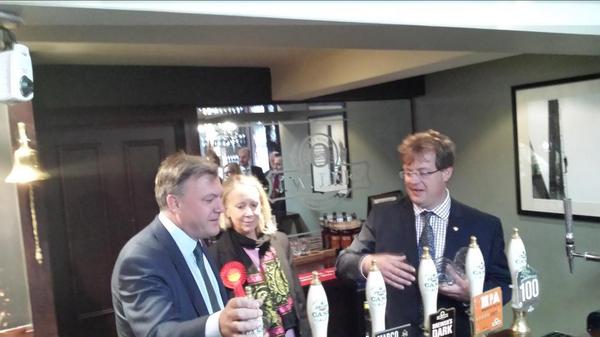 McInnes was elected just 617 votes ahead of the Ukip candidate and was jeered as she made her victory speech last night.
Veteran Labour MP Frank Field has said "all bets are off" following Ukip's performance at the Clacton and Heywood and Middleton byelections.
ITV News Deputy Political Editor Chris Ship reports:
Frank Field: If this is "start of UKIP's... assault into Labour's neglected core vote, all bets are off for safer, let alone marginal seats"
Advertisement
Labour's narrow lead in the Heywood and Middleton byelection was the result of a "collapse" of the Conservative and Lib Dem vote into support for Ukip, the shadow foreign secretary said.
Douglas Alexander told Good Morning Britain: "We actually increased our share of the vote in the seat last night.
"I was elected myself in a byelection just six months after our greatest landslide in 1997 and got a comparable share of the vote to that which Liz got"
Former Deputy Prime Minister John Prescott has urged Ed Miliband to be bolder, claiming it looks as though the Labour leader has resigned himself to not winning the 2015 election outright.
Writing in his Sunday Mirror column, Lord Prescott said it looked as though Mr Miliband was only trying to woo traditional Labour voters and "a few ex-Lib Dem voters", rather than appealing to the whole electorate.
"He might as well have said at the end of his conference speech: 'Go back to your constituencies and prepare for coalition'," he argued.
The veteran of the Blair years contrasted a "flat" Labour conference with a "confident" performance from David Cameron at last week's Conservative conference.
He urged the Labour leader to "be brave" and go "all out for the win" in 2015 by quickly coming up with eye-catching policies.
The Conservatives have edged ahead of Labour for the first time in two-and-a-half years, according to a new opinion poll.
A YouGov survey for the Times shows the Tories have overtaken Ed Miliband's party following David Cameron's speech to activists this week in which he promised tax cuts for 30 million people.
Labour has not been behind in the polls since March 2012, just before Chancellor George Osborne's "omnishambles" budget.
Asked who they would vote for if the general election was tomorrow, 35% of people backed the Conservatives - a single point higher than those who said they would opt for Labour (34%).
YouGov's research, conducted after the Tory conference, also shows voters support Mr Cameron's pledge to lower income tax by 2020, but remain sceptical over whether they will be better off as a result
The scale of the task facing the Conservatives at the annual conference has been made clear by an opinion poll for ITV News.
It suggests that in 40 marginal constituencies where Labour and the Tories will go head to head, Ed Miliband's party has an 11% lead.
ITV News Deputy Political Editor Chris Ship reports on the lessons of history in the marginal seat of Dudley North:
Load more updates