Ed Balls clarified his stance on the issue of lowering the 40p tax rate today by stating he had "no intention of reducing the threshold."
Watch Balls' full comment here:
Shadow Chancellor Ed Balls has been criticised by the Tories for his comments on ITV News West Country last night, in which he 'refused' to rule out lowering the 40p tax rate threshold if Labour win the election.
George Osborne today accused his counterpart of proposing to tax middle earners and said: "He has made it pretty clear I think that he wants to drag more people into that 40p rate of tax... I think that is wrong now and the Conservative party has a very clear plan to raise the threshold to £50,000."
Labour said the claims that Balls was effectively leaving the door open to changing the threshold was "Tory nonsense", and stated: "Ed Balls was clear and Labour's position is clear: we want fewer people paying the 40p tax rate. We want to ease burden on working families."
Advertisement
The Conservatives have brewed up a mocking memento for the media as the party sets out to criticise Labour on the campaign trail.
ITV News' James Mates has tweeted an image of the item carrying the hashtag "Labourmugs", which ridicules a range of red mugs recently issued by their main election opponents: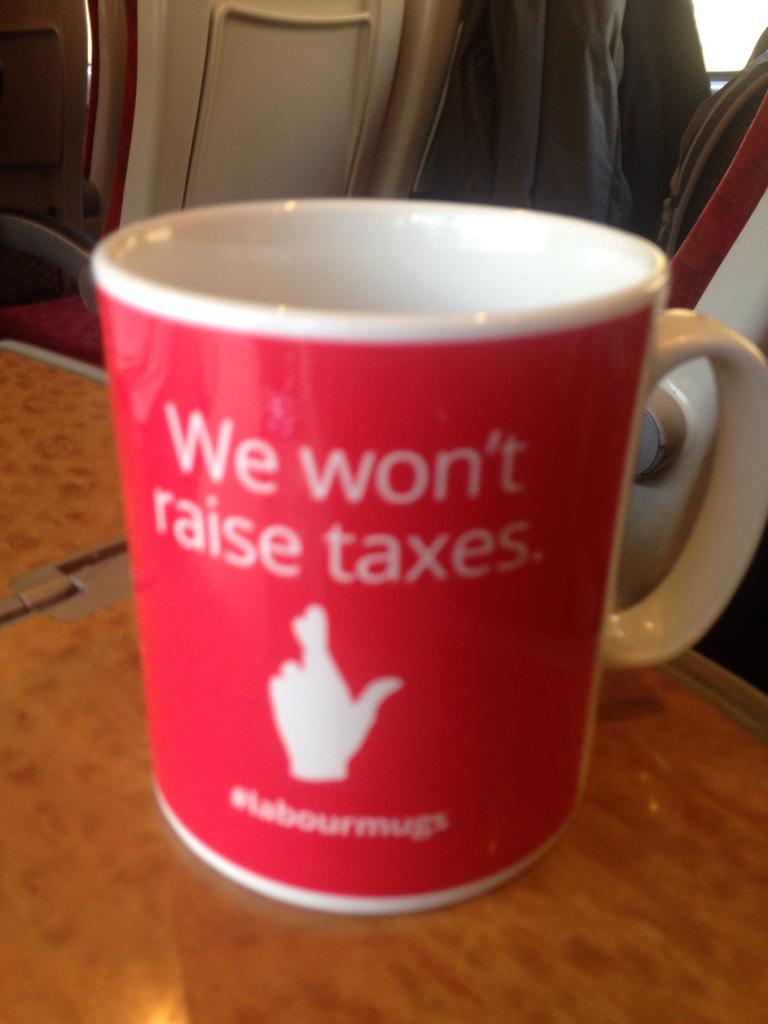 Labour will abolish fees for taking cases to an employment tribunal if it wins the General Election.
There was a slump in the number of claims after feeds came into effect in 2013.
Charges start at around £160, rising to £250, with a further hearing fee ranging from £230 to £950.
The manifesto says Labour would "ensure proper access to justice in the workplace by abolishing the Government's employment tribunal fee system, as part of reforms to create a system that is quicker for employers and employees and cheaper for the taxpayer".
The announcement was welcomed by trade unions, which have been campaigning to have the fees scrapped.
At long last we have a major political party prepared to address and give rights to workers to shield them from exploitation in their workplaces.

Voters are faced with a stark choice - a party governing in the interest of corporate bosses with zero-hours contracts and for tax breaks for the wealthy elite or a party seeking to provide rights and protection for working people.
– Paul Kenny, general secretary of the GMB union
Ed Miliband has insisted that abolishing zero hours contracts are essential if people are to have security at home.
Responding to a member of the audience during a visit to a factory in Huddersfield who had run into difficulties with paying bills because of a zero hours contract, the Labour leader was scathing and challenged the prime minister to live under such conditions.
"The reality is that I don't think it provides any sort of security for you and your family," Miliband told the audience.
Read the letter carefully, don't worry, it's short. Note that while it praises the Conservative-led government it does not mention Labour.
Read the full story ›
Advertisement
Ed Miliband has defended Ed Balls, after the shadow chancellor labelled David Cameron a "troll".
Mr Balls accused the Prime Minister of "making politics nastier" with personal attacks on other politicians.
But Mr Miliband dismissed the comments as "light-hearted remarks" and said the Prime Minister had been "throwing mud" at him.
Mr Balls told London's Evening Standard:
He's made politics nastier. He lashes out in a personal way. The reason he's not popular with women, and why there are very few women in the Cabinet and he keeps sacking them, are all of a piece.

The way he talked to Nadine Dorries, and said 'Calm down dear' to Angela Eagle - it reflects something. David Cameron is a bit of a troll. Look at the Conservative Party and the way they operated on Twitter for the first half of the parliament, they were very trolling, as in officially trolling. It was a reflection of David Cameron.
– Ed Balls
Asked whether he would ask shadow ministers to tone down attacks of this sort, Mr Miliband told the BBC: "I'm sure Ed Balls is making a light-hearted remark, but we are focused on the issues, we are focused on the British people, we are focused on how we are going to change this country."
Rachel Reeves told Good Morning Britain: "Particularly if you have got child care responsibilities and a family, not knowing from week to week, day to day...whether you're going to afford to pay the rent and bills and put food on the table, that's just not good enough. The Prime Minister says he couldn't live on it, well if he couldn't live on it we shouldn't be asking fellow citizens to do so."
The Conservatives say business leaders have sent a "clear message" about the "risk" Labour poses to Britain's economic recovery with their open letter.
100 business leaders have sent a clear message about the risk of Labour to the recovery. RETWEET to let friends know. http://t.co/51PaXbccEK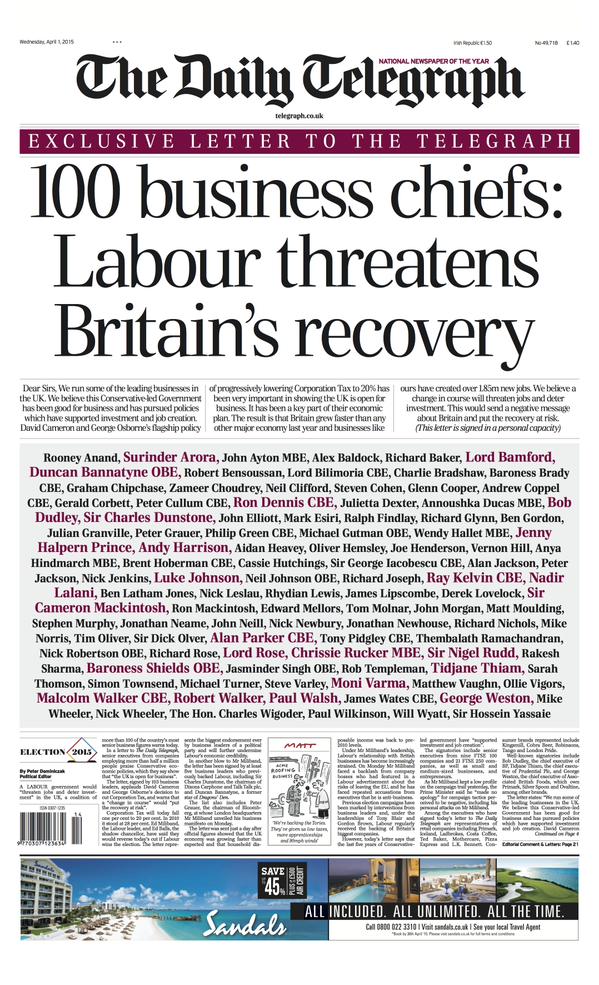 Load more updates