Shadow attorney general Emily Thornberry has resigned from the shadow cabinet, the Labour Party has said.
It follows controversy over a tweet she posted earlier today of a house draped with England flags and the words "Image from Rochester".
A Labour MP has angered Ed Miliband after she tweeted a picture of a house draped with England flags with the words "Image from Rochester."
Read the full story ›
Advertisement
Ed Miliband MP, Leader of the Labour Party, has promised straight answers when he is grilled by young voters in his Leaders Live Q&A on Monday 8th December.
The 2015 General Election is going to be hugely important for the future of Britain – and particularly for young people. Leaders Live will give young people a chance to ask political leaders direct questions and get straight answers. I'm really looking forward to being involved.
– ed miliband, labour party
Labour has extended its poll lead to four points but just one in five people can imagine Ed Miliband as prime minister, according to a poll.
Read the full story ›
Eight out of ten Britons feel the economic recovery has had little or no impact on their personal circumstances, new research reveals.
Asked what effect the upturn had had on them, 49% said there had been "none at all", while 31% said "not very much".
The Ipsos MORI poll for the Evening Standard also found pessimism about the future, with 75% of respondents saying economic growth would have either no impact or "not very much".
The political implications of the survey are potentially interesting, with the Conservatives trumpeting the UK's improved overall economic performance, but Labour arguing that many are not feeling the benefits of growth.
A Conservative minister has hit out at Ed Miliband after this morning's speech, saying the Labour leader still has no plan for the future of the country.
Matthew Hancock, who has a joint brief in the Energy and Business departments, told BBC News:
The problem is for Ed Miliband and for Labour is that they haven't got a plan to secure Britain's future. They haven't got what we call a long-term economic plan and they may blame the media, but it's people on their own side who are saying that Ed Miliband is not up to the job.
– Matthew Hancock MP
Advertisement
Ed Miliband has responded to Nigel Farage's challenge to a live TV debate, telling the Ukip leader to "bring it on".
However, the Labour leader ignored Mr Farage's request for a 'head-to-head debate', referring only to the upcoming party leaders' election debate, which will also feature Nick Clegg and David Cameron.
Nigel Farage has responded to Ed Miliband's attack on Ukip by challenging the Labour leader to a head-to-head televised debate.
In a speech earlier today Mr Miliband made several references to Ukip and told Labour supporters "we can take this lot apart".
This prompted Ukip leader Mr Farage to tweet the following letter laying down his challenge to Mr Miliband.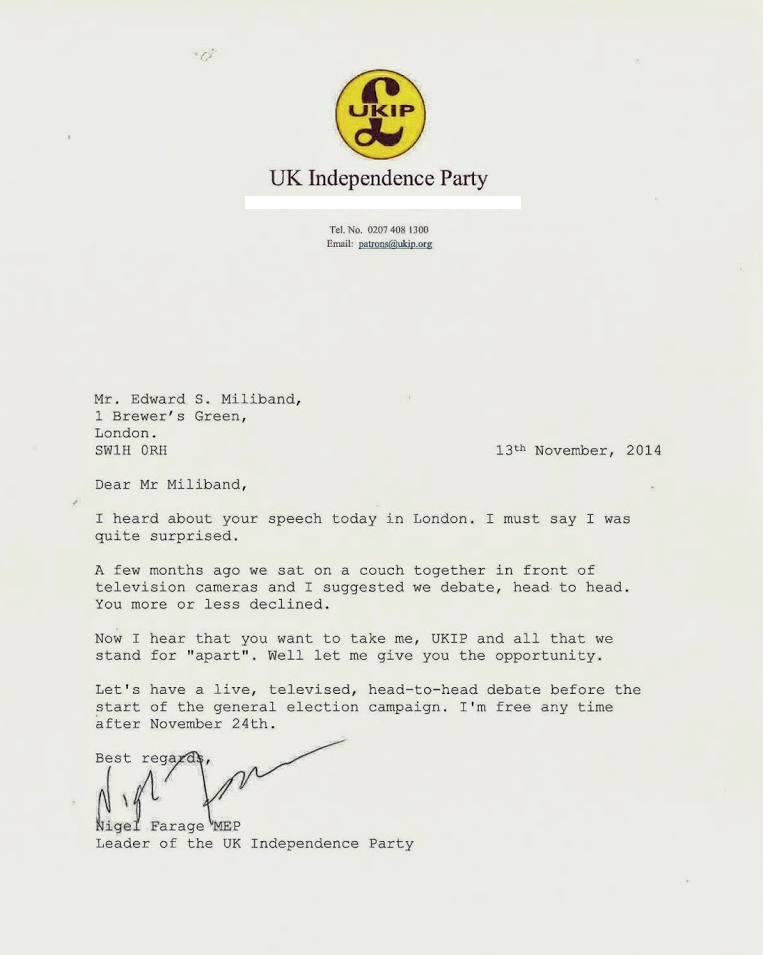 Ed Miliband has declared he is the man to win the General Election, but will the Labour leader make the final whistle?
Read the full story ›
Ed Miliband has played down allegations that he is unpopular with potential Labour voters, saying that "you don't declare the result of the match until the final whistle."
When asked by ITV News Deputy Political Editor Chris Ship if he was going to acknowledge that many of his MP's say he is unpopular with potential Labour voters, Mr Miliband said that he didn't think this was the case and that he "relished" the challenge.
The Doncaster North MP said that if Labour went out to fight for what they believe in, then his party would win the next general election.
Load more updates